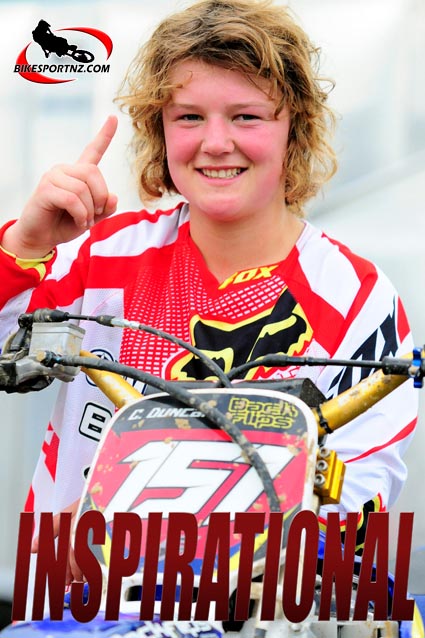 In the rough and tough world of top level motocross, few would expect a tiny, tousle-haired blond schoolgirl from the remote and tiny Otago town of Palmerston to be the race favourite.
But that's exactly what happens every time Otago's Courtney Duncan rides her bike to the start line.
And not for the first time she's lived up to her star billing, this time winning the 13-16 years' 85cc class at the New Zealand Junior Motocross Championships, staged in Tokoroa over the Easter Weekend.
To do this she had to beat nearly 30 of the nation's elite teenage boys, many of them a full year older than her, and most of them bigger and arguably stronger than her too.
She had been ranked world No.6 when she beat most of the best young men on the planet at the 85cc world championships in 2009, and the 15-year-old has won numerous women's motocross titles too, on both sides of the Tasman, but, remarkably, this was the first time any female had won a non-gender specific New Zealand motocross championship title.
Duncan came close to winning the 13-16 years' 85cc class last year, in the end forced to settle for runner-up spot behind Rangiora's Micah McGoldrick, but this time there was almost no stopping her.
She won four out of five races at the three-day event during the Easter holiday weekend and, if it weren't for a couple of slip-ups on a freshly-watered track, she could quite possibly have taken an amazing clean sweep of wins.
"I've won titles at major events like the Woodville Motocross and at the national TT championships, but never at the motocross nationals, so this victory is pretty special to me.
"I don't know whether I will defend this title next year … I might be too big for an 85cc bike … but I will definitely be going for another title, perhaps next time on a 125."
New Zealand women have often excelled in the sport of motorcycle racing, with Auckland's Katherine Prumm winning major motocross races overseas in the recent past and fellow Auckland road-racer Avalon Biddle consistently running among the top two or three on the nation's tar-seal circuits.
However, at the tender age of 15, Duncan has now done what no other female has done before her and beaten the cream of the country's young men at the ultimate level of the sport here.
If the country's fairer sex needed any inspiration to compete with their male counterparts, Courtney Duncan has most assuredly provided it.
© Words and photo by Andy McGechan, www.BikesportNZ.com