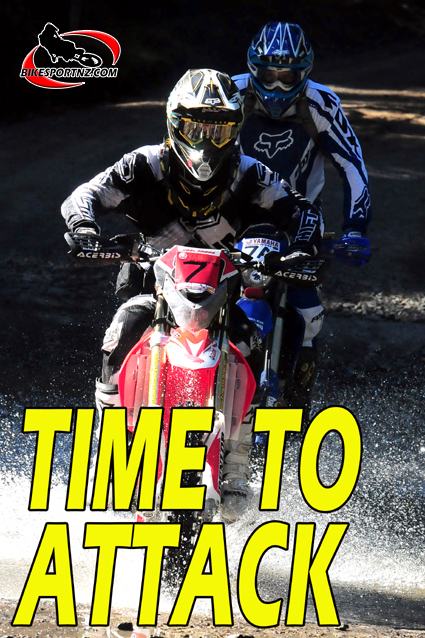 Time is running out for national enduro championship hopefuls.
It's the fourth round of six in this year's Yamaha New Zealand Enduro Championships in Northland, just north of Whangarei, on Saturday and series leader Rory Mead (Yamaha) knows he already has one hand on the title of outright winner.
But Mead can't afford to rest on his laurels just yet.
The Taupo rider finished runner-up at round one at Waimiha in December, and backed that up by finishing first at rounds two and three, in Kawhia and Whangamata, in January and February respectively.
He leads the series overall but only by eight points from Auckland Honda rider Karl Power (pictured above).
Power, a 26-year-old sales rep from Greenlane, and the third-ranked rider, Mokau's Adrian Smith (Yamaha), are easily within striking distance of Mead.
Mead, Power and Smith are also in contention for class glory, the battle-within-a-battle for individual bike category honours.
Power is top of the under-300cc four-stroke class with Smith keeping him honest.
Hokianga's Mitchell Nield (Gas Gas) heads the under-200cc two-stroke class; Auckland's Michael Skinner (KTM) is top of the over-200cc two-stroke class; Tauranga's Reece Burgess (Husaberg) is leader of the over-300cc four-stroke class and Tokoroa's Sean Clarke (Yamaha) is the top veterans' class rider.
Not one of these categories is cut and dried and, with two rounds remaining, anything can still happen.
The venue on Saturday is 45 minutes' drives north of Whangarei, at The Farm, Whangaruru, on the Russell Highway
Round five of the Yamaha-sponsored series is set for Riverhead Forest, north of Auckland, on June 5.
© Words and photo by Andy McGechan, www.BikesportNZ.com