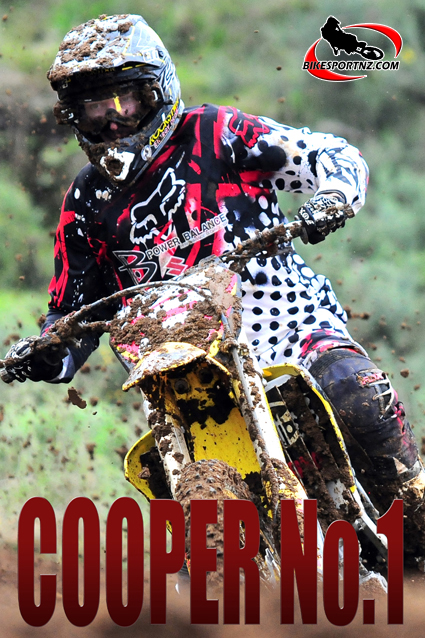 It has been long overdue, but Mount Maunganui's Cody Cooper has finally clinched that most coveted of New Zealand motocross titles, the senior MX1 crown.
It was not easy, though, and the racing went down to the wire at the fourth and final round of this season's Demon Energy New Zealand Motocross Championships near New Plymouth on Sunday.

The Suzuki ace from the Bay of Plenty came up just two points short last season, but this time Cooper was not to be denied, even if the field lining up against him this time was tougher than before, one of the strongest ever witnessed on the New Zealand domestic motocross scene.
Motueka's Josh Coppins (Yamaha), back home in New Zealand after signing off a 15-year career racing the world championships in Europe, and fellow Kiwi internationals Michael Phillips (Honda), of Rotorua, and Mason Phillips (Kawasaki), of Mount Maunganui — not to mention defending national champion Justin McDonald (Honda), of Christchurch – all added clout to this season's MX1 (open class) championship.
But Cooper became stronger as the season progressed and eventually won seven of the series' 12 MX1 races. On Sunday he finished the day unbeaten in three races to snatch the title from Coppins' grasp.
Coppins had led after rounds one, two and three but, as has happened so many times in the past, Taranaki's fourth and final round became something of a graveyard for the championship leader.
An ankle injury sustained while chasing Cooper to the chequered flag in race one on Sunday turned out to be serious enough for Coppins to withdraw before the last race of the day, confirming Cooper as the new champ.
In the MX2 (250cc) class, it was a fairytale finish for Waikato's Darryll King (Yamaha), the 42-year-old former world championship campaigner, also a multi-time former New Zealand and Australian champion, who had supposedly retired from all levels of competition about three years ago.
"I didn't think I could do this," said King, formerly of New Plymouth and vigorously supported by the local fans on Sunday.
"I was on an old two-stroke bike against some very fast kids of four-strokes but, I suppose, all my Grand Prix experience counted for something."
McCoy had led the title chase by just one point as the riders lined up for the final MX2 race of the series.
"I was mentally a bit of a mess in that last race, the pressure was on and I needed to finish ahead of Australian visitor Daniel McCoy (Suzuki) to win the title. I have not been in a really tough championship chase in a few years.
"I was leading the race but, on those last two laps, my mind was putting up all sorts of negative thoughts … I'm going to make a mistake, I'm, going to crash … and it was hard to shut them out and just concentrate."
In the end, King finished 1-4-1 to beat the 26-year-old Sydney man by just four points – McCoy coming home 3-2-3 on Sunday — with another young Australian, Honda's Cody Mackie, taking third spot overall in the championship.
Meanwhile, in the 125cc and under-21 years' classes, raced concurrently but scored separately, Waitakere's Ethan Martens (Yamaha) was simply too strong, finishing 3-1-1 on Sunday to easily wrap up both titles.
Credit: Words and photo by Andy McGechan, www.BikesportNZ.com
Full story and more photos in your next issue of KIWI RIDER magazine.
RESULTS:
MX1 Results – round 4:
1 Cody Cooper 75 Points
2 Justin McDonald 64 Points
3 Michael Phillips 54 Points
4 Hayden Clark 50 Points
5 Jared Guthrie 45 Points
6 Josh Coppins 42 Points
7 Jesse Donnelly 42 Points
8 Shannon Hewetson 38 Points
9 Andrew Blanchard 37 Points
10 Mitch Rees 35 Points
MX1 Final Championship final standings:
1 Cody Cooper 277 Points
2 Josh Coppins 245 Points
3 Michael Phillips 234 Points
4 Justin McDonald 214 Points
5 Hayden Clark 180 Points
6 Jesse Donnelly 150 Points
7 Shannon Hewetson 147 Points
8 Mason Wilkie 137 Points
9 Jared Guthrie 129 Points
10 Mitch Rees 126 Points
MX2 Results – round 4:
1 Darryll King 68 Points
2 Daniel McCoy 62 Points
3 Cody Mackie 56 Points
4 Luke Burkhart 47 Points
5 Hamish Dobbyn 47 Points
6 Cameron Dillon 42 Points
7 Rhys Carter 37 Points
8 Brad Groombridge 36 Points
9 Jesse Wiki 36 Points
10 Damien King 32 Points
MX2 Final Championship final standings:
1 Darryll King 249 Points
2 Daniel McCoy 245 Points
3 Cody Mackie 214 Points
4 Luke Burkhart 201 Points
5 Peter Broxholme 183 Points
6 Rhys Carter 157 Points
7 Damien King 156 Points
8 Cameron Dillon 150.045 Points
9 Jesse Wiki 137 Points
10 Brad Groombridge 133.047 Points
125cc class results – round 4:
1 Ethan Martens 70 Points
2 Joshua Jack 67 Points
3 Tom Managh 58 Points
4 Ryan Thompson 53 Points
5 Hamish Harwood 50 Points
6 Eli Manson 43 Points
7 Scott Barr-Smith 43 Points
8 Cameron Negus 40 Points
9 Campbell King 36 Points
10 Callan May 30 Points
125cc class final championship final standings:
1 Ethan Martens 281 Points
2 Scott Barr-Smith 232 Points
3 Tom Managh 201 Points
4 Cameron Negus 197 Points
5 Joshua Jack 186 Points
6 Hamish Harwood 167 Points
7 Ryan Thompson 137 Points
8 Shaun Fogarty 120 Points
9 Eli Manson 119 Points
10 Logan Blackburn 111 Points