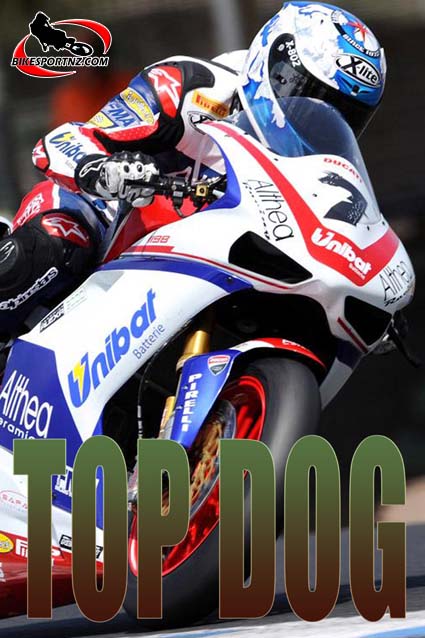 Italy's Marco Melandri and Spain's Carlos Checa shared the wins at round two of the 2011 World Superbike Championship at Donington Park, in the United Kingdom, at the weekend.
Pole sitter Checa vanished from the front of the field as he struggled with the grip of his harder tyres and completed the opening lap in 11th spot. Local rider Leon Haslam shot into the early lead with another pair of Brits in Leon Camier and Tom Sykes paying close attention. Back down the field defending champion Max Biaggi, Checa and Yamaha World Superbike Team's Melandri were all involved in some close tough racing as they flounder around on the harder tyres.
Jakub Smrz soon made his intentions know and moved into the lead on lap seven, a position he would hold for 17 laps. Behind Smrz there was plenty of place swapping as those with harder tyres started to work through their way tentatively through the field.
Melandri and Biaggi were once again paying close attention to each other as they had done in qualifying. Biaggi was in all sorts of bother though and as he fought tooth and nail with his ill handling Aprilia while Melandri started his charge through the field.
In the closing laps the early front runners speed started to drop allowing the Italian a fairly consistent ride through the field. Sykes crashed out, making his job a bit easier.
With two laps to go Melandri only need to pass Smrz for the win and with the Effenbert-Liberty Racing rider's tyre going off at a rapid rate he was a sitting duck. Melandri made the move on the last lap and went on to take his first ever Superbike race win.
"It was an awesome race for me, it was very tough in the first part of the race as many riders were aggressive and strong so I just had to keep my rhythm going," Melandri said.
"Once I got out on my own I caught Camier and Haslam pretty quick but took a long time to pass them, after that there was only five laps to go and Smrz was pretty far in front so I just tried to do the best I could. Smrz started to drop back with no grip so in the end I could pass him pretty easily. We knew this track could be pretty good for us, we are missing a bit of top speed but we have a good package that is very balanced," the Italian said.
Smrz was disappointed to miss the win but still happy with the end result.
"Of course I am disappointed but it was a really nice race, I am on the podium so that is important," Smrz said.
"The bike was working perfect at the start of the race but in the end my rear tyre was gone and I couldn't push anymore, once Marco got past me i didn't want to risk anything in the end. We won't make any big changes for the second race as the bike was very good."
Round one winner Checa made a pass on Haslam in the last lap to take the last step on the podium and top of an impressive ride from the back of the pack to the podium.
"We struggled at the beginning as i lost the feeling with the rear tyre," Checa explained. "I lost some positions and diced with many riders, it was one of my most exciting races riding from the back to the front. I was lucky to get past Haslam, his speed dropped off and i was able to get past him on the last lap."
Castrol Honda's Jonathan Rea scored fifth place and Pata Racing Aprilia's Noriyuki Haga was sixth, one place up on the factory bike of Biaggi.
Checa controlled race two from the early laps and won by 3.397 seconds from race one victor Melandri. Leon Camier was a contender for second before Melandri upped the pace and after a good ten lap battle with the Brit drew clear leaving Camier with the final podium spot.
"This victory for me here in Donington is something special," Checa said. "We struggled a lot in race one and in race two at the end but I was happy to keep the gap in the end. With the new tyre I was able to get a more stable start and it held up until the end. I started to lose a bit of grip in the final laps but had enough gap for the win," Checa concluded.
Melandri had a long battle with Camier mid race which hurt his chances of catching Checa in the final laps as the Spaniards tyre started to go off, but the Italian was still happy with his third podium in four races.
"It was a good race for me, after race one it was going to be difficult for me because Carlos changed his tyre, one that we can't use because of our set-up. Fifty percent of the race I was struggling with my breathing so it affected my concentration a little bit, after that I recovered a little bit but Carlos was too far in front, so I just tried to do my best."
"After suffering a debilitating bout of glandular fever Camier was ecstatic with his first podium of the year.
"I can't believe it's happened to be honest," Camier said referring to his podium finish. "To start the year with glandular fever for the first race and with the other problems it all got me down to be honest. With all the hard work during the Winter then to go to the first round like that was disappointing, but that's how it is. To come here to my home race and have a podium is absolutely awesome."
Haslam went fourth for the second time, despite running off track at one point. Kawasaki racing Team's Joan Lascorz was a great fifth on the new ZX-10R machine.
Defending champion Biaggi's weekend went from bad to worse when the Aprilia rider was black flagged after failing to pit for a jumped start penalty.
Checa now leads Melandri in the overall standings, 91 points to 72.
Donington – SUPERBIKE – Race 1
1. Marco Melandri (Yamaha World Superbike Team) Yamaha YZF R1 34'33.189
2. Jakub Smrz (Team Effenbert-Liberty Racing) Ducati 1098R 34'35.644
3. Carlos Checa (Althea Racing) Ducati 1098R 34'39.028
4. Leon Haslam (BMW Motorrad Motorsport) BMW S1000 RR 34'39.365
5. Jonathan Rea (Castrol Honda) Honda CBR1000RR 34'42.228
6. Noriyuki Haga (PATA Racing Team Aprilia) Aprilia RSV4 Factory 34'42.404
7. Max Biaggi (Aprilia Alitalia Racing Team) Aprilia RSV4 Factory 34'43.149
8. Leon Camier (Aprilia Alitalia Racing Team) Aprilia RSV4 Factory 34'48.049
9. Troy Corser (BMW Motorrad Motorsport) BMW S1000 RR 34'48.066
10. Joan Lascorz (Kawasaki Racing Team) Kawasaki ZX-10R 34'49.371
11. Sylvain Guintoli (Team Effenbert-Liberty Racing) Ducati 1098R 34'59.009
12. Ruben Xaus (Castrol Honda) Honda CBR1000RR 35'01.567
13. Ayrton Badovini (BMW Motorrad Italia SBK Team) BMW S1000 RR 35'05.058
14. Roberto Rolfo (Team Pedercini) Kawasaki ZX-10R 35'13.204
15. Mark Aitchison (Team Pedercini) Kawasaki ZX-10R 35'33.317
RT. Tom Sykes (Kawasaki Racing Team Superbike) Kawasaki ZX-10R 25'35.167
RT. Michel Fabrizio (Team Suzuki Alstare) Suzuki GSX-R1000 24'17.861
RT. Maxime Berger (Supersonic Racing Team) Ducati 1098R 7'43.215
RT. Eugene Laverty (Yamaha World Superbike Team) Yamaha YZF R1 4'37.934
Donington – SUPERBIKE – Race 2
1. Carlos Checa (Althea Racing) Ducati 1098R 34'21.537
2. Marco Melandri (Yamaha World Superbike Team) Yamaha YZF R1 34'24.934
3. Leon Camier (Aprilia Alitalia Racing Team) Aprilia RSV4 Factory 34'27.439
4. Leon Haslam (BMW Motorrad Motorsport) BMW S1000 RR 34'35.379
5. Joan Lascorz (Kawasaki Racing Team) Kawasaki ZX-10R 34'35.790
6. Jonathan Rea (Castrol Honda) Honda CBR1000RR 34'40.950
7. Michel Fabrizio (Team Suzuki Alstare) Suzuki GSX-R1000 34'41.815
8. Jakub Smrz (Team Effenbert-Liberty Racing) Ducati 1098R 34'42.697
9. Ayrton Badovini (BMW Motorrad Italia SBK Team) BMW S1000 RR 34'45.835
10. Ruben Xaus (Castrol Honda) Honda CBR1000RR 34'46.444
11. Sylvain Guintoli (Team Effenbert-Liberty Racing) Ducati 1098R 34'53.977
12. Tom Sykes (Kawasaki Racing Team Superbike) Kawasaki ZX-10R 34'54.216
13. Troy Corser (BMW Motorrad Motorsport) BMW S1000 RR 34'55.607
14. Eugene Laverty (Yamaha World Superbike Team) Yamaha YZF R1 34'57.955
15. Roberto Rolfo (Team Pedercini) Kawasaki ZX-10R 35'05.574
16. Mark Aitchison (Team Pedercini) Kawasaki ZX-10R 35'13.949
17. Noriyuki Haga (PATA Racing Team Aprilia) Aprilia RSV4 Factory 35'18.171
RT. Maxime Berger (Supersonic Racing Team) Ducati 1098R 1'41.588
EX. Max Biaggi (Aprilia Alitalia Racing Team) Aprilia RSV4 Factory 13'50.189
2011 Standings Riders – FIM Superbike World Championship – Round 2
1 Carlos Checa – Ducati – 91
2 Marco Melandri – Yamaha – 72
3 Leon Haslam – BMW – 53
4 Max Biaggi – Aprilia – 49
5 Jakub Smrz – Ducati – 42
6 Jonathan Rea – Honda – 38
7 Leon Camier – Aprilia – 37
8 Michel Fabrizio – Suzuki – 27
9 Noriyuki Haga – Aprilia – 26
10 Tom Sykes – Kawasaki – 19
11 Joan Lascorz – Kawasaki – 17
12 Eugene Laverty – Yamaha – 16
13 Troy Corser – BMW – 16
14 Ruben Xaus – Honda – 16
15 Ayrton Badovini – BMW – 12
16 Roberto Rolfo – Kawasaki – 12
17 Sylvain Guintoli – Ducati – 10
18 Joshua Waters – Suzuki – 3
19 James Toseland – BMW – 2
20 Mark Aitchison – Kawasaki – 1