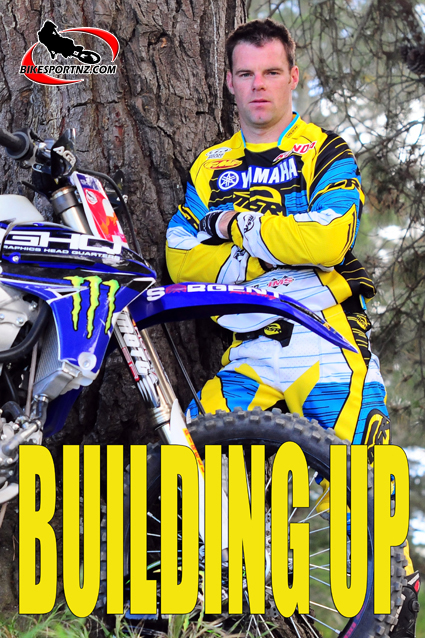 New Zealand's Paul Whibley threw himself right back into the deep end as his build-up towards the Grand National Cross-country Championships (GNCC) in the United States gained momentum at the weekend.
The Pahiatua man took his Yamaha YZ450F into battle at the opening round of the AMA Eastern Hare Scramble Series near Elko, in Southern Georgia, on Sunday and immediately found himself lining up against many of the same riders who he will expect to battle for GNCC honours later in the year.
"Yes, it seemed a lot of teams were using this event as a warm up for the GNCC series," said the 32-year-old Kiwi.
"I got a shocking start and was near last into the trees. Tight conditions in the trees made passing tough but some of the open sections allowed a chance to make up some ground. I hooked up with Charlie Mullins on his new KTM during the middle stages of the race and we moved towards the front. Charlie then had bike problems and I was back to riding by myself.
"The lead bunch of Thad Duvall, Stu Baylor and Russell Bobbit were pushing each other hard and I was having a hard time bridging the last gap after getting up to fourth position.
"I was having a lot of fun on the track and the conditions were near perfect. After racing for a couple of months in New Zealand, in the mostly fast grass track conditions, I was really loving some tight rough trees to weave through.
"The Yamaha was working great and the settings we came up with last year with Factory Connection are still spot on. We have also tested some new combinations of the FMF exhaust system and have made some progress with power delivery.
"Fourth place was where I would finish up after failing to put a dent into the lead freight train late in the race.
"I was disappointed with the result but really enjoyed getting back into some racing. The progress Scotty Brooker, my new mechanic, and the team have made in the week we have been back in the US has been impressive."
The opening round of the GNCC series is set for River Ranch, Florida, on March 6-8.
RESULTS:
1. Thad Duvall
2. Stu Baylor
3. Russell Bobbit
4. Paul Whibley
5. Mike Lafferty
© Photo by Andy McGechan, www.BikesportNZ.com