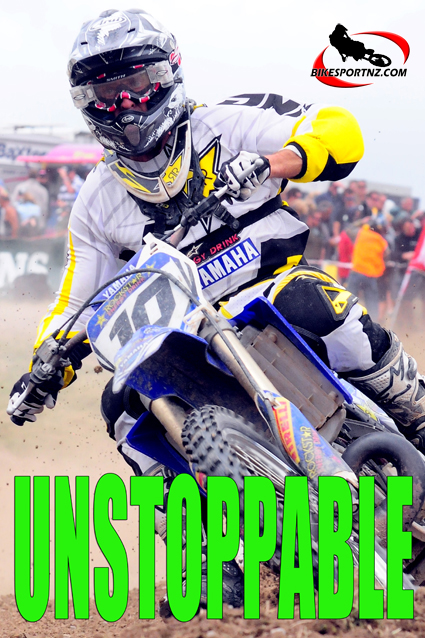 The person who coined the saying "you can't keep a good man down" probably had someone like Waikato's Darryll King in mind.
The 42-year-old father-of-two has been putting the nation's young motocross stars to the sword in recent months, despite the fact he now rates as a veteran in the sport and, besides that, is far too busy these days in his role as MXDK Rockstar Yamaha Team manager to be doing much racing himself.
Still, even as an occasional racer, he's managed to scoop up more race wins, titles and trophies in the past couple of months than many riders do in an entire career.
The two-time former world 500cc No.2 won the MX2 class at the Woodville Motocross in January and then also won the MX2 class at the Valley Motocross Championships at Patetonga at the weekend, sparking an idea in his mind that perhaps he should carry on and race the national championships again, that four-round series set to kick off just outside Timaru on Sunday.
"My priority these days is to run the race team … I have four very good riders to look after in Motueka's Josh Coppins (MX1), Hamilton's Hayden Clark (MX1) my bother Damien King (MX2), who is actually the national 125cc champion, and Waitakere's Ethan Martens (125cc). We don't really need me to ride as well.
"If I wasn't riding so well it would be pointless me even trying. But I am riding well and it would be nice to put a Yamaha two-stroke out there on the start line. I could ride the YZ250F and I actually go a little bit quicker on one of those but, we've already got Damien out there in the MX2 class on a four-stroke, an d I really enjoy racing the YZ250 two-stroke.
"It's just a bike that suits me I think. Plus it's low maintenance and that frees me up a little bit to continue my team management duties. Of course there could still be problems, like if I'm coming off the track from my race and Josh or Hayden are on the start line for their race and they have a problem with goggles or something. I need to be there for them too," said King.
"MY priority will be seeing that the rest of the boys are okay. If there are any problems, I'll pull the pin on my racing.
"I'm not sure how well I'll go at my age but I do love riding bikes so much," said the many-time former New Zealand and Australian champion.
After Sunday's opening round in Timaru, the series continues at Patetonga the following weekend (February 27), with round three in Rotorua on March 20 and the fourth and final round set for New Plymouth on March 27.
© Words and photo by Andy McGechan, www.BikesportNZ.com