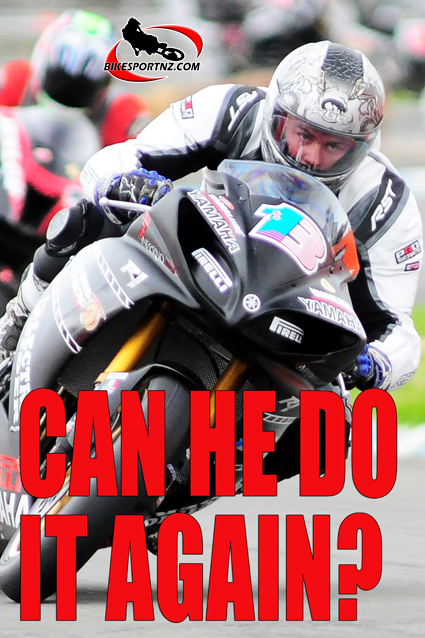 Perhaps lightning can strike twice.
At least that's what Australian Dan Stauffer has planned for this weekend when he makes his rookie appearance at the Battle of the Streets race meeting at Paeroa.
It may sound like a tall order for a first-timer to show up at such a challenging event and expect to win but that's exactly what he did just after Christmas when he made his debut appearance at the parallel Battle of the Streets event on Wanganui's famous Cemetery Circuit on Boxing Day, beating Waikato's vastly experienced national superbike champion Andrew Stroud in the process.
To call Stauffer a rookie would probably be a disservice to the man in any other circumstance – he is, afterall, a very experienced and talented superbike racer with numerous titles to his credit – but 'rookie' is the tag he has to accept when it comes to public street circuit racing.
"He's as keen as mustard to race at Paeroa," said Stauffer's Bernard Racing Yamaha team boss Brian Bernard, of Wanganui.
"He is a little nervous about his sore shoulder, injured while battling with Stroud at the opening round of the Superbike nationals three weeks ago.
"He's never raced at Paeroa before but, then again, he'd never raced at Wanganui before either and he won there. I've raced there a few times, and won there too, so I'll be passing on a few tips," said Bernard.
"We'll do as look-see lap in a car this week, just like we did at Wanganui before racing there. That might be enough for Dan … he's a very fast learner."
Although he's had a mixed bag campaigning the New Zealand Superbike Championships, with a few scary moments and a ton of bad luck, Stauffer's confidence remains high.
"He's proven he's on the pace and has led in every race he's started. I think he's still the man to beat … he just needs a little bit of luck."
The 33-year-old Stauffer is currently sixth overall in the national superbike standings after three of five rounds, a non finish in the abbreviated rain-soaked meeting at Teretonga, near Invercargill, proving very costly indeed for his title aspirations.
But Stauffer is only 10 points off a share of third overall and, with two rounds remaining – at Hampton Downs on March 27 and at Manfeild on April 3 – he is determined to make up lost ground and finish his debut New Zealand season on the podium.
Whet ever happens in the superbike nationals, he will still return home to Queensland with very fond memories of his time on this side of the Tasman, the coveted Cemetery Circuit trophy safely tucked away in his carry-on luggage.
He'll be going full throttle again on Sunday to win the Battle of the Streets at Paeroa and make it a matching pair of book-ends.
© Words and photo by Andy McGechan, www.BikesportNZ.com