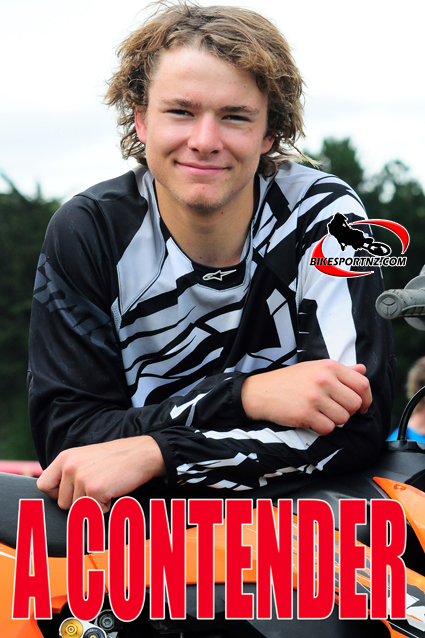 He's beaten the world's best freestyle motocross riders in Moscow and London and now he's set to conquer the entire sporting world.
Brilliant young Palmerston North freestyle motocross rider Levi Sherwood has been nominated for the Laureus World Sports Awards, following a ballot by the world's media.
Sherwood, rehabilitating from a broken femur, is poised to become the shooting star of international freestyle motocross.
At just 18 years of age, he won two of the classic events on the Red Bull X-Fighters Tour last year, in Moscow and London, and seems set for a remarkable career.
In Moscow's Red Square in June, he fought off strong opposition from world champion Nate Adams to win. Six weeks later in the grounds of London's Battersea Power Station, he kept a cool head in front of 30,000 fans as he threw down huge trick after huge trick to beat Adams again.
In his first X Games appearance in July, Sherwood won the silver medal.
The Laureus awards are voted on by 46 of the greatest sportsmen and sportswomen and will be unveiled at a televised awards ceremony in Abu Dhabi on Monday, February 7.
Also nominated with Sherwood for the Laureus world action sportsperson of the year are the All Blacks rugby team, the world's two top surfers, Australia's Stephanie Gilmore and American Kelly Slater, Britain's BMX star Jamie Bestwick, Spanish windsurfer Victor Fernandez and American snowboarder Shaun White. The All Blacks were also shortlisted in 2006 and 2007.
Also nominated for their team-of-the-year award are the Spain World Cup football (soccer) team, Champions League football winners Inter Milan, the European Ryder Cup golf team, NBA basketball winners the Los Angeles Lakers and the Red Bull Formula One team.
FINALISTS LIST
Sportsman of the Year
Kobe Bryant (US) Basketball
Andres Iniesta (Spain) Soccer
Lionel Messi (Argentina) Soccer
Rafael Nadal (Spain) Tennis
Manny Pacquiao (Philippines) Boxing
Sebastian Vettel (Germany) Motor Racing
Sportswoman of the Year
Kim Clijsters (Belgium) Tennis
Jessica Ennis (UK) Athletics
Blanka Vlasic (Croatia) Athletics
Lindsey Vonn (US) Alpine Skiing
Serena Williams (US) Tennis
Caroline Wozniacki (Denmark) Tennis
Team of the Year
All Blacks (New Zealand) – Rugby
European Ryder Cup Team – Golf
Inter Milan (Italy) – Soccer
Los Angeles Lakers (US) – Basketball
Red Bull Formula One Team (Austria)
Spain World Cup Team – Soccer
Breakthrough of the Year
Martin Kaymer (Germany) Golf
Christophe Lemaitre (France) Athletics
Matteo Manassero (Italy) Golf
Thomas Müller (Germany) Football
Louis Oosthuizen (South Africa) Golf
Teddy Tamgho (France) Athletics
Comeback of the Year
Paula Creamer (US) Golf
Tyson Gay (US) Athletics
Justine Henin (Belgium) Tennis
Carolina Kluft (Sweden) Athletics
Merlene Ottey (Slovenia) Athletics
Valentino Rossi (Italy) Motor Cycling
Sportsperson of the Year with a Disability
Verena Bentele (Germany) Skiing/Biathlon
Matt Cowdrey (Australia) Swimming
Daniel Dias (Brazil) Swimming
Jakub Krako (Slovakia) Alpine Skiing
Esther Vergeer (Netherlands) Wheelchair Tennis
Lauren Woolstencroft (Canada) Alpine Skiing
Action Sportsperson of the Year
Jamie Bestwick (UK) BMX
Victor Fernandez (Spain) Windsurfing
Stephanie Gilmore (Australia) Surfing
Levi Sherwood (New Zealand) Freestyle Motocross
Kelly Slater (US) Surfing
Shaun White (US) Snowboarding
© Photo by Andy McGechan, www.BikesportNZ.com