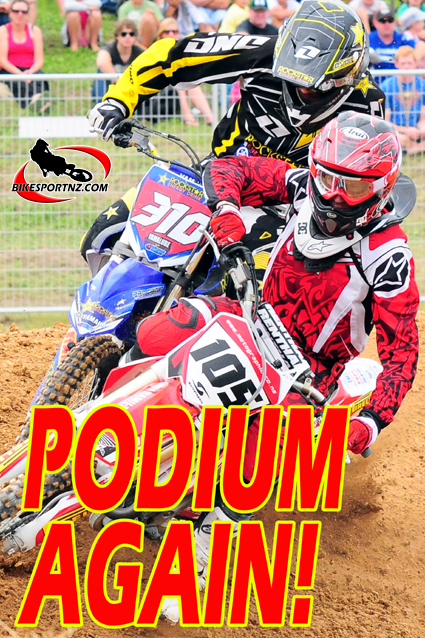 Two sensational results in as many days, Rotorua's Michael Phillips is on a roll.
And he's really only warming up.
The 24-year-old semi professional racer dominated the 39th annual Whakatane Summercross in atrocious conditions on Tuesday, the washed mud from his Honda Hamilton CRF450 and drove to nearby Te Puke to put in another outstanding performance at the one-off stand-alone New Zealand Supercross Open on Thursday evening.
As the dust cleared at the conclusion of a night of handlebar-banging race action on the American-style track just north of Te Puke, Phillips this time found himself standing on the third step of the podium, sharing the spotlight with winner Cody Cooper (Suzuki), of Mount Maunganui, and former GP motocross star Josh Coppins (Yamaha), of Motueka, the same men who he had defeated in Whakatane.
There was really nothing to separate these three riders as they traded blows throughout the night, the tight battling enough to have the good-sized crowd on their feet.
"It's always a good feeling to be on the podium … and that's the second time for me in one week," smiled Phillips afterwards.
"I was racing the same bike I rode at the Summercross. It was the same bike but a slightly different code and it was a bit of a mission to get settings changed before the supercross. I made a few mistakes tonight and I'm not saying I would have won if I hadn't made mistakes but it certainly would have made life easier.
"I got good starts all night and that certainly helped. It is all just working for me at the moment and I have huge confidence ahead of the supercross nationals and the upcoming New Zealand Motocross Championships as well."
Phillips hopes to catch the eye of a top team overseas, perhaps tackling the Australian national series again or having another crack at the British Motocross Championships.
"I don't have an overseas ride sorted at the moment but my fingers are crossed. I don't know if I can stand another winter in New Zealand. I've shown in the past few days that I have the pace to match the guys who are going to be racing overseas in 2011."
© Words and photo by Andy McGechan, www.BikesportNZ.com