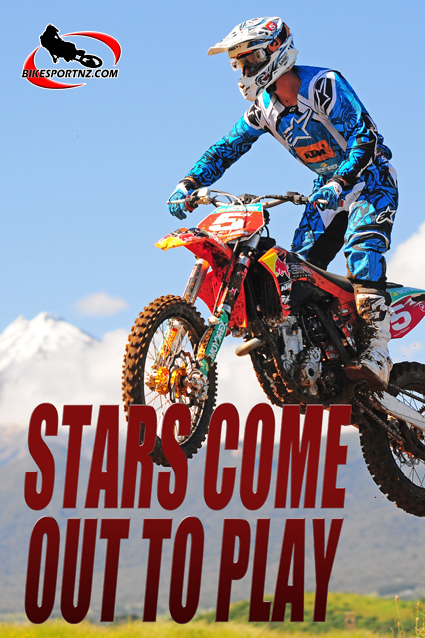 It was triple celebration time for Hawera's Daryl Hurley at the Taranaki Motocross Championships near New Plymouth on Saturday afternoon.
Making a comeback from injury that had kept him off a motorcycle for almost a year, Hurley had been hoping merely to survive the fierce day's action at the popular Barrett Road Motorcycle Park, the Kiwi international still very concerned that, if he put a foot wrong, he would aggravate his heel injury and further prolong his recovery.
But, not only did the Suzuki star survive but the 34-year-old also won the day in his MX2 (250cc) class and even came very close to winning the all-in feature race as well – that honour instead going to Waitakere rider Shaun Fogarty, on a 350cc KTM.
To add icing to the cake, the event had added impetus because it was also being used as a fundraiser for his club and that was also a huge success.
"To come back from injury and win my class … that's pretty good", said Hurley in perfect understatement. "I still need further surgery in May and I had a bit of pain today but, I guess, adrenaline takes some of that pain away.
"I'd like to ride the nationals but we'll still have to see how everything feels by then. If I'm struggling when the nationals kick off (near Timaru) in February, then it will be pointless me trying to race, but I passed the first test today. My fitness is better than I thought it would be."
Fogarty was also pleased with his day after he dominated the MX1 class with a hat-trick of wins.
"This is all part of my build-up to the nationals and couldn't have gone much better," said the 28-year-old.
"It was hard work in this heat and difficult with back-to-back races, but I'm certainly satisfied."
In addition to Hurley and Fogarty, a flood of top talent from near and far arrived in Taranaki at the weekend to assist the Taranaki Motorcycle Club in its bid to raise funds for the purchase of land adjacent to its popular Barrett Road Motocross Park facility and club president Dave Furze was all smiles at the end of the day.
"We're on the way," he said. "The turn-out of top riders was awesome and we're grateful to have that support for the club. We are already one of the very few clubs in the country to own their own facility and, if and when we can purchase the additional land, we will also become one of the very few clubs in the country able to offer a permanent supercross facility as well as motocross and trail riding areas."
Among the stars who came out to play on Saturday was recently-retired former world champion Shayne King and his elder brother Darryll King, a two-time former 500cc world championship runner-up.
Other Kiwi internationals in the mix included Hawera's Brad Groombridge – who may well have won the MX2 class from his employer, Hurley, if he had not instead crashed spectacularly in the day's final race.
Others to impress included Rotorua's John Phillips – who will leave shortly to take up a position with a race team in the United Kingdom – Otago's Campbell King, Waitakere's Broc Martens, New Plymouth's Dougy Herbert, Taupo's Alex Dillon, Taranaki quartet Kade Adlam, Bevan Adlam, Aaron Jane and Mark Burling, Matamata brother and sister Jacob and Kelly Kneebone, Levin's James Anderson, Auckland's Kurtis Lilly and the Chase brothers from Taupo, Cohen and Wyatt.
© Words and photos by Andy McGechan, www.BikesportNZ.com