THE "HOUSE OF RAIN" IN DUNEDIN?
Dunedin's Carisbrook Stadium may well be famously known as "The House of Pain" by rugby followers in New Zealand, but now it's more likely to be dubbed "The House of Rain" by the supercross community after Saturday night's racing.
Wet and treacherous conditions prevailed at round five of the Monster Energy Australasian Super X event in Dunedin on Saturday night, allowing American Josh Hansen (Kawasaki) to demonstrate his skill on the slippery track to win both motos in the Double Header final.
Australia's Matt Moss (Suzuki) was the overall winner in the Lites (250cc) class.
Kawasaki's Hansen was the only rider to stay relatively clean as he claimed both holeshots and never looked back in the two 12-lap final races, pushing him further ahead of Yamaha's Jay Marmont in the overall championship standings.
KTM's Tye Simmonds rode the best he has all season to claim second in the first moto and third in the second after a great battle with Suzuki's Jake Moss.
Moss made a great pass on Simmonds on the final corner of the second race to pip Simmonds at the post. Moss and Simmonds tied on round points with Moss claiming second on a count back.
Top Kiwi was Mount Maunganui's Cody Cooper (Suzuki) (pictured above), who managed 5-6 results for fifth overall on the night.
Cooper had finished sixth overall at the only other round of the series he has contested, round four last weekend at Auckland's North Harbour Stadium.
Christchurch rider Justin McDonald (Honda) finished seventh overall in Dunedin, followed by Mount Maunganui's Mason Phillips (Kawasaki) in eighth.
"That was a scary one, especially with points," said Hansen afterwards.
"It was super wet, very muddy and a lot of lappers. Starts were really important and I had to be consistent and smart out there. It's great to have the support I have behind me. Big thanks to everyone who has made it possible to be here and Troy Carroll from the Kawasaki Racing Team for all his help. This series is really cool and has been a lot of fun."
Simmonds agreed it was difficult.
"It was a tough night, but it was good fun racing in the mud. It doesn't rain much in Bourke so overall it was an awesome night. I really want to thank RACESAFE for helping me out."
The first of two eight lap races in the Double Header final for the Lites was a nail biter with Suzuki's Matt Moss and Suzuki's Steven Clarke engaging in a back and forth battle for the lead, with Clarke the eventual winner after overtaking Moss on the second last corner.
Championship leader PJ Larsen (KTM), of the United States, was third.
Moss had a dominant win in the second final with Larsen second and Kawasaki's Cody Mackie third.
Best performed Kiwi in the Lites class in Dunedin was Christchurch's Craig Smith (Honda), who finished ninth and 10th in his two races, good enough for eighth overall on the night.
Larsen still leads the championship, but is only four points ahead of Moss and KTM's Ryan Marmont is third.
The penultimate round of the championship will be held at Parramatta Stadium this Saturday, November 27.
OPEN top ten results – Round 5
1.      Josh HANSEN – Monster Energy Pro Circuit Kawasaki: 25,25 TOTAL: 50
2.      Jake MOSS – Team Rockstar Motul Suzuki: 20,22 TOTAL 42
3.      Tye SIMMONDS – JDR Motorex KTM: 22,20 TOTAL 42
4.      Jay MARMONT – CDR Rockstar Yamaha: 18,18 TOTAL 36
5.      Cody COOPER – Rockstar Motul Suzuki: 16,15 TOTAL 31
6.      Todd WATERS – Cougar Bourbon Thor Honda: 14,13 TOTAL 27
7.      Justin MCDONALD – Honda: 8,16 TOTAL 24
8.      Mason PHILLIPS – Fly Team Green Kawasaki: 10,14 TOTAL 24
9.      Daniel REARDON – Cougar Bourbon Honda Thor Racing: 13,11 TOTAL 24
10.    Daniel McCOY – Coastal KTM Motorex Team: 9,12 TOTAL 21
OPEN top ten results – Top ten championship standings
1.      Josh HANSEN – Monster Energy Pro Circuit Kawasaki: 275
2.      Jay MARMONT – CDR Rockstar Yamaha: 229
3.      Jake MOSS – Team Rockstar Motul Suzuki: 194
4.      Tye SIMMONDS – JDR Motorex KTM: 191
5.      Daniel REARDON – Cougar Bourbon Honda Thor Racing: 162
6.      Todd WATERS – Cougar Bourbon Thor Honda: 155
7.      Daniel McCOY – Coastal KTM Motorex Team: 148
8.      Mike ALESSI – JDR Motorex KTM: 127
9.      Justin BRAYTON – Muscle Milk / Toyota JGRMX: 121
10.    Lewis WOODS – Top Gear KTM: 112
LITES top ten results – Round 5
1.      Matt MOSS – Rockstar Motul Suzuki: 22,25 TOTAL 47
2.      Steven CLARKE – Raceline Pirelli Suzuki: 25,18 TOTAL 43
3.      P J LARSEN – JDR Motorex KTM:  20,22 TOTAL 42
4.      Cody MACKIE – Kawasaki Racing Team Cool Air Conditioning: 16,20 TOTAL 36
5.      Luke ARBON – Kawasaki Racing Team Cool Air Conditioning: 15,15 TOTAL 30
6.      Ford DALE – Serco Yamaha: 14,14 TOTAL 28
7.      Ryan MARMONT – JDR Motorex KTM: 11,16 TOTAL 27
8.      Craig SMITH – Timaru Honda Fly Racing Castrol: 12,11 TOTAL 23
9.      Kade MOSIG – Cougar Bourbon Thor Honda: 18,0 TOTAL 18
10.    Luke STYKE – GTYR Rockstar Yamaha: 7,9 TOTAL 16
LITES – Top ten championship standings
1.      P J LARSEN – JDR Motorex KTM: 252
2.      Matt MOSS – Team Rockstar Motul Suzuki: 248
3.      Ryan MARMONT – JDR Motorex KTM: 203
4.      Cody MACKIE – Kawasaki Racing Team Cool Air Conditioning:172
5.      Steven CLARKE – Raceline Pirelli Suzuki: 154
6.      Lawson BOPPING – Team Rockstar Motul Suzuki: 142
7.      Ford DALE – Serco Yamaha: 133
8.      Josh CACHIA – Coastal KTM MX Rad: 125
9.      Luke STYKE – GTYR Rockstar Yamaha:119
10.    Robbie MARSHALL – Yamaha: 117
Michelin Development Series – Top ten championship standings
1.      Dylan LONG – KTM / Thor / Motorex / Michelin / One Industries: 75
2.      Jake EMANUELLI – Doyle & Shields Yamaha Bairnsdale / Fox: 58
3.      Jacob WRIGHT – Honda Jnr Development Team: 57
4.      Luke CLOUT – SS Racing / MX Rad / Pirelli / Fox / Link / Rockstar: 47
5.      Kurt WATERMAN – Spot On Racing / Bell / Troy Lee Designs / Dragon: 44
6.      Jarrad DAVIS – Davis Bikeworx / Motul / Fox / Alpinestar / Dunlop: 39
7.      Lenny MAGYAR – Canberra Motorcycle Centre: 34
8.      Meghan RUTLEDGE – Moss Institute / Southern Highlands M-c: 34
9.      James BOOTH-ELLIOTT – Loose Kid Industries / Ringmaster Images: 32
10.    Lincoln NICOL – Prorider Motorcycles / Factory Spec  MCD / Comac: 30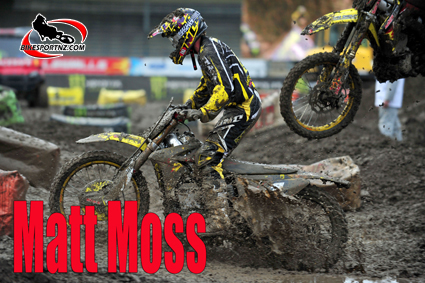 © Photos by Global Action Sports