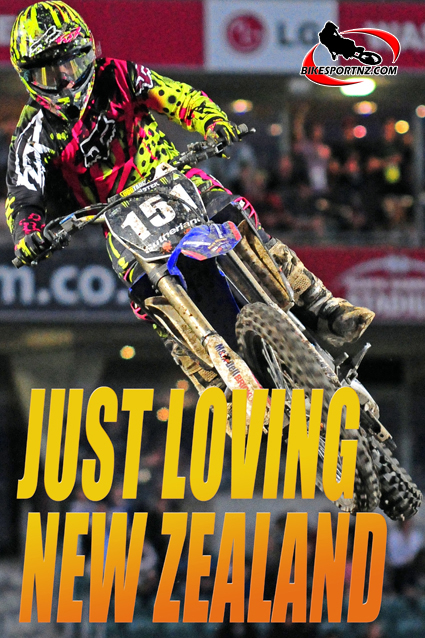 Young Australian motocross racer Nick Sutherland will remember his first visit to New Zealand for all the right reasons.
He may not enjoy all the trappings of a top factory rider, dossing down with motocross family friends in Rotorua – Barbara and Dennis Phillips, the parents of top Kiwi racers Mike and John – but Sutherland craves no special treatment.
The 19-year-old from Inverell, New South Wales, arrived at Auckland's North Harbour Stadium on Saturday evening not knowing what to expect at the fourth round of seven in this year's Australasian Super X Championships, but he left at the end of the night celebrating his best result of the season.
Sutherland finished 9-11-9 in his three Lites (250cc) class races in Auckland, good enough for seventh overall for the night.
That also meant he finished top privateer for the night, taking his Yamaha YZ250F to bang handlebars with the best factory riders from this corner of the world.
The result also elevated Sutherland from 15th equal in the championship standings to 13th overall.
"I missed the Canberra round of this series, so that's why I'm only 13th overall, but this result in Auckland certainly helped things along," he said.
"I'm really enjoying my visit to New Zealand … it's quite a bit like home really."
Sutherland now heads to Dunedin for round five of the series at "The House of Pain", Carisbrook Stadium, before returning home. The final two rounds of the championship are set for Sydney and Brisbane.
© Words and photo by Andy McGechan, www.BikesportNZ.com