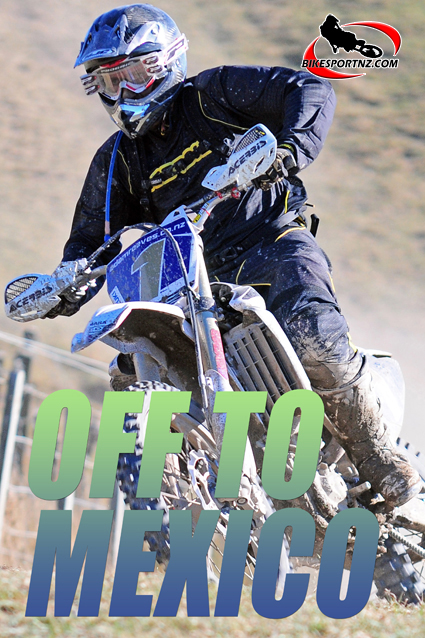 New Zealand will send just three riders to Mexico for this year's "Olympic Games" of motorcycle endurance riding.
The annual International Six days Enduro (ISDE), this year set for Mexico on November 1-6, is regarded as the toughest off-road motorcycle event in the world and New Zealand riders regularly feature among the leaders.
However, budget constraints have forced New Zealand to send a smaller than average contingent — although what they lack in numbers they more than make up for in talent.
Supported by Yamaha New Zealand and Wellard Group Holdings Pty., the Kiwi "club" team comprises former national enduro champion Rory Mead (Yamaha YZ250F), of Whitby, national under-200cc two-stroke enduro champion and former national cross-country champion Adrian Smith (Yamaha YZ450F), of Mokau, and Pahiatua's two-time and reigning national cross-country champion Adam Reeves (Yamaha YZ450F)(pictured above).
A fourth rider, Auckland's Karl Power (Yamaha YZ250F), will be on standby as a reserve rider should any of the others become injured or otherwise unavailable in the next few weeks.
The team will be known as the Wellard Club Team and the campaign comes about largely thanks to support from Wellard's managing director Mauro Balzarini, a motorcycling enthusiast who could see the potential in the New Zealand riders. The team manager is Australian Peter Strickland.
At a private function for guests and media at Queenstown Motorcycles 850 Café in Queenstown at the weekend, Mr Balzarini was on hand to present the four riders with their official team jerseys.
"Unfortunately Motorcycling New Zealand was not in the position to support a National team this year for the ISDE, which left Wellard with an opportunity to step in as major sponsor," said Mr Balzarini.
"It also gave us the option of selecting some of the country's top off-road riders. We are very excited to also be able to continue our long-standing relationship with Yamaha who we have built a strong alliance with since our first Six Day campaign in 2007," he concluded.
Guests at the function were treated to a brief history on Wellard's interests in New Zealand and their synergy to Yamaha, as well as learning how one of the world's leading live export companies became involved in enduro racing.
"It was easy … our managing director is a petrol head," explained Mr Strickland. "Mauro was a multi-time national enduro champion in his younger years and has competed in five ISDE campaigns with the last being 2006, right here in New Zealand."
Yamaha New Zealand was naturally thrilled about the partnership with Wellard.
"I'm really happy that Mauro and his organisation have chosen to support our Yamaha Team riders, who are all current and previous national champions," said Yamaha New Zealand's Peter Payne.
"It's a great opportunity for Adam, Adrian and Rory to have this level of support," said Mr Payne.
Reeves, a first-timer at an ISDE event, said he was "really looking forward to the challenge.
"It's an opportunity that was too good to turn down," said the 28-year-old printer.
For the 24-year-old Smith, the Mexican event will be his fourth ISDE campaign.
He also rode the ISDE when it was staged in Taupo, New Zealand, in 2006, in Chile in 2007 and in Greece in 2008. On each occasion he won a silver medal.
"I'm hoping to again finish inside the top 15-20 in my class this time around. I believe it will be very dry and slippery in places.
"I've made a few silly mistakes with my racing in New Zealand lately, like running out of gas at the Yamaha Tarawera 100 endurance race near Kawerau (in July), but I'm not going to make that mistake again. I injured myself playing rugby recently but I will easily be 100% again by November."
The ISDE course will be laid out near the city of Morelia, located in the north-central part of the state of Michoacán. The city is located in the Guayangareo Valley and is the capital of the state.
Although the terrain is likely to be brutal, riders might expect temperatures top hover around a tolerable 23 degrees Celsius at that time of the year.
© Words and main photo by Andy McGechan, www.BikesportNZ.com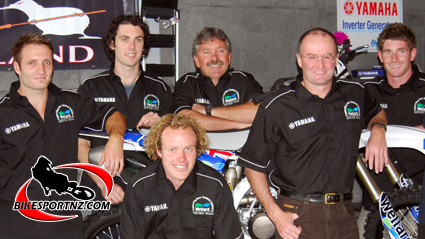 The New Zealand team to tackle the International Six Days Enduro in Mexico next month is (from left) Adam Reeves, Karl Power, Adrian Smith, Peter Strickland, Mauro Balzarini and Rory Mead.