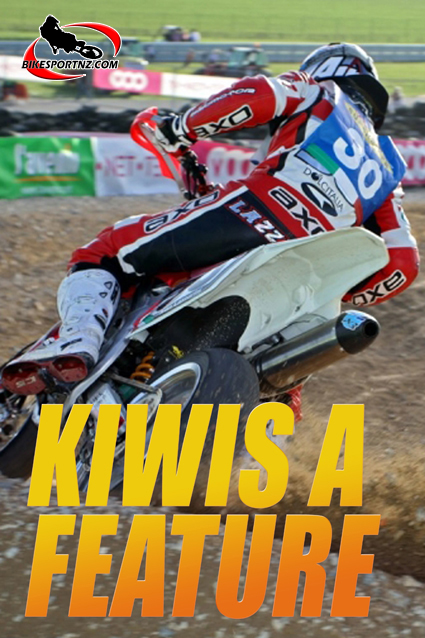 Run on a new permanent facility, the weekend's 24th supermoto Mettet in Belgium was full of surprises, but ended with two Kiwis among the top four.
The event attracted world class interest from across the board, with riders entered from many motorcycling codes, including world motocross, world super motard, world superbikes and supersport, world enduro, world freestyle motocross and several AMA champions.
In the end it was French former motocross world champion Mickael Pichon who won overall, adding to his list of international credentials by taking the glory ahead of former 500cc motocross world champion Andrea Bartolini, New Zealand motocross GP hero Josh Coppins and fellow Kiwi Darryl Atkins.
Stephane Chambon injured his thumb and could not fully defend his chances at the event where he was clearly the favourite. Another attraction was the presence of former motocross world champion Sebastien Tortelli, in contention for his first Supermoto win.
He arrived on Friday night from San Diego but the flying Frenchman suffered two engine failures over the event.
Italian super motard rider Ivan Lazzarini (pictured above), a visitot to New Zealand last summer, suffered mechanical problems and could not feature among the top 15.
The winner of the Superbiker class was Finland's Mauno Hermunen.
Starbiker:
1. Mickael Pichon, 47pts; 2. Andrea Bartolini, 42 pts; 3. Coppins Joshua, 34 pts; 4. Atkins Darryl, 33pts; 5. Parkes Broc, 27pts; 6. Breugelmans Sven, 26pts; 7. De Dijcker Ken, 25 pts; 8. Chambon Stéphane, 25pts; 9. Simeon Xavier, 21 pts; 10. Metzger Mike, 18 pts; 11. Nagl Max, 18pts; 12. Dymond Micky, 18pts; 13. Rea Gino, 16pts; 14. Melotte Cedric, 16pts; 15. Tortelli Sébastien, 10pts.
Superbiker:
1. Hermunen Mauno; 2. Chareyre Adrien; 3. Lazzarini Ivan; 4. Seel Eddy; 5. Febvre Romain; 6. Delepine Gerald; 7. Fraikin Marc; 8. Scheiwiller Cyrill; 9. Chambon Boris; 10. Götz Marcel; 11. Wnstanley Matthew; 12. Gaspardone Paolo; 13. Voorwinden Maik; 14. Van Drunen Marcel; 15. Sammartin Elia.
© Words by Andy McGechan, www.BikesportNZ.com
© Photos by Eric Sandra
Watch on board with American Micky Dymond: