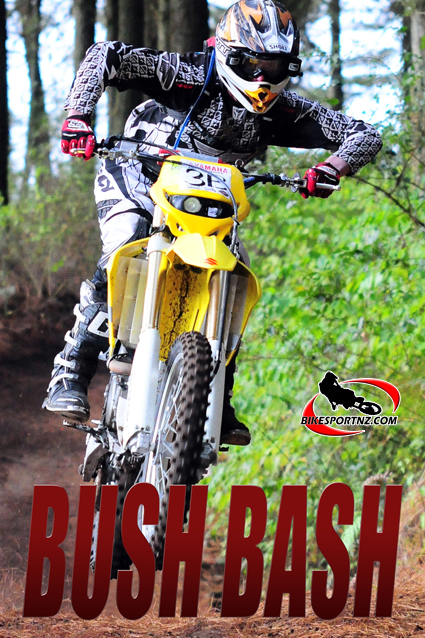 It probably comes as no surprise at all that a former Manawatu forestry worker is the man favoured to win a motorcycle race called the Bush Bash Twenty10.
Kiwi international Paul Whibley, a long-time Dannevirke and Pahiatua native but who now spends most of his year racing in the United States, brings his world class experience to the popular Bush Bash Twenty10 race this year.
The big four-hour race, set for November 14 on the huge Waitawhiti Station property on Waitawhiti Road, just outside Pahiatua, has already attracted a lot of interest from New Zealand's leading off-road motorcycle racers.
Winners in the past have included former national enduro champion Rory Mead, of Taupo, and current national cross-country champion Adam Reeves, of Pahiatua. They should again be contenders this time around, along with riders such as Napier brothers John and Lance O'Dea (pictured above), Mokau's Adrian Smith and Whangamata's Jason Davis, to name a few.
Both Mead and Reeves will have just returned home from racing at the International Six Days Enduro in Mexico, while Whibley will have just wrapped up his American Grand National Cross Country Championship season.
The Bush Bash Twenty10 course is about 30 kilometres of demanding terrain, including about 10 kilometres of track through dense bush.
"A new senior class has been included this year to attract the trail riders, called the intermediate open class. With a tighter track than in the past, there won't be the same horsepower advantage for the bigger bikes," said the host Bushriders Motorcycle Club president Stu Sowry.
"We won't be racing quad bikes this year because of the nature of the terrain."
This year will be the first time the club will be using the electronic transponder (lap scoring) system, so the riders will get to see real time race positions as they go through the timing gate. Pit crews will be able to monitor the race via an LCD television in the timing caravan, showing riders' overall and class positions.
The junior race is of two hours' duration. Last year's junior overall winners were Ben Exeter, who teamed with Brayden Stephens. Ryan Foothead and Thomas Fraser were runners-up.
Foothead is perhaps the favourite to win the junior section this year, with a strong showing also expected from Dannevirke's national junior cross-country No.4 Stacy Smyth.
The route to the event will be signposted from BP Pahiatua — into Tiraumea Road, left into Pa Valley Road, left into Route 52, then right into Waitawhiti Road.
Rider entry fee is $60 and day licences will be available.
There is limited accommodation available at the venue and further information and entry forms can be found in the download section on the club's website, www.bushriders.co.nz
© Words and photo by Andy McGechan, www.BikesportNZ.com