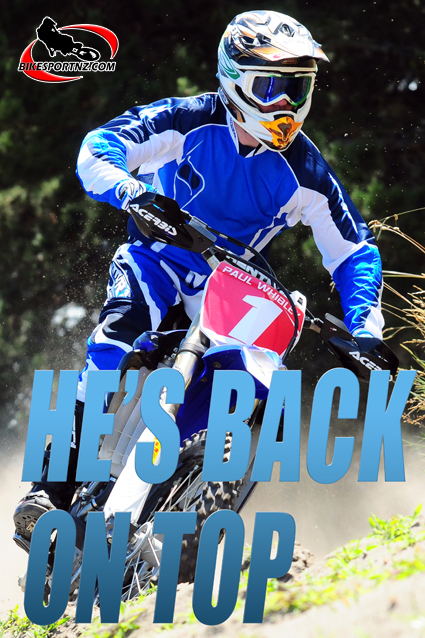 New Zealand's Paul Whibley is back where he belongs … on top in the United States.
The former forestry worker from Pahiatua, affectionately known as "The Axeman" on the American cross-country motorcycle racing scene, stormed to the top of the popular Off-Road Motorcycles and ATV (OMA) championship series after taking a commanding win at round six of the series in Millville, Minnesota, at the weekend.
"This event is one of the more fun races on the OMA circuit and attracts a good turnout of riders wanting to tackle the motocross track and thrash around in the woods," said the Yamaha star.
"I had been practicing my starts and, although I don't think I have it perfected yet on the YZ450F, I was able to lead into the first turn only getting passed when fast-starter Jordan Ashburn swept around the outside to take the holeshot honours.
"I regained the lead a couple turns later and began to check out.
"I moved out to a 15-second lead on the first lap and was able to keep an eye on Scott Watkins behind me, in second.
"I was expecting to have to make two fuel stops and, the lap before, I came in for gas I pushed the lead out to close to a minute and was in and out before Scott entered the pits.
"After another couple of laps I came in for the final splash of gas to get me to the finish. Continuing to pad my lead, I was out to about a minute and a half by the finish although Scott Watkins rode a strong race and kept the pressure on through most of the day.
"With that win I have now moved into the points lead of the OMAs with only four rounds of the 2010 edition to go."
Whibley is also keen to defend the Grand National Cross-country Championships (GNCC) crown he won in the US last season but that has so far proven to be a difficult prospect.
Whibley is currently running fourth overall in this parallel series and, with just four rounds to go to wrap it up, he'll need to continue the winning form he enjoyed at the weekend.
The next round of the GNCC series is set for Unadilla, near New York, on September 12.
OMA series round six results:
1. Paul Whibley (Yamaha)
2. Scott Watkins (Kawasaki)
3. Nick Fahringer (Husaberg)
4. Jordan Ashburn (Kawasaki)
5. Jake Fiddler (Kawasaki)
6. Adam Bonneur (Kawasaki)
7. Cooper Bailey (Kawasaki)
8. Michael Williams (Kawasaki)
9. Steve Leivan (Yamaha)
10. Tim Nienow (Yamaha)
© Words and main photo by Andy McGechan, www.BikesportNZ.com
Additional photos courtesy Bill Gusse