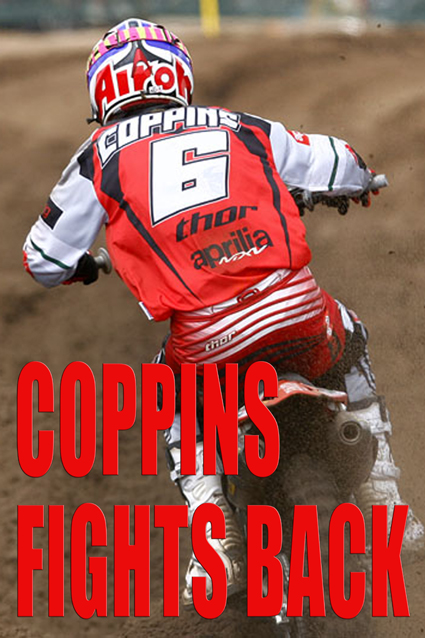 Round 11 of the FIM MX World championship has welcomed 23,500 spectators to the gruelling sands of Lommel to witness  possibly  the toughest motocross GP in the world.
Factory Aprilia racer Josh Coppins gave fans their money's worth to post his best 2010 GP result to date, but it was how the New Zealander did it that was most impressive.
Moto one did not start off well for Coppins as he lost his rhythm in the opening stages and forfeited his advantage of a top 10 start, regressing down to 15th spot.
Once settled into position, the man from Motueka  turned up the gas and started to make his way through the pack.   He progressed into 10th after passing Belgian Kevin Strijbos with 5 minutes to go and crossed the finish line in 9th after Tanel Leok ran out of fuel on the last lap.
Coppins' fans were shocked to see the No.6 Aprilia in last position as he went down on the first lap after been hit from behind in the second turn.
The resilient Kiwi was not about to give up just yet as remounted with a damages rear brake, took the bit between his teeth and charged through the pack.  Within five laps Coppins caught and disposed of half the field and then set his sights on the top 10.
He caught and passed Italian David Guarneri , Belgian Kevin Strijbos, Belgian Steve Ramon, Spaniard Johnathan Barragan, South African Gareth Swanepoel and Russian Evgeny Bobryshev in the last five laps  to cross the finish line eighth, in an amazing comeback ride.
"This weekend we proved that the Aprilia has the reliability to withstand the toughest conditions as well as be competitive in the sand.  I took too long to get going in the first moto and should have been more aggressive but once I found my rhythm, I put in some strong laps but ran out of time to make a move on Swanepoel and (Belgium's Ken) De Dycker.
"I had no rear brake after my crash in the second moto which actually helped me to ride smooth and keep my speed and try to flow in the corners.
"The tighter turns were a little more difficult but once I figured them out I found some good lines and was amazed at how fast I reeled the guys in.  I made two awesome passes on the last lap to finish eighth, so I'm really happy with this result.  This gives me a lot of motivation for the next GPs, especially Lierop (in the Netherlands)."
Coppins now heads to Loket in the Czech Republic for round 12 of 15 next weekend.
Race results:
MX1 Race 1
1 Cairoli, Antonio ITA KTM
2 Nagl, Maximilian GER KTM
3 Desalle, Clement BEL Suzuki
4 Philippaerts, David ITA Yamaha
5 Ramon, Steve BEL Suzuki
6 Goncalves, Rui POR KTM
7 de Dycker, Ken BEL Yamaha
8 Swanepoel, Gareth RSA Honda
9 Coppins, Joshua NZL Aprilia
10 Strijbos, Kevin BEL Suzuki
11 Guarneri, Davide ITA Honda
12 Bobryshev, Evgeny RUS Honda
13 Leok, Tanel EST Honda
14 Barragan, Jonathan ESP Kawasaki
15 Priem, Manuel BEL Aprilia
MX1 Race 2
1 Cairoli, Antonio ITA KTM
2 Leok, Tanel EST Honda
3 Nagl, Maximilian GER KTM
4 Desalle, Clement BEL Suzuki
5 de Dycker, Ken BEL Yamaha
6 Philippaerts, David ITA Yamaha
7 Goncalves, Rui POR KTM
8 Coppins, Joshua NZL Aprilia
9 Bobryshev, Evgeny RUS Honda
10 Swanepoel, Gareth RSA Honda
11 Ramon, Steve BEL Suzuki
12 Strijbos, Kevin BEL Suzuki
13 Barragan, Jonathan ESP Kawasaki
14 Guarneri, Davide ITA Honda
15 Martens, Yentel BEL KTM
MX1 GP Overall:
1 Cairoli, Antonio ITA KTM 50
2 Nagl, Maximilian GER KTM 42
3 Desalle, Clement BEL Suzuki 38
4 Philippaerts, David ITA Yamaha 33
5 Leok, Tanel EST Honda 30
6 de Dycker, Ken BEL Yamaha 30
7 Goncalves, Rui POR KTM 29
8 Ramon, Steve BEL Suzuki 26
9 Coppins, Joshua NZL Aprilia 25
10 Swanepoel, Gareth RSA Honda 24
11 Bobryshev, Evgeny RUS Honda 21
12 Strijbos, Kevin BEL Suzuki 20
13 Guarneri, Davide ITA Honda 17
14 Barragan, Jonathan ESP Kawasaki 15
15 Martens, Yentel BEL KTM 6
MX1 World Championship standings:
1 Cairoli, A. ITA 484
2 Desalle, C. BEL 405
3 Philippaerts, D. ITA 364
4 Nagl, M. GER 348
5 Ramon, Steve BEL 341
6 de Dycker, Ken BEL 299
7 Boog, Xavier FRA 276
8 Leok, Tanel EST 249
9 Bobryshev, E. RUS 244
10 Guarneri, D. ITA 213
11 Strijbos, K. BEL 181
12 Swanepoel, G. RSA 173
13 Coppins, J. NZL 165
14 Goncalves, Rui POR 153
15 Boissiere, A. FRA 145
© Photo by CDS