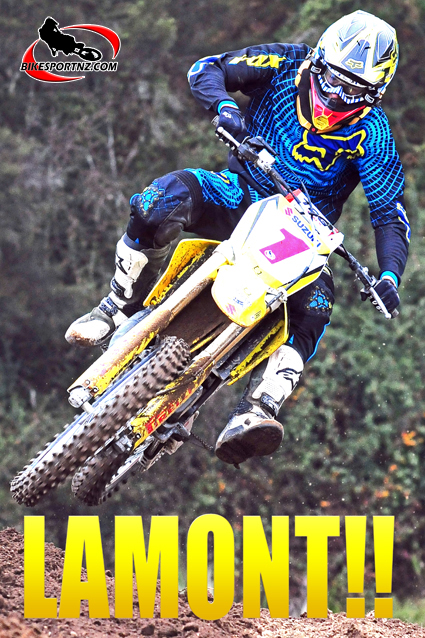 New Zealand's Kayne Lamont can't wait for the start of racing at this year's Junior World Motocross Championships in France in just over 10 days' time.
The 17-year-old BikesportNZ.com-sponsored Suzuki rider is on a high after his huge confidence-boosting performance at the Czech Republic at the weekend, racing in the sixth round of seven in this year's inaugural European 125 Motocross Championships (EMX125).
The previously-unheralded teenager from the small township of Mangakino, in the Central North Island of New Zealand, snatched the holeshot at the start of the weekend's first European 125 Motocross Championships (EMX125) race and led some of the world's best young stars throughout the opening laps.
French sensation Jordi Tixier (KTM) eventually found a way past the Kiwi and took the win, with Lamont charging hard to maintain second spot and record his best performance of his abbreviated campaign — Lamont did not race the first two rounds of this series and failed to score any points at rounds three and four.
Lamont (Suzuki RM125) was thrilled to achieve what he described as "an unreal result".
Lamont's father, Stu, said his son was "very nervous before the race but now his confidence is right up. He can't wait for the junior world champs in France.
The weekend's second race was a disappointment, however.
"He managed a reasonable start, about eighth around the first corner, and he was sitting pretty. But then he was tipped into a bog hole by another rider and that was that. He just could not get the bike out. It was very muddy and the goo was right up above his footpegs," said Stu.
He burned out the bike's clutch trying to extricate himself from the mess.
"It took three men to eventually lift the bike out of the mud."
He was eventually credited with 2-dnf for the day, still good enough for him to finish the GP 12th overall – one place better than another French sensation, Dylan Ferrandis (Kawasaki) — and Lamont is now up to 20th in the championship standings.
"But it was still a pretty good weekend, all things considered," said Stu.
"Kayne only qualified 25th and then to come home second in the first race … well that is unbelievable.
"We have had several more approaches for Kayne to ride for a professional team in Europe next year. We are now just weighing up the options."
The first race result in the Czech Republic was an undoubted high point in his first season in Europe and one he will cherish. The second race is one he'd rather forget. But now the future is opening up for the young Kiwi and there's still the junior world championships to come, in Gueugnon, France, from August 20-21.
Tixier also won moto two at the weekend, enough for him to seal up the championship title, with one round still to come, in Italy next month.
The new EMX125 series has proven itself a very popular and exciting competition in its inaugural season this year.
Tixier is now probably bound for an MX2 GP team for 2011.
Leading standings after six of seven rounds:
1. Jordi Tixier (France, KTM) 295 points;
2. Yohan Lafont (France, Yamaha) 187;
3. Sulivan Jaulin (France, Yamaha) 180;
4. Samuele Bernadini (Italy, KTM) 171;
5. Yerki Janvier (Belgium, TM) 147.
© Words and photo by Andy McGechan, www.BikesportNZ.com