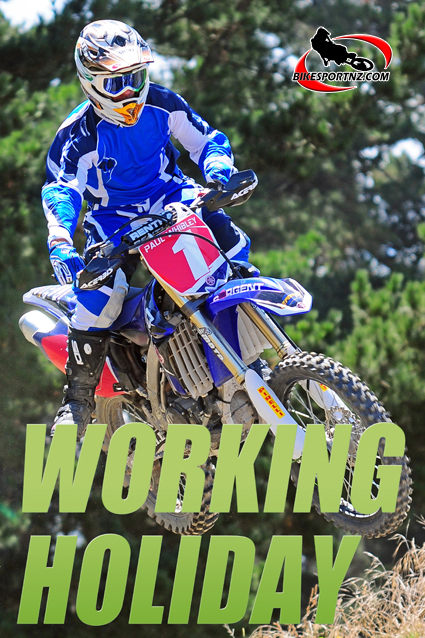 If the old saying is true 'there's no rest for the wicked', then Pahiatua's Paul Whibley must be a very bad man indeed.
Even when he's taking a break, the motorcycling ace is not resting.
Whibley (Yamaha YZ450F) is two-thirds of the way through the defence of his Grand National Cross Country Championship crown in the United States and, as that series takes its scheduled 11-week break in the middle of a typically brutal American summer, the Kiwi hero steels himself for the final big push.
So, with a few weekends off but a campaign still to be fought, Whibley was only too keen to accept the invitation to race at a regional event, an Indiana Cross-Country Championship race at Aurora during the week.
"On the way back from Michigan last weekend, we stopped at a friend's place to break up the 14-hour drive home. We ended up staying the week and racing a local Indiana race," said Whibley.
"With a heavy thunderstorm watering the track overnight, early conditions were pretty slick. I didn't get the best jump off the start line but had looked at the first few turns before we made a sharp left into the woods.
"I knew I could shoot up the inside if everyone else ran wide. That's exactly what happened. The door was left wide open and I went from about fourth or fifth and into the lead.
"The track was perfect where the kids had been riding and turned the soil over but, once we got onto the fresh tracks, it was a different story. A couple of the steep climbs and descents were actually removed for the second lap as I could only imagine the carnage that occurred in those gullies.
"I steadily increased my lead throughout the race and was having fun on the drying track."
Whibley won easily, enjoying the confidence booster ahead of the main aim of his American adventure, the GNCC title chase.
Whibley has just four events to go in the GNCC championship to make firm his bid to be the No.1 rider in the US for a second consecutive season.
The tenth round of 13 in the series is set for New Berlin, New York, on September 12.
Whibley is currently running fourth overall in the GNCC series but he is just 11 points behind the third-ranked man, KTM's Cory Buttrick, and 30 points behind his own Yamaha team-mate Charlie Mullins. Australian rider Josh Strang (Suzuki) leads the standings, 17 points ahead of Mullins.
With 100 points still on offer, any of the top five or six riders are still capable of taking the title when the championship wraps up in Crawfordsville, Indiana, in October.
© Words and photo by Andy McGechan, www.BikesportNZ.com