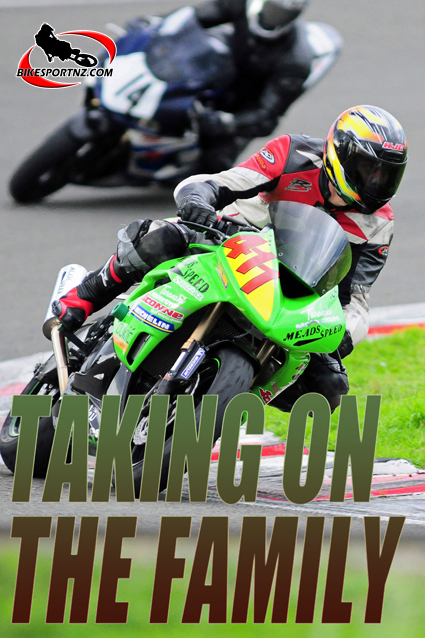 Pick a fight with a man named Meads and you'll end up taking on the whole family.
That's the likely scenario on the motorcycle road-race scene this season for any rider entering the superstock class.
Hawera's Matt Meads is devoting his weekends to getting a Kawasaki ZX-6R tuned up for his 24-year-old son, Bryce Meads, to race at the upcoming International Tri-Series, set to kick off at Meremere's Hampton Downs circuit in December, followed by him mounting a campaign for the superbike nationals, set to kick off early next year.
The 48-year-old Matt, a shift supervisor at Fonterra, raced the stock standard 2009-model Kawasaki at round two of the Victoria Motorcycle Club's popular Actrix Winter Series at Manfeild at the weekend, impressing his finishes in the top half of the 25-rider formula two field, a class simply bristling with young talent, many of them on modified machines.
"Results were not really that import this weekend," said Matt, "It is all about getting everything set for Bryce. I have not raced since 2004 … that's basically when I retired … but I can help by giving input as a technician," said Meads senior, who is a former Victoria Motorcycle Club F3 champion and has also previously won the Bears (non-Japanese) class at the street races in Wanganui.
The pair have also had help from Wellington-based suspension wizard Kerry Dukic.
"I've been building engines and bikes for years, so I'm reasonably experienced at that sort of thing. We're a great team – I have the expertise and Bryce has the balls (courage needed for racing).
"Kawasaki New Zealand and Taranaki Motorcycles in Stratford have been amazingly supportive. The bike's been great too. It's the same sort of bike that (Hamilton's) Nick Cole used to win the 600 sports production (supersport) class title at the 2010 nationals.
"The only difference is that this bike will be superstock and the same bike that comes straight out of the packing crate."
Bryce Meads can't wait to take the bike back from his dad.
"I finished top of the superstock class at Manfeild during the nationals this season, the only event in the series that I raced. I just couldn't afford a full campaign and was not nearly ready in time to do the South Island rounds before Manfeild anyway," explained Bryce Meads, who is an engineer by trade.
"I will do the whole series next season. I can wait to get cracking."
© Words and photo by Andy McGechan, www.BikesportNZ.com