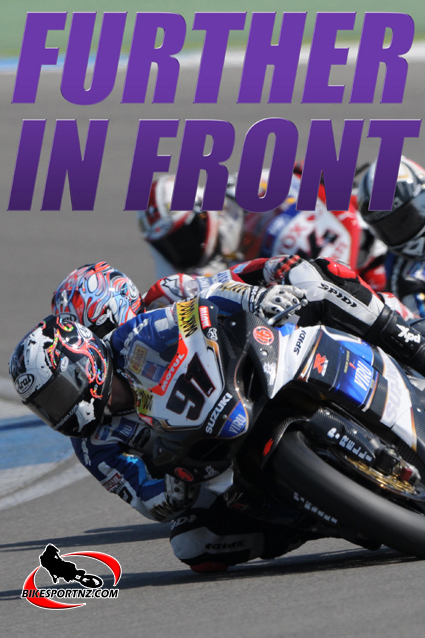 Suzuki rider Leon Haslam recovered from a disappointing 11th place in race one at the fourth round of the  World Superbike Championships in Assen, Holland, at the weekend to take runner-up spot in race two and extend his world championship lead.
His main rivals – Max Biaggi (Aprilia) and Noriyuki Haga (Ducati) – were unable to fully-capitalise on his lower-than-normal placing in the opener and Biaggi now trails the GSX-R1000-mounted Briton by 20 points.
Haslam's position in the first race was a result of a loss of air pressure in his front tyre which meant he couldn't push hard at all: At first he thought it was a brake problem, but he kept going and collected five valuable Championship points.
Jonathan Rea (Honda) won the race, with fellow Britons James Toseland (Yamaha) and Leon Camier (Aprilia) second and third.
Race two was an absolute scorcher – one of the best in World Superbike history: Rea won it, but only after the 'Mother of Battles' with Haslam, Troy Corser and Toseland, which saw plenty of close contact involving elbows and handlebars.
As Haslam celebrated extending his lead in the series, it was not such a good day for team-mate Sylvain Guintoli: The Frenchman hardly recovered from his position in qualifying and never found his rhythm in either of Sunday's 22-lap races, finishing 14th in race one and 13th in race two.
"Today was very, very hard, but I am happy because I have extended my lead in the series," said Haslam afterwards.
"In race one I had a problem with the front end and was struggling in 16th after five laps. I wasn't sure if it was a brake problem, but when the bike was checked over after the race, the team discovered that air had escaped from the front tyre.
"It was a real struggle to keep going especially when I was with a couple of other riders, but I was determined to bring the bike home one way or another. The team changed the front discs and pads – in case they were part of the problem – for race two and I was able to do a normal race. It was a fantastic race, with plenty of close contact. Elbows were everywhere and we were close enough to touch each other's handlebars. It was very hard, but fair, and we all enjoyed it a lot. It must have been great for the fans and of course, having both podiums filled by Brits was also great."
World Superbike results:
Race 1:
1 Jonathan Rea (GBR-Honda), 2 James Toseland (GBR-Yamaha), 3 Leon Camier (GBR-Aprilia), 4 Carlos Checa (ESP-Ducati), 5 Troy Corser (AUS-BMW), 6 Max Biaggi (ITA-Aprilia).
Race 2:
1 Rea, 2 Leon Haslam (GBR-Suzuki Alstare), 3 Toseland, 4 Biaggi, 5 Corser, 6 Checa.
Championship points:
1 Haslam 148, 2 Biaggi 128, 3 Rea 110, 4 Checa 103, 5 Toseland 86, 6 Haga 85, 7 Corser 68, 8 Sylvain Guintoli (FRA-Suzuki Alstare) 55.