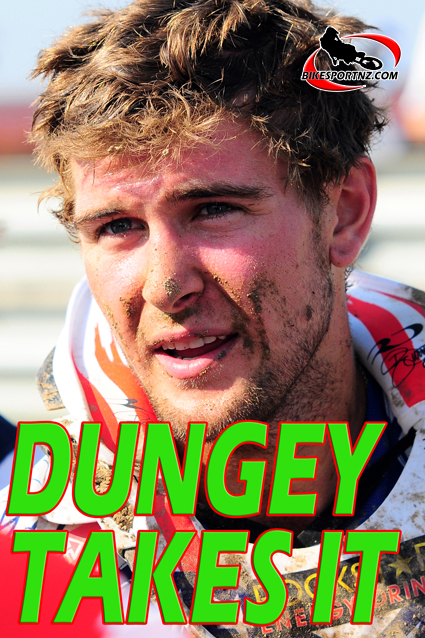 Suzuki's Ryan Dungey needed only to finish sixth or better at the 15th round of 17 in Seattle on Saturday night to secure the AMA supercross crown in his rookie season and an eventual fourth place in the main event was therefore more than enough for him to celebrate.
Even with two rounds still to come, Dungey now cannot be overtaken.
Meanwhile, in the AMA Supercross Lites Western Regional Championship, more than 51,000 fans at Qwest Field watched Yamaha's Broc Tickle race to his first career victory.
Honda's Kevin Windham was determined to return to the winner's circle in Seattle, the site of his last victory in 2008. On a night where the track was extremely technical and rough due to rain throughout the week, the veteran rider grabbed the holeshot and never looked back to lead all 20 laps of the main event.
"That was the gnarliest race I've ever ridden," exclaimed Windham. "The streak is over and it happened here in Seattle. It feels so good. I closed it out here in 2008 strong and I'm glad to do it again. I'll tell you, as I get older, things like this are much harder to come by. Tonight was just about survival. I was glad I could keep it up on two wheels."
For Dungey, he took a conservative approach to the tricky layout, riding methodically and smart to finish in fourth place and officially clinch the 2010 title and become only the second rookie in series history to achieve such a feat.
"The track was tough tonight," said Dungey. "it was very demanding with a lot of ruts. It's been an awesome season. It's something else when you're watching on TV as a little kid and hoping to be up here. It was all hard work that went into this. I'm super pumped. I just tried to take it easy in the main and stay upright. (The season) was a battle all the way. From the start we did all we could and put everything we could out on the track."
Suzuki's Tommy Hahn garnered a career-best runner-up finish while Yamaha's Justin Brayton also achieved a career-best effort, rounding out the podium in third.
After an eight-race break, the AMA Supercross Lites Western Regional Championship returned to action in Seattle for its penultimate round of the 2010 season.
Honda's Trey Canard captured the holeshot with team-mate Blake Wharton and Honda's Wil Hahn in tow.
Wharton made a pass for the lead a short time later, incidentally taking out the front wheel of Canard in the process. Weimer also found himself on the ground on the same lap.
As both riders worked their way from the back of the field, Tickle moved into the lead and gapped the field. Weimer continued to progress forward as his primary title contender found trouble on several more occasions. Tickle would hold onto first for his inaugural win with Hahn in second and Weimer rebounding for third.
"The track was really technical tonight," said Tickle. "The ruts were gnarly. I knew it was going to come down to being smart and putting 15 laps together. I can't thank everyone else enough. For the last week or so I've been getting back into supercross (form) and I'm excited to get my first win."
Canard posted an 11th-place finish, losing 10 points to Weimer and dropping to third in the standings behind Hahn. Weimer holds a 19-point advantage heading into the championship finale.
The 2010 Monster Energy AMA Supercross season continues next weekend with the penultimate round from Salt Lake City, Utah, and Rice Eccles Stadium.
AMA Supercross Class Results: Seattle
1. Kevin Windham, Centerville, Miss., Honda
2. Tommy Hahn, Alvord, Texas, Suzuki
3. Justin Brayton, Murrieta, Calif., Yamaha
4. Ryan Dungey, Belle Plaine, Minn., Suzuki
5. Davi Millsaps, Murrieta, Calif., Honda
6. Nick Wey, Murrieta, Calif., Kawasaki
7. Michael Byrne, Newnan, Ga., Yamaha
8. Chad Reed, Tampa, Fla., Kawasaki
9. Andrew Short, Smithville, Texas, Honda
10. Kyle Chisholm, Valrico, Fla., Yamaha
AMA Supercross Class Season Standings
1. Ryan Dungey, Belle Plaine, Minn., Suzuki, 320
2. Ryan Villopoto, Poulsbo, Wash., Kawasaki, 266
3. Kevin Windham, Centerville, Miss., Honda, 248
4. Davi Millsaps, Murrieta, Calif., Honda, 231
5. Josh Hill, Carlsbad, Calif., Yamaha, 227
6. Justin Brayton, Murrieta, Calif., Yamaha, 211
7. Ivan Tedesco, Murrieta, Calif., Yamaha, 183
8. Nick Wey, Murrieta, Calif., Kawasaki, 174
9. Tommy Hahn, Alvord, Texas, Suzuki, 161
10. Kyle Chisholm, Valrico, Fla., Yamaha, 147
Western Regional AMA Supercross Lites Class Results: Seattle
Broc Tickle, Holly, Mich., Yamaha
Wil Hahn, Decatur, Texas, Honda
Jake Weimer, Rupert, Idaho, Kawasaki
Blake Wharton, Pilot Point, Texas, Honda
Ryan Morais, Murrieta, Calif., Suzuki
Josh Hansen, Elbert, Colo., Kawasaki
Cole Seely, Newbury Park, Calif., Honda
Phil Nicoletti, Bethel, N.Y., KTM
Max Anstie, Hemet, Calif., Yamaha
Hunter Hewitt, Pilot Point, Texas, Suzuki
Western Regional AMA Supercross Lites Class Season Standings
Jake Weimer, Rupert, Idaho, Kawasaki, 155
Wil Hahn, Decatur, Texas, Honda, 136
Trey Canard, Shawnee, Okla., Honda, 131
Broc Tickle, Holly, Mich., Yamaha, 125
Blake Wharton, Pilot Point, Texas, Honda, 107
Cole Seely, Newbury Park, Calif., Honda, 90
Josh Hansen, Elbert Colo., Kawasaki, 75
Max Anstie, Hemet, Calif., Yamaha, 75
Phil Nicoletti, Bethel, N.Y., KTM, 69
Jeff Alessi, Murrieta, Calif., Yamaha, 64
© Photo by Andy McGechan, www.BikesportNZ.com