STROUD NOT PLAYING IT SAFE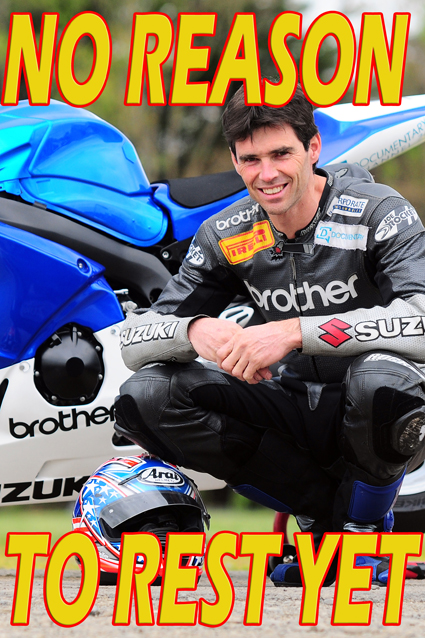 With just four races to go to decide where the national superbike title heads this season, it is not the time to back off and play it safe.
Quite the contrary, as championship leader Andrew Stroud (Brother Suzuki) would tell you.
The Hamilton rider is just 13 points in front of defending champion Robbie Bugden (Triple R Suzuki) at the top of the superbike standings and he'll be pushing hard for more wins at the series' penultimate event, the fourth round of five in this season's Castrol Power 1 New Zealand Superbike Championships at Manfeild this weekend.
"I'm not far enough in front to be relaxing just yet," said the 42-year-old Stroud, determined to win back the title he last held in 2006.
Stroud knows Australia's Budgen is a fierce adversary.
The Brisbane rider is used to winning races — having won the glamour New Zealand title for the past three seasons — although he hasn't had it all his own way in 2010.
There are two races for the superbike class at Manfeild on Sunday and a further two at the final round at Hampton Downs, near Meremere, to wrap up the series
"If I finish behind Robbie in these final four races, he'll be leading the championship at the end … I know I can't afford to let that happen," said Stroud.
"It wouldn't be hard to finish behind Robbie, because he's pushing very hard indeed. I'm thinking this battle will go right down to the wire.
"It will take some serious riding to win this championship," Stroud said. "I have to ride out of my comfort zone to beat Robbie but I feel I'm up to it."
Meanwhile, Christchurch rider James Smith is on target for double celebration as he sits in a podium position in two classes, third overall in the superbikes class and on the top step in the 600cc Sports Production class.
The 30-year-old printer shared the day's overall honours with Hamilton's Nick Cole (Kawasaki) at the previous round at Levels Raceway, just outside Timaru, last month and was therefore able to maintain his six-point advantage at the top of the standings.
But, like Bugden, Cole is not a rival to be taken lightly. Cole has actually won more races in the 600cc class than Smith. Cole has won four of the six races thus far but a DNF thanks to a broken drive chain at round two has proved very costly in the Waikato man's drive to nail down his first championship.
Foxton's Jason Easton (Aprilia Tigcraft) is within just 11 points of defending champion Glen Williams (Suzuki), of Palmerston North, in the Formula Three class, while Dannevirke's Geoff Booth (Suzuki) continues to lead the 650 Pro Twins class, albeit now by just three points from Christchurch's James Hoogenboezem.
Meanwhile, Hoogenboezem's bother, Alastair, is still the man to beat in the 125GP class, a massive 69 points in front of Auckland teenager Jaden Hassan (Yamaha).
In the sidecars class, Wanganui men Stephen Bron and Dennis Simonsen (Suzuki) comfortably lead from Canterbury pair Dave Annan and Warwicks Demmocks (Suzuki).
Leading standings after round three of the Castrol Power 1 New Zealand Superbike Championships at Levels raceway, Timaru, in January:
Superbikes:
Andrew Stroud (Hamilton, Suzuki) 128 points;
Robbie Bugden (Australia, Suzuki) 115;
James Smith (Christchurch, Suzuki) 86.
600cc Sports Production:
James Smith (Christchurch, Suzuki) 126 points;
Nick Cole (Hamilton, Kawasaki) 120;
John Ross (Christchurch, Yamaha) 97.
125GP:
Alastair Hoogenboezem (Christchurch, Honda) 200 points;
Jaden Hassan (Auckland, Yamaha) 131.
Eric Oliver-Maxwell (Christchurch, Honda) 112
Formula Three:
Glen Williams (Palmerston North, Suzuki) 194 points;
Jason Easton (Palmerston North, Aprilia) 183.
Terry Fitzgerald (New Plymouth, Suzuki) 153;
650 Pro Twin:
Geoff Booth (Dannevirke, Suzuki) 185 points;
James Hoogenboezem (Christchurch, Suzuki) 182;
Jason Cameron (Kaiapoi, Suzuki) 136;
Super Motard:
Hayden Scorringe (Dunedin, Yamaha) 168 points
John Crawford (Invercargill, Suzuki) 165;
Darcy Prendergast (Ashburton, Honda) 151.
Streetstock senior:
Jarred Pyke (Timaru, Kawasaki) 197 points;
Sam Davison (Christchurch, Suzuki) 126;
Phil Denovan (Christchurch,Suzuki)103.
Streetstock junior:
Johnny Small (Timaru, Suzuki) 201 points;
Anthony Singer (Canterbury, Suzuki) 146.
Seth Devereaux (Tapanui, Kawasaki) 133;
Sidecars:
Stephen Bron and Dennis Simonsen (Wanganui, Masterton) 150 points;
Dave Annan and Warwicks Demmocks (West Melton, Rangiora) 116;
Peter Goodwin and Pion Weedon (Bay of Islands, Papakura) 97.
© Words and photo by Andy McGechan, www.BikesportNZ.com