KIWIS IN INTERNATIONAL SPOTLIGHT
It has been quite a couple of months for New Zealand dirt bikers.
Yes, November and December issues of several glossy international bike magazines have featured Kiwis in action.
The South African magazine (cover pictured above) features our own Rory Mead after his superb debut ride at the Roof of Africa extreme enduro, where he finished runner-up to another Kiwi, Auckland's Chris Birch.
We also had Kiwis featuring in the November edition of Australasian Dirt Bike magazine, where extensive space was given over to the World junior Motocross Championships from Taupo.
BikesportNZ.com's Andy McGechan wrote the words and supplied the photos.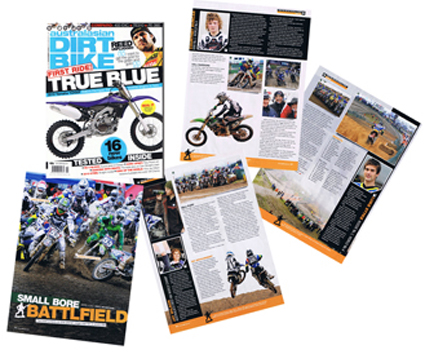 Then we had more good coverage of NZ action from the same event featuring in the December issue of American magazine RacerX, once again with Andy from BikesportNZ.com supplying the photos.
There's probably not a month the goes by at the moment where Kiwis aren't featured in the international press.