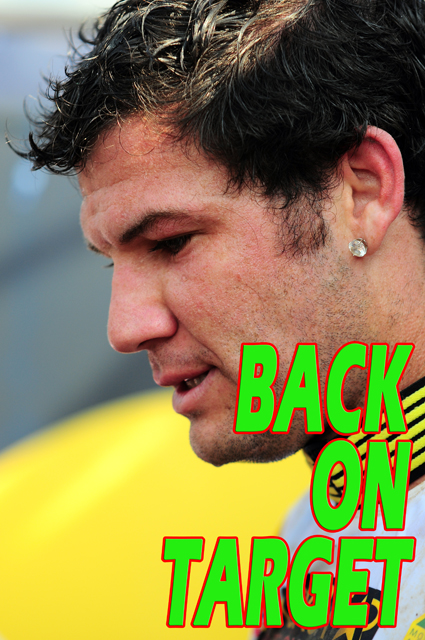 Chad Reed is now well on track to win the Australasian Monster Energy Super X Championship.
The Monster Energy Kawasaki rider showed why he is riding with the No.1 plate when he won three out of a possible four motos in the incredibly exciting Quad Challenge final, at the second round of the Monster Energy Super X Championship at the Skilled Stadium in Geelong.
Reed took the lead early and dominated for three of the four, five lap finals leaving other championship front runners to fight it out for second and third. A bad start in the second moto of the night left Reed to fight his way through the pack to clench second right at the finish line, behind Woodstock Honda Thor Racing's Daniel Reardon.
Reardon was impressive in all four motos and got off to a great start and led early in nearly every race as well as claiming the holeshot in two. In the fourth and final race, Reardon was only one point behind Reed and a win would have given him first overall on a count back.
However the dual world supercross champion was too fast and determined and got off to an early lead for a dominant win.
"I have been sick all week so I am just really happy to be standing up here on the podium. The track made for great racing and Reed was just too strong," said Reardon.
Young gun 17-year-old Tye Simmonds proved why he is one to watch with a solid performance in all motos resulting in third overall for the Motorex KTM rider.
The expansive supercross track that covered the heralded AFL stadium has been dubbed by many in the in the industry as the best ever built in Australia and all riders were enjoying riding on it.
"It was a great track today and I was really motivated to race this week," said Reed. "We had a lot of work to do last week for the first round in Launceston, but we worked our booty off even harder to get the bike right for this round and I have to say it felt awesome."
"It was good to stand on top of the podium after a tough weekend in Tasmania," said Reed. "The format kept things close and it was hard to make much ground up over 5 laps if you got a bad start.
"I'm feeling comfortable on the Kawasaki, we were able to make some slight adjustments and it definitely suited my style more when we went out for practice and qualifying today.
"I'm aiming to keep this run going and put some more points between myself and second place in Perth next weekend."
"It was great to go racing today and I'm glad the fans got to enjoy it," concluded Reed.
It was a challenging day at the office for round one winner Jay Marmont, the CDR Rockstar Yamaha rider just missing the podium with 4th overall.
"The day started good and I rode well in my heat and went head-to-head with Chad [Reed] during qualifying. He just beat me for the gate pick during the Man versus Man qualifying final and as we went into the races the day just fell apart," Marmont said.
"I couldn't win a trick during the four final races, I was third in the opening race and then had a fall at the first turn for the next two races. In the last race all I had to do was to finish one position higher and I would have had third for the round.
"It's hard going from first to third in the championship but that's racing and that makes me want to go come back next weekend and run up the front again," Marmont concluded.
250cc class leader Matt Moss from the Shift Motul Suzuki team showed why he is going to be tough to beat this series with an extremely solid win in the 15 lap final. Moss took the holeshot and never looked back to finish way ahead of JDR Motorsport MX Rad's Ryan Marmont, who claimed second with American rider Kyle Cunningham coming in third.
The Monster Energy Super X championship will now head across the country for its first ever indoor race at the Burswood Dome in Perth.
Kiwi fans will be able to enjoy the racing this year. The sixth round of seven is set for Waikato Stadium, in Hamilton, on November 21.
Top 10 results – Monster Energy Super X Quad Challenge final:
1 Chad REED, Kawasaki, 20-19-20-20 TOTAL 79
2 Daniel REARDON, Honda, 19-20-19-19 TOTAL 77
3 Tye SIMMONDS, KTM, 16-18-9-15, TOTAL 58
4 Jay MARMONT, Yamaha, 18-15-7-17 TOTAL 57
5 Michael BYRNE, Honda 17-17-17-0, TOTAL 51
6 Cody MACKIE, Kawasaki, 12-12-10-16 TOTAL 50
7 Cameron TAYLOR, Suzuki, 11-10-15-13 TOTAL 49
8 Craig ANDERSON, Kawasaki, 15-16-12-14 TOTAL 47
9 Cheyne BOYD, Yamaha, 8-0-18-18 TOTAL 44
10 Daniel McCOY, KTM, 13-6-13-12 TOTAL 44
Top 10 results – Lites Double Header Final:
1 Matt MOSS, Suzuki, 25
2 Ryan MARMONT, Yamaha, 22
3 Kyle CUNNINGHAM, Yamaha, 20
4 Lawson BOPPING, Suzuki, 18
5 Dean FERRIS, Honda, 16
6 Kirk GIBBS, Yamaha, 15
7 Brendan HARRISON, 14
8 Adam MONEA, Suzuki, 13
9 Mitch AUSTIN, KTM, 12
10 Lewis WOODS, Kawasaki, 11
Monster Energy Super X OPEN championship standings:
1 Chad REED, Kawasaki, 50
2 Daniel REARDON, Honda, 44
3 Jay MARMONT, Yamaha, 43
4 Tye SIMMONDS, KTM, 36
5 Cody MACKIE, Kawasaki, 30
6 Cheyne BOYD, Yamaha, 30
7 Craig ANDERSON, Kawasaki, 26
8 Cameron TAYLOR, Suzuki, 25
9 Daniel McCOY, KTM, 25
10 Troy CARROLL, Kawasaki, 19
Monster Energy Super X 250cc championship standings:
1 Matt MOSS, Suzuki, 50
2 Ryan MARMONT, Yamaha, 44
3 Kyle CUNNINGHAM, Yamaha, 40
4 Lawson BOPPING, Suzuki, 36
5 Kirk GIBBS, Yamaha, 31
6 Adam MONEA, Suzuki, 28
7 Brendan HARRISON, Yamaha, 28
8 Mitch AUSTIN, KTM, 25
9 Lewis WOODS, Kawasaki, 21
10 Danny ANDERSON, KTM, 21
Photo by Andy McGechan, www.BikesportNZ.com