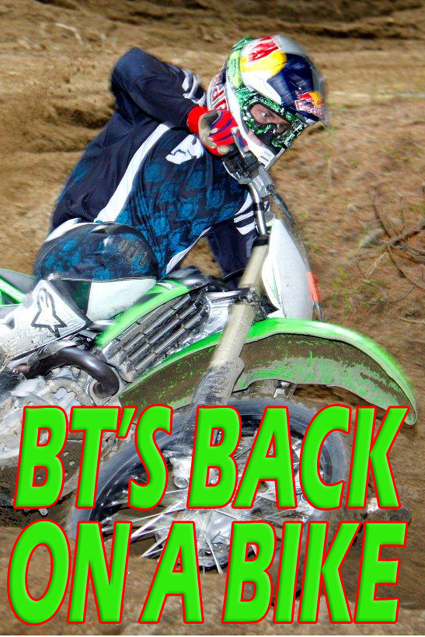 Ben Townley is back on a bike, and he's loving it.
The Kiwi ace – world MX2 champion in 2004 and AMA East Coast Lites Supercross Champion in 2007 – has been virtually sidelined since he crashed at the Motocross of Nations at Budd's Creek in September 2007, is now ripping up the tracks again, and back on a Kawasaki as well.
"I am back on a dirt bike, as you can see, and I am feeling great," said the Taupo-born Kiwi legend.
"I've spent a lot of hours in the physio, on the floor of my house and in the gym regaining motion in my shoulder and rebuilding my base strength again over the past few months.
"So the enjoyment of riding again after all the time off a bike has been very satisfying and surreal even. It's not my first rodeo with injuries, but this time has been different for me. I've had no pressure with dates or races to be healthy or fit by and it has made a huge difference with my whole body having some down time and really not rushing to be back on a motorcycle. It's been the best decision I've made for myself and my racing.
"Right now I'm kind of in limbo land, as are a lot of professional racers by the looks of things!  I have nothing locked down for next year at all.  In one way it allows me to control the situation a lot, and in others it leaves me wondering what will be happening come next May.
"At the end of the day, I intend on lining up at the first 2010 Outdoor National race (in the United States) ready to race again. Between now and then though there is a big hill for me to start climbing, the worst seems to be over after the past months, but I know the riding part will not be a walk in the park.
"I have a long-standing relationship with Kawasaki NZ, after I rode green bikes for the first 10 years of my racing career as a junior here in NZ. So when I got the clearance to suit up again, Mike Wilkins has given me a 2010 KXF to get back in the mix. I also want to thank the boys at Moto GB for lending me a bike and Mike Cotter also for the hook up to get some time aboard a bike again.
"Riding is going great.  I've been riding for almost three weeks now and my shoulder is doing great. I've being doing all I can in the gym and with my physio to prepare myself for this phase of my recovery.
"I've spent the past three weeks mostly trail riding, and at the end of four weeks (a week from this weekend) I'm going to start doing some club events and now with daylight savings maybe even some twilight racing. I went up to Auckland to do some riding and went to the Kawasaki Sandpit at Woodhill forest.  I'd never been there and to say I had a blast is an understatement. It is a little gem in New Zealand trail riding — if you've never been there and you don't mind riding sand then this is the place to be.  You'll go away with the biggest smile you've had a in a long — it's world class"
Photo by Ollie Sharp