THESE ARE INTERESTING TIMES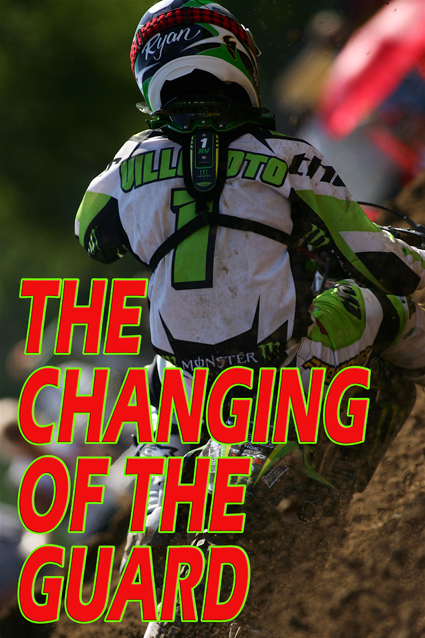 These are interesting times. We are witnessing another "changing of the guard".
It was just a couple of seasons ago that the world held its breath and waited to see who or what would fill the vacuum left by the retirement from racing of legendary riders Stefan Everts and Ricky Carmichael in 2006 and 2007 respectively.
The sport survived that, of course, and the racing actually might even be more interesting now that it's not being dominated by just one or two players.
It looked like a miracle in modern motocross when Kiwi ace Josh Coppins was given the prime factory ride that had been Everts' and he then stepped up and so thoroughly dominated the MX1 class in 2007, only to be robbed by an unfortunate crash as the series wound down.
On the world champs GP scene and we saw cheeky Italian Antonio Cairoli move up to MX1 and, although he's a truly brilliant racer, he has not really dominated in the way that Everts had for so many years or Coppins did in 2007.
What has happened is close racing between half a dozen or so riders, including Coppins, Cairoli, Ken De Dycker, Max Nagl, David Philippaerts and another young man too (who we will get to in a minute).
We could have added riders such as Seb Pourcel, Jonathan Barragan, Steve Ramon, Billy Mackenzie and Kevin Strijbos to the mix too if it weren't for injuries.
Meanwhile, across the big ditch in the US of A, it seemed that anything could happen now that Carmichael was no longer casting a shadow over the sport.
After a few games of musical chairs between the factory riders — James Stewart going from Kawasaki to Yamaha and Chad Reed going from Yamaha to Suzuki, while Ryan Villopoto stepped up to the open class and so too did our own Ben Townley, who had also just joined team Honda, and fellow Kiwi ace Cody Cooper had switched from Suzuki to Yamaha — it was all set for an exciting time.
Stewart was regarded as the No.2 to Carmichael and everyone was predicting that Stewart would easily slip on the robes of AMA king after Carmichael's departure.
But, sadly, a supercross-only deal was agreed to and all that did was rob the fans.
Then injury struck down the 2007 Lites class duellists Townley and Villopoto.
Now, not wishing to take anything away from AMA MX leader Chad Reed, whom I know has already proven he's a truly great rider (in the GPs and AMA supercross as well), but the AMA motocross scene seems lacking this year.
Fortunately, the new wave is coming and it's a virtual tidal wave of talent.
The GP scene welcomed the arrival in the top flight this season of Belgian youngster Clement Desalle and in the MX2 class there's a busload of riders making a huge impression.
Two seasons ago few of us had even heard of riders such as Marvin Musquin, Gautier Paulin, Ken Roczen, Joel Roelants, Steven Frossard or Matiss Karro (well, we had heard of a few of them, as former Junior World Championship frontrunners).
The tidal wave of talent can also in the 250cc class in America where names such as Ryan Dungey, Trey Canard, Justin Barcia, Jake Weimer, Blake Wharton and Austin Stroupe will no doubt be jostling for factory spots in the open class in the very near future.
In New Zealand too we can see a new talent wave coming with the "old guard" of Darryll King, Damien King and Daryl Hurley easing back on their top-level international activity and young riders such as Ethan Martens, Cam Dillon, Hamish Dobbyn, Mitch Rees and Kieran Leigh, for example, moving quickly up.
With so many Kiwis now dipping their toes in the international waters — Scott Columb and Mike Phillips in the UK and Luke Burkhart and Justin McDonald in America — and then coming home to race the nationals, there are going to be some serious fireworks this season. Perhaps we can add GP veteran Coppins to the Kiwi scene in the next few months.
As we said, these are interesting times.
Words by Andy McGechan, photos by Andy McGechan and Big Joe, www.BikesportNZ.com