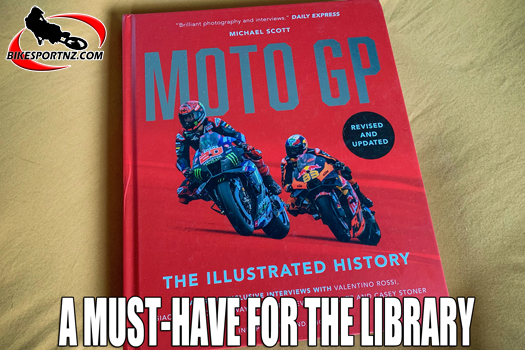 A courier package arrived at the offices of BikesportNZ. It was heavy. We opened the parcel and uttered just one word: "Wow!"
It was a bright red book for us to review – MotoGP: The Illustrated History 2023 – and we salivated at the thoughts of what it would hold.
Authored by Michael Scott, this book quickly became over the following few days a too-hot-to-handle but can't-put-down chronicle of all that's dear to us.
Scott has been a motoring journalist for almost 40 years and he has specialised in motorcycle grand prix racing, attending almost every GP, since 1984.
As such, he could likely be relied upon to know all that's worth knowing about the MotoGP scene.
After a quick flick through the glossy pages, we knew we were in for a treat … and quickly spied that Kiwi heroes such as official "MotoGP Legend" Hugh Anderson (inducted in 2022), Ginger Molloy, Keith Turner, Kim Newcombe and Graeme Crosby got a mention too, listed in the comprehensive statistics section.
At a modest recommended retail price (in New Zealand) of just $69.99 (let's just call that $70 eh?), this hefty 264-page chronicle is an ideal coffee table book and an excellent resource too.
We'll be using it as both at BikesportNZ.com
Fully revised and updated for 2023, this illustrated history celebrates high performance motorbike racing since the start of the world championship in 1949.
The daring exploits of motorcycle race legends such as Valentino Rossi, Barry Sheene, Casey Stoner, Giacomo Agostini, Kenny Roberts, John Surtees, Wayne Rainey, 'Fast' Freddie Spencer, 'Rocket' Ron Haslam, Wayne Gardner, Eddie Lawson, Kevin Schwantz, Mick Doohan, Jorge Lorenzo and Marc Marquez are all gloriously celebrated in MotoGP: The Illustrated History.
Packed with more than 150 stunning photographs, this authoritative and long-overdue illustrated history celebrates high performance motorbike racing since the start of the world championship in 1949.
There's even a glorious photo showing New Zealand's Simon Crafar (an old riding buddy of ours from the Manawatu) being showered with champagne by Mick Doohan after the Kiwi won the British GP in 1998.
From the first few words of the book's introduction chapter, we were hooked.
"Motorcycles are the most human of vehicles, and motorcycle racing the most human of motorsports, for several reasons.
"One is purely visual. The rider is clearly visible at all times – the whole person. You can see every shift of arms and legs.
"Another reason is technical. It concerns the centre of gravity, which is crucial to the way the machine steers and moves.
"The way a rider uses his weight has a major effect on the delicate balance and poise of a motorcycle at speed.
"This can't be done in a car, but it can be done on every motorcycle, from the humblest run-around to the most fearsome MotoGP prototype.
"Motorcycles but the sport into transport."
This kind of says it all really. Well written Mr Scott.
Each racing decade is dissected and discussed, as are the big incidents, top personalities and technological innovations.
To complete the book, motorcycle racing's greatest names provide exclusive personal insights and accounts of what it is like to race at speeds of 300kmph.
MotoGP: The Illustrated History is a unique book which brilliantly conveys the exhilarating spirit of this stunning sport.
Sales Points:
Fully revised and updated for 2023.
The authoritative illustrated history of high-performance motorcycle racing from 1949 to the present day.
Contains exclusive contributions from the greatest names in the history of the sport, including former world champions Casey Stoner (Australia), Valentino Rossi (Italy), Nicky Hayden (USA), Kenny Roberts (USA) and John Surtees (UK).
MotoGP is watched in more than 200 countries with an audience of around 420 million television viewers during the course of the season.
As well as contributing to magazines worldwide, including Japan, the USA, Australia, India and much of Europe, author Michael Scott has edited SuperBike Magazine and Road Racer.
He is the author of several books, including the critically-acclaimed Wayne Rainey – His Own Story and MotoGP: The Illustrated History. He lives in Wimbledon, London.
Table of Contents:
Introduction – 1949-1958 Birth of the Series (Interviews with Geoff Duke and John Surtees) – 1959-1968 Japan and the First Golden Age (Interviews with Giacomo Agostini and Jim Redman) – 1969-1978 The Two-Stroke Takeover (interviews with Phil Read and Kenny Roberts) – 1979-1988 The Rooster-Tail Americans Hit Town (interviews with Wayne Gardner and Wayne Rainey) – 1989-1998 Beyond the Golden Age (interviews with Kevin Schwantz and Mick Doohan) – 1999-2008 Catharthis and Computers (interviews with Valentino Rossi and Casey Stoner) – 2009-Present Youth Comes to the Fore (interviews with Marc Marquez and Cal Crutchlow) – Chequered Flag – MotoGP records.
Key details about the book:
ISBN: 9781802795578
Imprint: Welbeck
Published: October 2023
Price: NZ $69.99
© Words by Andy McGechan, BikesportNZ.com
Find BikesportNZ.com on FACEBOOK here