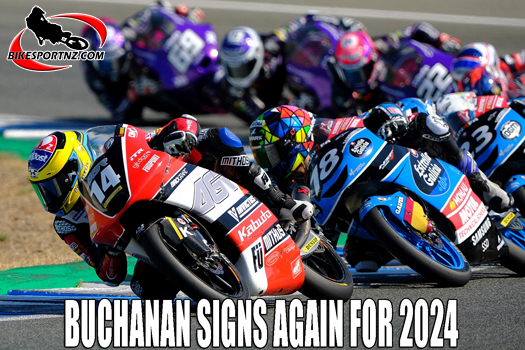 New Zealand's Cormac Buchanan has been re-signed to contest the 2024 FIM JuniorGP World Championship in Europe.
The 17-year-old Buchanan, from Invercargill, has confirmed a contract with leading Spanish team AGR Racing for his second full campaign in the championship – a vital step towards achieving his goal of being the next Kiwi racer in the MotoGP paddock.
Based in Spain, the South Islander (pictured here on bike No.14) is in his second season on the KTM bike with AGR and has impressed with strong results fighting for podium places.
Team manager Anscari Nadal believes Buchanan has the potential to reach the sport's top echelon.
"I am super happy to keep working with Cormac. I do believe we can fight for the title next year and then make the move to the Moto3 World Championship," he said.
"Cormac is a hard worker and listens to team advice and we work very good together. I am sure we will all see this kiwi soon in GP. In Cormac we trust."
Buchanan was "very excited" to return to the professional AGR environment.
"It feels amazing to see how much trust the team has placed in me. This is the team I started my JuniorGP career with and, ultimately, it's the team I want to finish it with," he said.
"We've grown a lot and I can't wait to see what we can achieve together given the massive step forward we've taken this year to be fighting consistently for the podium. For me, every year the improvement and evolution goes up another gear and I'm confident 2024 will be no exception.
"Obviously the goal for 2024 is to fight for the championship. We need to set our goals high and just take it race by race and chip away at it."
Currently 11th overall in the championship stakes, Buchanan has notched up several highlights so far in his rookie season, including a front row qualifying and a fourth-place finish at Jerez in June, just 0.3 seconds from victory.
"To be battling against the best riders in the world and leading races is an unreal feeling and just fuels my determination to succeed on the international stage," he said.
"I'm learning so much. Apart from the obvious like techniques on the bike, I've learned to be a more aggressive rider and that's been a big change this year with the overtakes I'm making in the race."
After three years competing in the Red Bull MotoGP Rookies Cup championship, Buchanan will graduate from the elite programme after the final round at Misano in Italy on September 10.
"It's shaped me to be the rider I am today and it will continue to shape me into the rider I will be in the future," he said.
"I went into Rookies Cup as a nobody and the goal was to come out as someone people respect as a racer and I think we've done that.
"The progression has been huge. 2021 was a really difficult year because everything was so new – I'd never even ridden a GP bike before – but in 2022 I was able to make the step I needed to and, while this season hasn't always gone the way I wanted it to, there has been plenty of milestones ticked off with personal best results and leading races at iconic circuits like the Red Bull Ring in Austria.
"I'm just soaking it all up. The MotoGP paddock is so prestigious and to have the opportunity to be part of it alongside all your idols is just priceless. I'm forever grateful to the Rookies crew for taking a punt on a kiwi kid with a big dream."
After the final round of the JuniorGP in Valencia, Buchanan returns home on November 10 for his fourth New Zealand Superbike Championships campaign, including the Burt Munro Challenge in February.
"There's something special about the racing paddock in New Zealand – it's a different vibe and it will be great to be part of the action. The aim is to defend the SuperSport 600 title and maximise race time over the summer so I can return to Europe in the best shape possible," he said.
"The competition for NZSBK titles will be intense and every year the Burt Munro Challenge delivers one of the best motorcycle events on the planet so there's nothing quite like racing on home turf."
© Photo courtesy Rafa Marrodàn, One Percent Magazine
Find BikesportNZ.com on FACEBOOK here