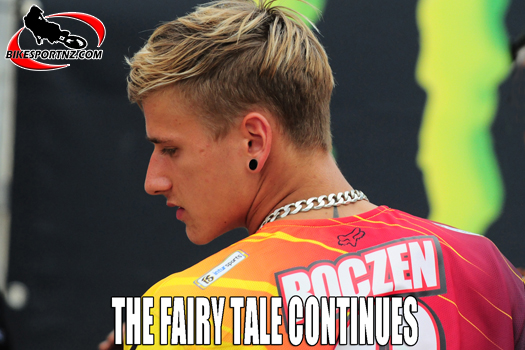 Germany's Ken Roczen has achieved an awful lot in a career marked by many heart-warming and glorious highs and also a few bone-crunching and saddening lows.
He handed the mighty Suzuki brand yet another win last weekend, this time at the Indianapolis Supercross, the ninth round of this year's series, and that was, incredibly, the yellow brigade's first supercross win in seven years.
The story of Ken Roczen really is a continually evolving fairy tale.
Certainly, he's at the top echelon of the sport and, remarkably, that's even after suffering two major crashes – when much lesser spills ended the careers of others – 14 surgeries and thousands of hours of rehabilitation and training to put it all right again.
American orthopaedic surgeon Randy Viola was the man who tended to Roczen after his horrifying crash at the Anaheim Supercross in January 2017 and also a year later at the San Diego Supercross, in February 2018, when his arm was ripped up between the swing-arm and wheel of Cooper Webb's bike.
To convey the severity of Roczen's injuries, Viola recalls some of the carnage he saw while training as a young doctor at Harborview Medical Centre in Seattle.
"I used to deal with people who'd been in industrial fishing and logging accidents," he says. "I'm talking about arms that had been mangled in machinery. Most pro athlete injuries aren't like that. They're more straightforward. But Ken's was as bad as it gets."
Viola said Roczen's compartment syndrome was so severe, he was six hours shy of amputation.
Looking at the x-rays, Viola's anaesthesiologist turned to him and remarked: "You're not fixing this so he can ride. You're fixing this so he can eat dinner."
Roczen recalled that his concern going into surgery at that time was having a functional arm, rather than no arm at all. Racing, or even riding, was not a priority.
"I was like, 'I don't want to hear anything about dirt bikes'."
But Viola's recollection underscores Roczen's unyielding need to ride and do it better than everyone else in the world. As the doctor told it: "Ken said to me, 'This thing doesn't have to be perfect. Just give me an elbow. Give me a wrist. If I can hold a handlebar, I can win'."
And win he did, just a year later, at round one of the 2019 AMA Motocross Championships at Hangtown.
When Roczen also pulled off a stunning win at the start of the 2022 AMA Supercross season in the United States, and that sent another signal that he was back to his best and had possibly achieved one of the greatest comebacks ever in sporting history.
Forget Tiger Woods and his comeback from injury to play to golf again … remember that Roczen was just moments away from surgeons deciding to amputate an arm after one of the most horrific injuries ever sustained in supercross.
And now, less than a week ago at Indianapolis, he was again back on top of the supercross world.
His association with Suzuki goes back a long way – Roczen rode Suzuki as a young teenager, won his first motocross Grand Prix on the brand at the tender age 15, on his native German turf no less, and now, as the 28-year-old's career heads toward the retirement end of the spectrum, Roczen was back and winning again on a Suzuki.
The signing of Roczen to the HEP Suzuki team came a year earlier than they had planned, but when the opportunity arose for them to sign the high-profile Roczen, they couldn't resist.
That decision by Roczen to chase the HEP Suzuki team contract paid off with Roczen taking what he has said is the biggest win of his career, at the Indianapolis Supercross at the weekend.
The German star then reflected on his achievement on social media, saying: "I am so incredibly proud of the HEP motorsports crew! All the hard work we have put in paid off last night. So many long days and nights because we believed that we can pull this thing off and that's why we never stopped!
"The vibe in the stadium was something I haven't witnessed in a long time if ever for me personally. I wouldn't have wanted it any other way."
"To all the riders that came over afterwards … that was one of the coolest things ever! I was so stoked on that. It was a night I will never forget.
"Thank you to seriously to everyone involved. So many people and companies that are part of the program that make all this happen and they don't get thanked enough in my eyes. So, thank you."
© Words and photo by Andy McGechan, BikesportNZ
Find BikesportNZ.com on FACEBOOK here