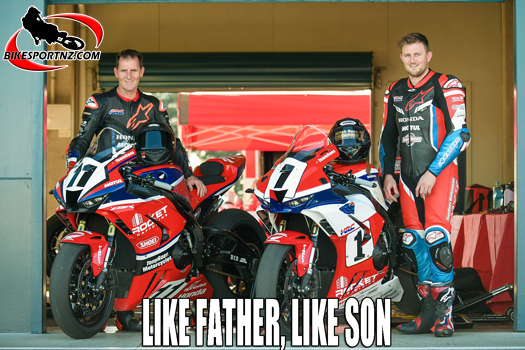 A family that plays together stays together … just ask Bay of Plenty father and son bike racers Tony and Mitch Rees, team-mates in the Motul Honda Racing Team.
The 30-year-old Mitch Rees and his distinctive red Honda CBR1000RR-R motorcycle dominated this season's New Zealand Superbike Championships, claiming the glamour 1000cc Superbikes class title with a round to spare, in much the same way that his father Tony had used to do earlier in his glittering career (in fact, Tony Rees is still winning at the top level, having just scooped all the superbike class wins at the week-long Burt Munro Challenge in Southland last month).
Incredibly, Mitch Rees' 55-year-old dad had been one of his fiercest challengers during the just-completed 2022-23 national superbike championships series.
The six-round competition wrapped up at the Taupo International Motorsport Park and Events Centre at the weekend, with Mitch Rees refusing to let up, even with the title already in the bag, and it was naturally his closest rival and friend, Christchurch's Alastair Hoogenboezem, and his dad Tony who completed the podium for the weekend.
The championship podium did have a slightly different look, however, with Aucklander Dave Sharp occupying the third step on the podium and Tony Rees forced to accept fourth position overall for 2022-23, but perhaps only because the "elder statesman" had chosen not to race either of the two South Island rounds of the series.
Mitch Rees qualified fastest at all but one round and then won 12 of the 15 superbike races he entered this season, finishing his campaign a remarkable 99 points clear of runner-up rider Hoogenboezem.
"I knew I had already won the national title when I arrived here at Taupo, so this weekend was just about having some fun," said Mitch Rees.
"There was no pressure for the championship, but I always want to win races.
"I won my first race this weekend and that was made easier when Al (Hoogenboezem) had an electrical problem. Dad finished second in that one.
"Then I won the next one too, again finishing one place ahead of dad. And I set a new lap record for Taupo in that race (1m 27.299s).
"In the third race I got a terrible start, but managed to get up behind Al. I knew I'd made the wrong tyre choice for that one. For sure he was riding defensively, and I knew he was fighting hard to get a win. It's all good for the sport anyway to have different race winners," he shrugged.
That Mitch Rees could even race at this level again after his massive crash a year ago is testimony to his strength and determination, but to make it back-to-back title wins is truly remarkable, especially after a one-year hiatus that saw no championship racing in 2022 because of the COVID-19 pandemic.
"My big crash was in February at Teretonga (near Invercargill). It was life-changing to a certain extent. I had to learn a lot of stuff again … it was a real struggle. My body was so sore and even doing simple things hurt a lot. But I can manage it now.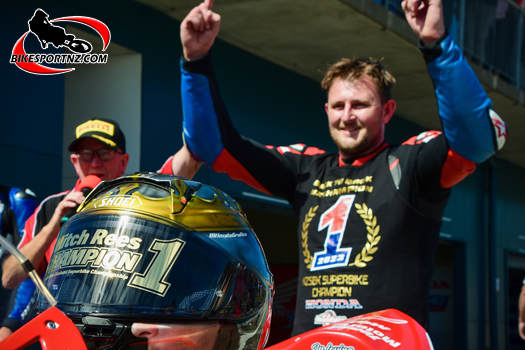 "I had massive internal injuries. You couldn't physically see them. I broke a bone in my neck, broke four ribs in my back, perforated my diaphragm, collapsed my lung, pushed my stomach and my bowel into my lung cavity and I was obviously knocked out for quite some time too … it was a biggie.
"That was first ever concussion and that was a big eye-opener. For a lot of the time you're not you and you're in pain as well.
"My partner having to deal with rubbish from me for quite a few months. So, to come back from that and win again … I can't thank my friends and family enough.
"Then I had another crash just one week before the champs round at Hampton Downs. It was just a track day at Hampton Downs, but I lost my brakes and shot off and straight ahead at a corner. I wasn't doing anything silly, but just got caught out. I'm lucky I wasn't too badly hurt.
"I had that at the back of my mind the following week when I was racing round five of the nationals there … I gave the brakes a double tap every time I came into that same corner," he laughed.
"I never thought I'd be able to win back-to-back titles. Even pre-season, we didn't get a lot of riding done. Obviously, a few things swung my way with Al having a few mechanical problems and then it rained a couple of times and wet races suit my style a little bit," said Rees, who also races motocross in his spare time and has learned to deal with a bike moving sideways underneath him.
"Dale Finch (from Christchurch) pushed me a bit at the start of the season too, but then he crashed out of the series.
"Now I want to try now to see if I can get a ride overseas. I want to catch up with my younger brother Damon, who is racing in the United Kingdom, and see if I can have a go over there too. I don't know if there will be an opportunity to ride there, but I'd love to experience it, maybe in June or July."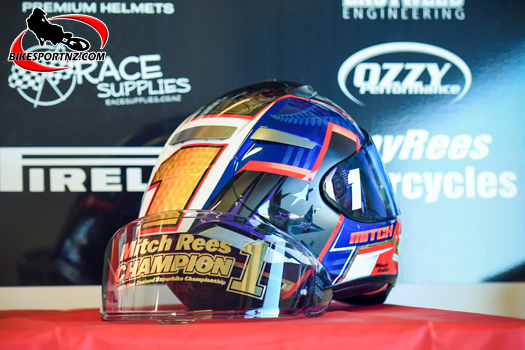 Other title winners in New Zealand this season were Invercargill's Cormac Buchanan (Supersport 600 class); Whitby's Dave Fellows (Pro Twins, post-2020 bikes); Waiuku's Bob Irving (Pro Twins, pre-2020 bikes); Buchanan (Supersport 300); Christchurch's Hunter Charlett (Supersport 150); Panmure's Adam Unsworth with Whanganui's Bryce Rose (F1 Sidecars) and Albany's Mark Halls with Geoff Davies (F2 Sidecars).
You can watch footage from the weekend by clicking right HERE
© Words and photos by Andy McGechan, BikesportNZ
Find BikesportNZ.com on FACEBOOK here