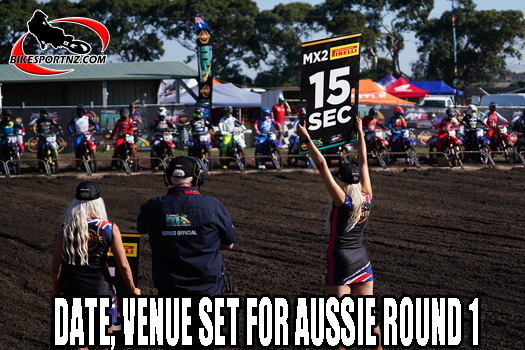 After a hugely successful 2022 season of Australia's premier motocross championship, Motorcycling Australia is excited to announce the date and location of round one of the 2023 Penrite ProMX Championships.
With thanks to new partners Destination Gippsland and returning sponsors Bass Coast Shire Council, ProMX will kick off in Australia on March 5, 2023, at the famed Wonthaggi motocross track.
At least a handful of New Zealand's best riders usually make the trip across the Tasman Sea to compete in Australia each year and 2023 should be no exception.
We'll bring more details of Kiwi involvement when it comes to hand, although Tauranga's Brodie Connolly is one New Zealander who has already indicated he will be racing in Australia next year.
This will be the third year in a row the season has kicked off in Gippsland at the Wonthaggi complex and the event weekend is fast becoming a must-attend event due to the combination of the exciting track terrain, the picturesque surrounds and the hospitality and amenities of the region.
The 2022 ProMX opening round at Wonthaggi will serve as the exciting launch for an incredible eight-round Championship run across eight separate weekends and venues, to begin in March and conclude in August.
Thanks to the ongoing efforts and support of the Dandenong Motorcycle Club, season 2023 will kick off in style with Australia's best motocross racers lining up to stake their claims for the title of Australian Champion.
According to Motorcycle Australia CEO Peter Doyle, ProMX is set for an even bigger year.
"It was great to see ProMX back in 2022 for a full season without interruption.
"This success has set us up for a huge 2023 and I can't think of a better way to kick off the new season than returning to Wonthaggi with the Dandenong Motorcycle club.
"I want to thank all the event sponsors who have worked together to get this event not only on the calendar but bigger and better every year.
"It's fast becoming an icon of the championship and I can't wait."
The Bass Coast Shire Council Mayor, Cr Michael Whelan, said that it's fantastic to see events returning to the region after a challenging couple of years.
"We are very proud to partner with Motorcycling Australia and Destination Gippsland to bring the ProMX back to Wonthaggi.
"The Wonthaggi Motocross Track is an ideal venue for elite motocross action and it's great to see major events return year after year. We look forward to welcoming competitors and fans to explore what Bass Coast has to offer."
Photo supplied
Find BikesportNZ.com on FACEBOOK here