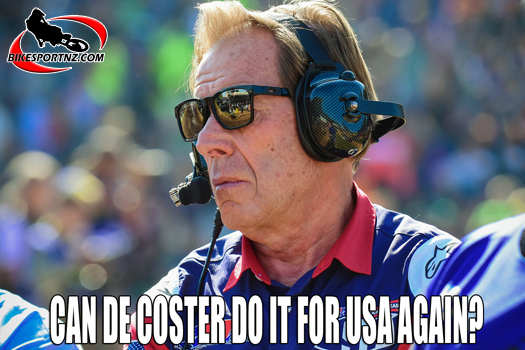 We have to go all the way back to 1981 at the Lommel circuit in Belgium to remember the first time Team USA showed the Grand Prix riders that they were good enough to win a Motocross of Nations.
And it was actually a European, a five-time former motocross world champion no less (winning for the Suzuki factory during the 1970s), but who was then working as a factory team manager in the United States, who was behind it all.
With Belgian Roger De Coster (pictured here) keen to send a team to Belgium, he selected his employer's US Honda factory team riders Johnny O'Mara, Danny Laporte, Chuck Sun, Donnie Hansen and David Bailey for the job.
With full support from Honda America, the young team arrived in Belgium early and it was a feeling of confidence that this young American line-up had enough to trouble the Belgian sand specialists.
"Our team went over early," De Coster remembered. "We went to sand tracks and practiced and practiced and practiced.
"We initially had a lot of bike problems because we had no experience in the US riding on sand like that. But we worked through the whole thing, and by race-time we were ready."
Although suffering mechanical issues, De Coster felt the Honda machines of the 1981 season were special and with some extra work could easily give his team some type of result to surprise the Grand Prix riders.
"We could see the potential in the Honda bikes and team members for those events. Our guys were not winning at the time though.
"Suzuki had Mark Barnett winning the 125 class and in supercross. And Kent Howerton on Suzuki was strong in the 250 class. Our team was Johnny O'Mara, Chuck Sun, Danny LaPorte and Donnie Hansen. Towards the end of the year, our results started to improve. We thought 'We need to go to the Nations'."
De Coster, being a Belgian legend in the sport didn't feel comfortable bringing a team to beat his beloved Belgians, but a job is a job, and he went in 100% to bring the Chamberlain trophy back to America with his Honda team.
"I had problems with myself to a certain extent because it felt strange coming and representing the US.
"I had always tried to win as a rider for Belgium. In the Trophee des Nations, as a member of the Belgian team, I was part of the winning team 10 years in a row. We also won six times in the open class (500cc – Motocross des Nations)."
Amazingly, now more than 40 years later, De Coster takes Team USA to Redbud in Michigan and, after a decade of not winning the FIM Motocross of Nations, his motivation remains the same as back in 1981.
Victory is the only goal, and who knows, maybe the old veteran can once again share the taste of champagne with Team USA.
© Photo by Andy McGechan, www.BikesportNZ.com
Words courtesy Infront Moto Racing
Find BikesportNZ.com on FACEBOOK here