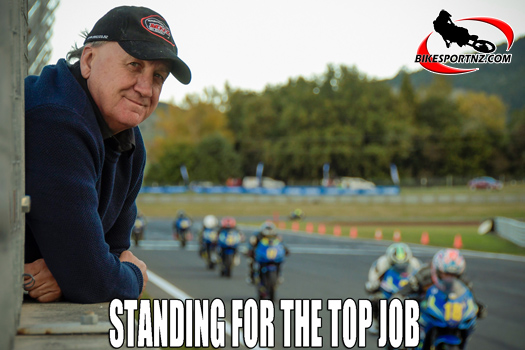 Voting is now underway for the role of President of the Motorcycling New Zealand Governing Board and there are two nominees for this position, Michael 'Mac' McLeod and Paul Pavletich.
If you are a current MNZ member (MNZ Licence holder, Current Official, MNZ Life member, Hall of Fame member, Board or Commissioner) you are entitled to vote.
If you have a registered email address with MNZ, you should have already been sent an online voting link. If you have not yet received this, please check your spam or junk folders.
The result of the election process will be announced at the Annual General Meeting of MNZ in Wellington from May 14-16.
Here at BikesportNZ.com we believe it is important for you to know about these men and see what makes them tick, so we have taken the opportunity to offer you the profiles and background of both these men.
Here's what Paul Pavletich has to say:
"I have had a non-stop passion for motorcycles for nearly 50 years. Not only have I served on motorcycle club boards for many years, where I have been a general committee member to club president, I presently serve on a successful NZCMRR committee.
"Currently I am a professional motorcycle instructor living a life that merges my passion with my work.
"I am a regular competitor in road racing and ride social motocross most weeks.
"I have General Management experience with corporate and NFP  organizations and would like to apply my experience to the parts of our sport that need a full strategic review.
"I believe we need to raise the profile of motorcycling in NZ to encourage more, well-deserved, interest in the sport."
To achieve this goal he offers these bullet points:
* I would love to encourage more female competitors and officials.
* I would like to create a Pacific race series using standardised classes, across road racing and MX formats.
* Improving circuit safety would be a high-priority.
* Giving more training to officials is also important.
* Having a full road race class review to streamlining the classes.
* The creation of an academy for young riders, within all disciplines would help the future of two-wheeled motorsport in New Zealand.
* To accomplish these goals I would wish to bring the best minds available to map out a better, more financially viable future.
"I understand times are hard financially for most folks and racing is a luxury, so we need to work out a more affordable path to grow the sport and engage the next generation better.
"In the past, as CEO of MNZ for four years, I led the team to successfully run two World Championship events, brought in record sponsorship, enabling us to televise MX and Road Racing championship events. Introduced the code of conduct, online licensing and the member benefit program. I also led the highly-successful "Celebration of Motorcycling" show for MNZ.
"I am a team player and would be happy to listen to your ideas or points of view regarding MNZ and I am fully committed to give guidance, and to support commissioners and staff, in line with the constitution.
"If you want positive change, please give me a chance to make the necessary strategic changes we need."
Voting closes at 5pm on Wednesday, May 5, and all paper votes must be sent directly to the Voting Auditor and be postmarked before this date in order to be considered valid.
Words provided by Paul Pavletich
© Photo by Andy McGechan, BikesportNZ
Find BikesportNZ.com on FACEBOOK here