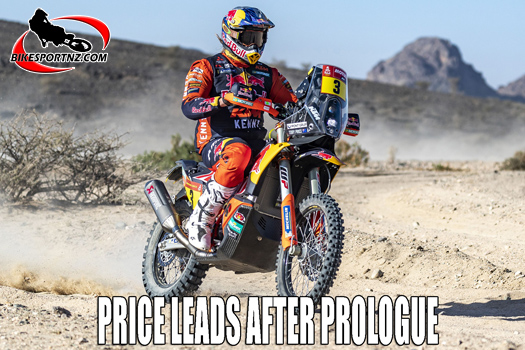 The opening day of the 2021 Dakar Rally presented riders with a 623km stage, including a 277km timed special section.
Held entirely on rough sandy tracks, the stage immediately challenged competitors with difficult navigation. The rocky nature of the course also made bike preservation a priority, especially with the new-for-2021 tire rules that allow the top riders a maximum of only six rear tires over the course of the event.
Ninth fastest in the qualifying Prologue, Australian rider Toby Price used the first 75km of stage one to slowly build his confidence and speed.
Placing second at kilometre 92, the two-time Dakar champ then moved into the lead, maintaining a strong pace to the finish. Leading the provisional standings by 23 seconds, Price will open stage two.
"Overall, the day has gone well," said Price.
"Navigation was certainly tricky today – it was hard to find the right pistes and valleys and annoyingly I managed to get lost a little bit on the last few kilometres to the finish. Other than a few other little mistakes, the rest of the stage was good.
"I'm happy with how I looked after the bike and the tires because with the new rules we really have to be careful. Looking ahead at the whole race, I think there are going to be some big swings in the standings – the plan is to try and stay consistent and not lose too much time. I'm opening tomorrow so hopefully I won't make too many big mistakes and we can keep this momentum going."
Stage two of the 2021 Dakar Rally takes competitors from Bisha to Wadi Ad-Dawasir. Featuring a total stage length of 685km, 457km will be timed special stage with terrain featuring rolling sand dunes near the beginning of the route followed by faster tracks towards the finish.
Find BikesportNZ.com on FACEBOOK here
Provisional Results Stage One – 2021 Dakar Rally
Toby Price (AUS), KTM, 3:18:26
Kevin Benavides (ARG), Honda, 3:18:57 +0:31
Matthias Walkner (AUT), KTM, 3:18:58 +0:32
Sam Sunderland (GBR), KTM, 3:20:29 +2:03
Lorenzo Santolino (ESP), Sherco, 3:22:49 +4:23
Provisional Standings (after stage one) – 2021 Dakar Rally
Toby Price (AUS), KTM, 3:43:58
Kevin Benavides (ARG), Honda, 3:44:21 +0:23
Matthias Walkner (AUT), KTM, 3:45:10 +1:12
Sam Sunderland (GBR), KTM, 3:48:09 +4:11
Lorenzo Santolino (ESP), Sherco, 3:48:57 +4:59