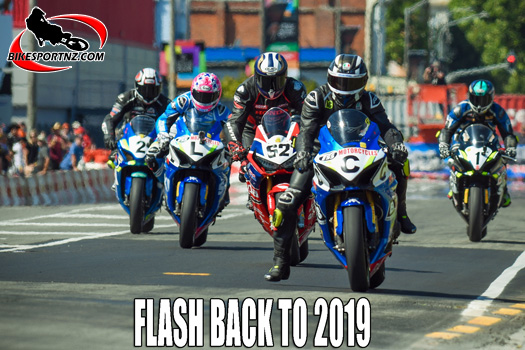 Let's flash back to the 2019 Suzuki International Series final round at Whanganui's famous Cemetery Circuit.
 Were you there too? Remember what happened? It was a cliff-hanger, with the Suzuki International Series honours and the Robert Holden Memorial race being hotly disputed right down to the final lap of the final race.
Although visiting British champion Richard Cooper had his hands full battling Whakatane's Mitch Rees at Whanganui's final round on Boxing Day in 2019 – Rees winning both F1 races on the day – this was not too much of a concern to Cooper, who knew that it was really only younger Rees brother Damon Rees that he needed to keep at bay for series honours.
Cooper responded to Mitch Rees' back-to-back F1 class wins at Whanganui by twice finishing runner-up, while Damon Rees finished third both times, and this was easily enough for Cooper to win the series outright, ending up five points clear of Damon Rees, with Mitch Rees claiming third overall for the series, albeit a distant 29 points further back.
Damon Rees led early in the 10-lap Robert Holden Memorial feature race, with Cooper and Mitch Rees in hot pursuit.
It stayed like this for the next eight laps, until the leaders started lapping other riders and that's when Cooper pounced, zipping past Damon Rees and into the lead, which he held until the end.
Taupo's defending 2018 Suzuki Series champion Scott Moir and Glen Eden's 2019 national superbike champion Daniel Mettam rounded out the top five in the Robert Holden race last year.
Meanwhile, in the Formula Two/600cc class action last year, Auckland's Toby Summers won the day at Whanganui's finale, finishing the day ahead of Hastings rider Adam Chambers and Whanganui's Richie Dibben, although Upper Hutt's Rogan Chandler had done enough at the earlier two rounds to clinch the series win for this class.
 Fired up for more of the same this year?
Get yourself up, down, across or over to Whanganui this Boxing Day too and you'll see the cream of the crop going hammer and tongs around the fabled Cemetery Circuit.
© Words and photo by Andy McGechan, BikesportNZ
Find BikesportNZ.com on FACEBOOK here