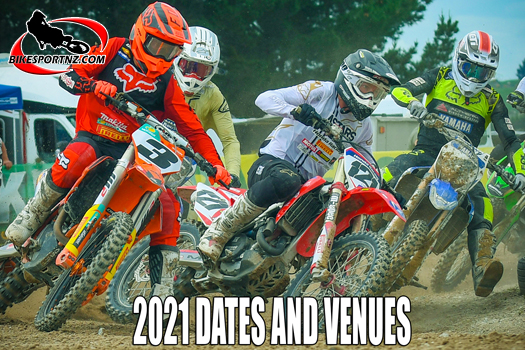 The dates and venues for the 2021 New Zealand Motocross Championships were announced this week by the sport's governing body here, Motorcycling New Zealand.
The big news to come out of the announcement is that New Zealand's biggest stand-alone motocross – the traditional Honda New Zealand Motocross Grand Prix at Woodville – will not be a stand-alone event in 2021 because it will now also incorporate the first round of four in the national championship series.
It is already a huge weekend every year, but it will be even more massive next season, two days of racing scheduled for January 30-31 and with even more motivation to be there.
In addition to the Woodville event holding GP trophy status, just as it has every year, but it will also kick off the New Zealand senior championship title chase for the MX1, MX2 and MX125 classes, as well as staging the first of four rounds of the inaugural 2T Cup (for two-stroke bikes) and the first of two rounds for the Women's Cup.
"The majority of New Zealand motocross riders compete at Woodville each year and, because we were uncertain what might be happening with the COVID-19 pandemic and with us wanting to keep down the costs for riders, we have decided to combine these events," said Motorcycling New Zealand motocross commissioner Ray Broad.
"Unfortunately there are no South Island rounds on the New Zealand Motocross Championships calendar, however we are resurrecting the travel subsidy scheme for South Island riders who commit to two or more rounds. It will be paid out on a pro-rata basis," he said.
"We will be working closely with South Island clubs to ensure a return in 2022."
After the Woodville opener, New Zealand Motocross Championship rounds follow at Rotorua on Sunday, February 21, with round three at Pukekohe on Saturday, March 20 (with a junior and mini open event on Sunday, March 21) and the fourth and final round at Taupo on Sunday, March 28.
Broad said an Under-19 Championship will again be run within MX2 and would be awarded to the best-placed rider aged under19 competing in the MX2 class, as we have the past two seasons. The exciting news is the new 2T Cup class. This is for the 2-stroke bikes that compete within MX1 and now ensuring they are recognised for their achievements.
"For example, Aucklander Blake Gillard finished fifth overall riding a 250cc two-stroke bike against the 350cc and 450cc MX1 bike riders in the 2019 series and, if the 2T Cup had been in place at that time, he would have been the winner of the 2T Cup.
"There will be no MX3 non-championship support class races run at the Woodville round, but there would be at the three rounds that follow and this year it will be a series, with the top riders recognised at the prize-giving after Taupo.
"We are looking forward to an exciting season, with something for everyone. More details on the series and the classes will be released over the coming weeks," said Broad.
2021 NZ Motocross Champs calendar:
Round One: January 30-31, 2021 (in conjunction with the NZMX Grand Prix at Woodville). Manawatu-Orion MCC. MX1 (& 2T Cup), MX2 (& under-19), MX125 & round one of the Women's Cup.
Round Two: Sunday, February 21, 2021. Rotorua Motorcycle Club. MX1 (& 2T Cup), MX2 (& under-19), MX125 & MX3.
Round Three: Saturday, March 20. Pukekohe Motorcycle Club. MX1 (& 2T Cup), MX2 (& under-19), MX125 & MX3 (followed by Junior and Mini open at Pukekohe on Sunday, March 21).
Round Four: Sunday, March 28. Taupo Motorcycle Club. MX1 (& 2T Cup), MX2 (& under-19), MX125, MX3 & round two of the Women's Cup. Prize giving is arranged for that evening.
© Words and photo by Andy McGechan, BikesportNZ.com
Find BikesportNZ.com on FACEBOOK here