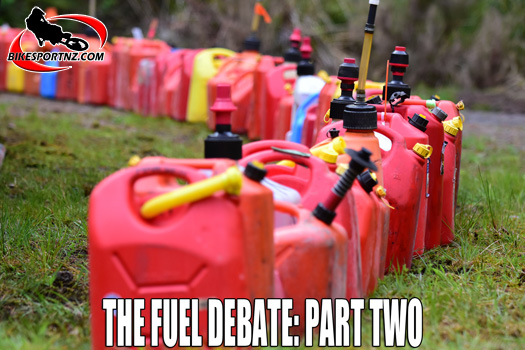 Concern over the world's dwindling fossil fuels has brought out arguments that should have died with the dinosaurs.
In this second part of our "fuel debate", we pose a few more questions (did you see yesterday's offering?) … you don't have to like or even agree with anything written here, but maybe we'll encourage some discussion.
As petrol prices creep up and panic sets in, people who neither understand nor appreciate motorsport get out their knives.
I recall reading an item in a national newspaper that took a typically simplistic approach to motorsport and drew a direct link between motorsport and the end of the world, or at least the end of life as we know it.
The argument went like this: "In the name of entertainment, 37 motor-racing teams at the Bathurst V8 car race will burn, between them, more than 10,000 litres of petrol as they pursue each other around and around a 6km circuit for hours on end.
"Scientists say that we're going to run out of fossil fuel by about 2070. Seemingly we'll be using alternative fuels by then, either that or it will be the end of civilization as we know it.
"It's time for the motor industry to decrease wanton use and invest some of its wealth in doing something more useful for the world. Put all the drivers on simulators and let the F1 championship, Bathurst, Le Mans, etc, be decided by a video game. There's a zero fuel cost attached to that."
That video game proposal did come to life recently as the CODID-19 pandemic took hold of the planet and several "virtual" MotoGP races were held on the internet.
We have to say it was cringe-worthy viewing and raised the specter of a possibility that a spotty-faced teenage gamer, who may have never actually left his bedroom and certainly never even thrown his leg over a motorcycle, could one day claim to be the MotoGP world champion and the sporting equal of Marc Marquez or Valentino Rossi.
The people that offer this argument are forgetting they also use fuel, even if they're just driving to the corner shop (when, quite likely, they could so easily have walked) or by motoring to the rugby ground to watch as local game.
Have a look the next time you see a packed grandstand at the rugby and try to figure how many drove their cars to the stadium. There's massive fuel consumption right there. They could have stayed at home and watched it on the television or played the match out on a computer game.
Fewer people drive to motorcycle road-race or motocross events in New Zealand than appear on the sidelines at the big NPC or Super 12 rugby matches, so why not point the finger at them as fuel wasters?
Afterall, motorcyclists are the good guys aren't they? They tend to drive diesel-powered utes and SUV vehicles, and, besides that, when racing the bikes they burn less fuel in their considerably smaller engines.
One of the main reasons why we drive such fuel-efficient, safe, fast, robust and well-handling machines (cars and bikes) these days is because of technological advances made in the pursuit of motorsport. The development of everything, from brakes to tyres, carburettors to aerodynamics, is primarily due to motorsport.
Afterall, we all know the truth in the phrase: "Necessity is the mother of invention".
That's why wars produces so much technology, like the jet engines, radar and rockets that came out of World War Two.
Motor-racing is war of a kind, a sporting conflict certainly that causes people to dig deep for an advantage over their rivals and, in the end, we all benefit when new gadgets and systems flow through to mainstream use.
Consider the new technology that's appeared in the past 20 years of motocross – single-shock suspension, water-cooling, disc brakes, upside-down forks, safety seats, power valves, twin exhausts, hot-up mufflers, roll-off goggles, suspension tuning via cell phone  … the list goes on.
Of course, motorcycling could actually hold the answer to the fossil fuel debate too.
Motorcycles are cheap to run, not to mention a whole lot of fun. We understand motorcycle shops have been experiencing a boost in scooter sales as car owners start to realise this.
The trouble with this is that you actually need a modicum of skills to handle a motorcycle and, from what we've seen of the nation's car drivers, there are a few dodgy road users out there who'd be well advised not to try the two-wheeled mode of transport.
Such is the state of roads in the nation's busiest city that Aucklanders spend many hundreds of litres of fuel each day, going nowhere, very slowly. An AA study has found that Aucklanders, stuck in traffic or crawling at walking speed in low gear, are consuming a massive 24 litres of gas for every 100km travelled.
Meanwhile, in places such as Brazil they are already dabbling in technologies that can turn sugarcane into viable fuels. Refineries there are producing fuels from sugar cane that can power engines.
Around the world, motorists are able to fill up on fuels such as ethanol, made from sugar cane or corn. The hunt goes on for fuels made from renewable resources.
Actually, to his credit, the writer of the newspaper article that was critical of motorsport did make these observations too: "Once upon a time, F1 cars ran on a fierce mixture of powerful chemicals and additives, often featuring large quantities of benzene, alcohol and aviation fuel. These days, despite technical advances, they now run on fuel surprisingly similar to commercially available petrol (this is because oil companies want to have a demonstrable link between race and road fuel).
"So, if F1 fuel has become less powerful over the years, why not take it another step by using a less powerful alternative, such as vegetable oil.
"If the key goal is to find the best motor vehicle or the best driver, it shouldn't matter what sort of fuel is used to power them, as long as they're all on equal machinery."
How about we rebuild our motocross machines so they're powered by rubber bands or AA batteries, something that's already starting to take shape. Wouldn't that be exciting?
Call me old-fashioned, but I like bike racing just the way it is.
© Words and photo by Andy McGechan, BikesportNZ
Find BikesportNZ.com on FACEBOOK here