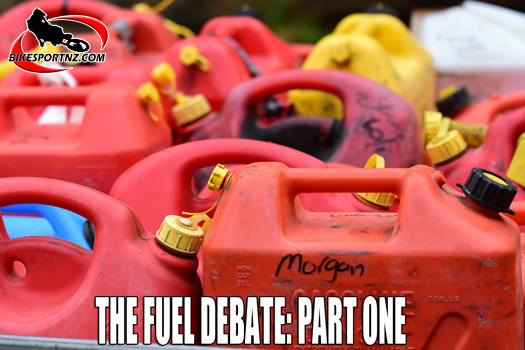 It's reaching crisis point for the world and, like it or not, the passion we have for motorcycle racing (or any sort of motorised sport actually) could well be dampened some time soon.
In this first part of our "fuel debate", we pose a few questions … you don't have to like or even agree with anything written here, but maybe we'll encourage some discussion.
For years the Formula One, World Rally Car, World Superbikes, MotoGP, Motocross World Championships … and all the other forms of oil-burning sports … has been looked upon by the general public as just a colossal waste of fuel and also a massive producer of pollution.
This is despite the fact that we wouldn't be able to enjoy the safe, fast, economic, aerodynamic and stylish, comfortable and great-handling bikes and cars that we do today if it weren't for the motor racing activities of yesterday.
That is part of our justification for motorsport isn't it? – along with the sheer enjoyment and rush of adrenaline as we either race the machines ourselves or watch as riders/drivers with greater skills do the racing for our viewing pleasure.
Recent public lock-downs associated with the COVID-19 pandemic saw vehicles parked up and many motorsports put on ice, contributing to a vast reduction in greenhouse gas production and the smoggy skies even cleared over some of the world's most heavily-populated cities.
It didn't take long here in New Zealand for people to get back to their one-person-per-car, zipping around the country or even just driving a mere 200 metres to go down to the dairy (even though we'd managed to walk or bicycle there a few weeks before and it didn't kill us).
Oil is a finite resource and it is inevitable we will run out one day, particularly with the rate that we humans multiply and populate the Earth and then insist on every man, woman and boy-racer owning their own car.
Electric vehicles (both cars and bikes) are being touted as a clean and green option, but doesn't the production process for making these massive batteries also create a large amount of pollution?
Motorsport wouldn't be the same without the growl of engines. Are we going to have to pump out fake engine noises (like the crowd buzz we currently hear in football matches, even when there's nobody actually in the stadium)?
Today, the United States has more than 250 million vehicles on the road and even here in New Zealand there are plenty of households with two or more vehicles parked in the driveway.
In a nutshell, demand is beginning to exceed supply and it's beginning to hurt. We would not be surprised to see the price for a litre of petrol topping the $2.50 mark in the next few months.
At what point do we say, 'okay, we can't afford it anymore?'
And it's not just the actual racing that costs so much … you probably only burn 15-20 litres of fuel in your bike at a typical Sunday race meeting … it's the cost to get to the event that really hurts. Travel from New Plymouth to Waipukurau, for example, and you might spend $120 for the return trip. From Wellington to Auckland and it's another $100 on top of that.
The cost to get spare bike parts sent by courier is probably rising too.
Let's face it, the cost of everything is going up. Accommodation for a two-day event? Did the whole family go? The cost of food we fuel our bodies with over the weekend? A speeding ticket? Apart from the ticket thingy, the rise in prices is all linked to the skyrocketing cost of petrol.
There is an ethanol-based product, hiperflob e30, sourced from sugar beet in Europe and produced specifically for the car racing fraternity, that has recently been experimented with.
That's all well and good, and we applaud the good intentions, but this has another negative spin-off for us all.
While the investigations are underway to power our various internal combustion engines with these man-made fuels, derived from beets, grains, sugar cane, etc, it means the supply and demand problem switches from oil products to food products.
The use of hundreds of thousands of tonnes of grain to make a few litres of fuel deprives the same consumers of much-needed food, so the price of what remains is pushed through the ceiling. Have you seen the price of vegetables?
Why don't we turn our scientific focus on turning into fuel the foods no-one really likes? How about powering up our Suzukis and Hondas on cauliflowers, our Yamahas and BMWs on lentils and our KTMs and Kawasakis on broccoli?
By the way, it's cheaper to buy Coca Cola and Pepsi than it is to buy milk. Now this is sending the wrong message about healthy living isn't it?
We think maybe the whole world is screwed up.
© Words and photo by Andy McGechan, BikesportNZ
Find BikesportNZ.com on FACEBOOK here