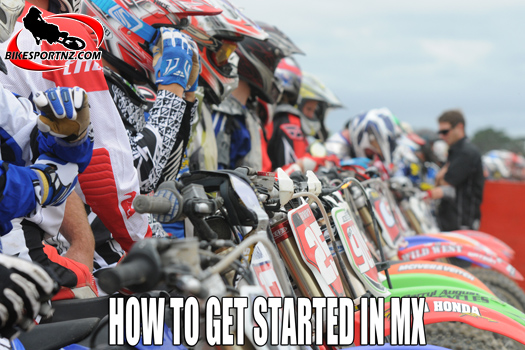 Follow this seven-step guide on getting into one of the most accessible motorsports on the planet.
Motocross as a pastime is one of the purest, earthiest forms of motorcycling: a bike, a rider, a trail or piece of land – and a throttle! No road rules, no traffic, no pedestrians.
As a sport, though, motocross is slightly more complicated; a perfect storm of physical demand, mental strength, technique, balance and guts. Most top motocross racers use a training schedule and professional help, and sit at the peak of the sporting fitness tree alongside F1 drivers or Tour de France cyclists.
Getting started in the sport is, thankfully, less arduous. For a great many motorcyclists, those first laps on 'knobbly' tyres are often all they need for the MX bug to catch and for the sport to become a way of life.
To help you get started, here is our seven-point guide on how to get into motocross, with advice from top British rider Ben Watson, currently racing in the MX2 class of the FIM Motocross World Championship.
Get out on a mountain bike to get a feel for riding on dirt
Trips through local trails and woodland on a bicycle will give you that crucial first taste of rubber-and-rough, and is a slower (although no less technical) introduction to off-road. It's even possible to sample some 'air-time' with a few small jumps. Pump track BMX will take the jumping aspect a step further, and the need for a combination of timing, pace and hutzpah means that it provides a small insight into what motocross riders experience.
Most professional motocrossers mountain bike and BMX as a way of training, as well as using it as a way to let off steam. "There are a few similarities such as the controls and some technique," says Watson. "You have to keep your concentration and pick your lines on a mountain bike. And if you look at most of the best downhill guys like Gee Atherton, they also have motocross bikes and ride pretty good."
Buy a motocross bike
Motocross bikes are now advanced pieces of kit, with the latest four-stroke engine offerings from the likes of KTM, Husqvarna, Yamaha, Kawasaki, Suzuki, Honda, TM and more including electronics and traction control packages. Some brands still produce the lighter and easier to maintain (but more fickle) two-stroke engines, and there are also some versatile and 'green' (but pricey) electric-powered E-bikes as well. An Enduro model will be homologated to ride on the road, which might be useful for some. But beware that they carry extra weight with lights and a setup made for a myriad of off-road conditions, rather than just outright speed.
Thanks to the frequency of brands looking to advance their technology, there are plenty of second-hand machines available – but do watch out for wear-and-tear. Acquiring a motocross bike will also mean investing in a cheap but roadworthy trailer for transportation – if a buddy doesn't have room in his van.
3. Find the nearest motocross track
Have a look around for the nearest tracks. Noise pollution and complaints mean that locations for riding have been hard hit in recent years, and most motocross venues will have rigid rules for use. Those fortunate to have enough land (and patient neighbours) can easily mark out their own courses, but well-established circuits are the best bet. Some will even have layouts with differing levels of difficulty, as well as tracks for juniors.
Go to a motocross riding school
Riding schools may seem like a pricey option to get out on a motocross bike, but they carry three main advantages. Firstly, quite a few carry fleets of motorcycles, allowing the customer to try different models. Secondly, the track and facility will be catered towards all riders, so finding a comfort zone will be swift. And lastly, the presence of a former pro or top-level rider will help with tips for riding and improvement. Quite a few current or former professionals such as Bay of Plenty men Cody Cooper and Peter Broxholme run their own coaching days throughout the year.
Find your local club to start competing in events
Regular riding can easily lead to races and events on a regional basis. A club will often charge a joining fee and entry price for meetings, but will then organise the fixture to a level that ensures a degree of safety and supervision.
The national junior set-up includes categories and classes for a spread of age groups and championships. Talented and quick riders can then look towards racing overseas, in Australia, or the European Championship competition (on 65, 85 and 125cc bikes). There is a clear ladder through these 'EMX' divisions up to EMX250 and then Grand Prix with MX2.
Buy some decent gear – especially helmet and boots
Motocross gear will understandably come lower in the priority list than expenses such as the bike and a way to carry it to tracks and races – but rider safety is an essential element. Clothing is surprisingly light but most brands, such as Alpinestars, Fly and Answer, boast resistant materials. Aside from obvious considerations like a helmet and gloves for good grip, a sturdy set of boots is crucial to cope with any contact. Under the shirts and pants, good protection for the chest and the back will stop stones peppering the torso like bullets. A knee brace will help prevent painful and costly twists and is also another indispensable consideration – crashes in motocross are inevitable!
A strong pair of goggles and the right preparation with tear-off strips or roll-off, will ensure all-important vision.
"Perhaps the most important piece for me is boots," says Watson. "And I speak from past experience! In 2012, I was just messing around at home pulling wheelies on a mini bike when I fell to one side. The bike came down and punched a hole through my foot below the ankle. I needed 14 stitches, missed an important race and learned the hard way that this wouldn't have happened if I'd been wearing boots."
Practice!
In a single season, Watson will typically compete in 19 GP events, an eight-round national series and various international meetings for sponsors, as well as riding for his personal fitness and for testing. It can be a heavy weekend schedule, and like all pros, he'll also be riding and training throughout the week as well. In short, no other motorcycle racing athlete actually gets out on two wheels as much as a motocrosser.
For amateurs, the diversity of riding conditions found in motocross means that practice and conditioning are crucial steps towards improvement and also keeping in shape for the next race.
"There is no better training than riding, because you use every muscle that you need," says Watson. "If you wear a heart rate monitor, you'll see that a 30-minute moto on a bike would be almost impossible to replicate in the gym, because you have factors like adrenaline involved, and you seem to be working that much more. Riding is more enjoyable than the gym anyway, and you can learn new skills and work on your weaknesses."
Just remember to follow these steps:
Get out on a BMX or mountain bike to get a feel for riding on dirt
Buy a motocross bike – even if it's second-hand
Find your nearest motocross tracks
Go to a motocross coaching school
Find your local club to start competing in events
Buy some decent gear – especially helmet and boots
Practice!
© Photo by Andy McGechan, BikesportNZ
Find BikesportNZ.com on FACEBOOK here