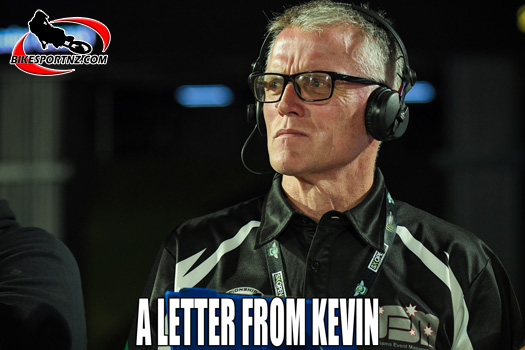 An open letter from Kevin Williams, the inspirational man at the centre of Australian motocross for more than two decades:
"Hello everyone and thank you for taking the time out to read this letter.
"As you are all aware by now, WEM has stepped down effective immediately from promoting the 2020 MX Nationals series. As this was already our final year promoting at the head of the sport, our farewell tour has been forcibly cut short due to the COVID-19 outbreak.
"There are numerous publications that have covered this morning's press conference and the reasons why we had to make this difficult decision. You can also read the official release on the MX Nationals website.
"The purpose of this letter however, is to thank everyone who has been involved in the MX Nationals series in our 23-year run.
"Motocross has been a part of my entire life and essentially my life's work since I began working with the Australian Motocross Championships before it became the MX Nationals. The time I have spent growing the series with my wife Christine and our three children Jake, Aiden and Brodie by my side is something I will forever cherish," said Williams.
"Although, as a part of racing, I may not have seen eye to eye with many of you throughout the years, the racing family at the core of this industry has been a fantastic part of my life and something I will truly miss. My love for the sport, preserving its integrity and growth has been a driving factor and provided the continual motivation needed to allow me to strive for progress in Motocross within Australia and putting our riders on the map globally as a Motocross powerhouse.
"During our time together we have had many high's that include bringing MXGP to the iconic Broadford Circuit, seeing many great Champions leave Australia to successfully take on the world with Chad Reed, Craig Anderson, Michael Byrne, Brett Metcalfe, this list goes on. To see the next generation of Jed Beaton, Mitch Evans, Luke Clout and the Lawrence brothers having international success in the present day makes me extremely proud to see where the talent is at in Australian Motocross. We have also lost great Champions such as Andrew Mcfarlane and Jono Porter, their time with the series and the impact they made on everyone's lives will never be forgotten.
"I want to take this final opportunity to thank everyone who has been a part of the MX Nationals family during our time together. From the numerous staff at WEM, the riders and teams, to all of our sponsors and stakeholders, I thank you from the bottom of my heart for everything we have achieved to grow the sport together," said Williams.
© Photo by Andy McGechan, BikesportNZ
Find BikesportNZ.com on FACEBOOK here