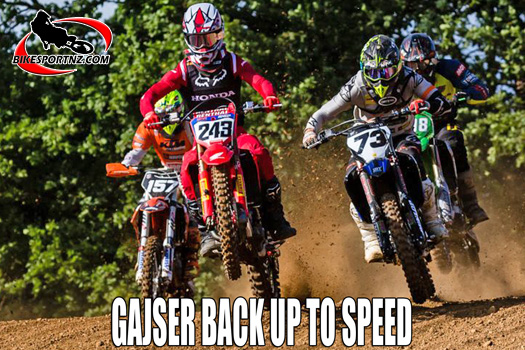 In what was one of the first national motocross races to take place anywhere in the world, Team HRC's Tim Gajser took a race win in the Slovenian national championships at Semič.
As with any event in his home country, a good crowd turned up to see the reigning MXGP world champion and he didn't disappoint, taking a race win with a comfortable margin of victory.
Amid the enforced MXGP season pause, it was a good chance for Gajser to shake off the rustiness of not having raced since he went one-two at the MXGP of the Netherlands in Valkenswaard on March 8.
And with the 2020 calendar ever-changing, it was a step in the right direction to see a European country hosting a motocross event, with the general public in attendance given that Slovenia has declared itself free from COVID-19 and therefore aren't implementing social distancing measures.
Right now, the next scheduled world championship event is the Latvian GP on August 9 and, while that is still quite a long way off, it is still a date that gives Team HRC something to aim for as they look to begin preparations for restarting the season.
With Gajser currently sitting in second place in the world standings, behind Dutch KTM rider Jeffery Herlings, and Gajser's Australian team-mate Mitch Evans eager to return from his shoulder injury, there will be a lot of excitement for when the season does start up once again.
However, first up with be another Slovenian round at the old GP circuit in Orehova Vas this coming weekend.
"It was great to be back at a race track again," said Gajser
"Obviously we are all going through a tough period of time, but to finally have a race, with a gate-drop against other riders means things are slowly but surely getting back to normal.
"I always enjoy doing these Slovenian races because the fans are very supportive and it is just a nice atmosphere at the tracks, and everyone is relaxed and having a good time. I got a nice race win and was happy with my riding on the Honda CRF450RW and it was a useful experience after such a long time without competition," said Gajser
"During this period, I have been keeping up my training, maybe not to the same intensity as I would normally, but to a high standard still, just in case the MXGP season started again quickly. That hasn't been the case unfortunately but I feel like I can be back at my best very quickly.
"I have been enjoying the break though and doing things I wouldn't normally be able to do during the season and just trying to keep busy and active. I ride a few times during the week to make sure I am in bike-shape but I am definitely missing going racing and being with my Honda team-mates.
"I don't really know how the 2020 calendar will all work out and how many races I'll have to prepare for, but I will be ready for whatever situation and I really believe they can figure out a good solution. I hope everyone is staying safe, staying positive, and I will see you at the races soon."
Photo by Goran Kroselj
Find BikesportNZ.com on FACEBOOK here