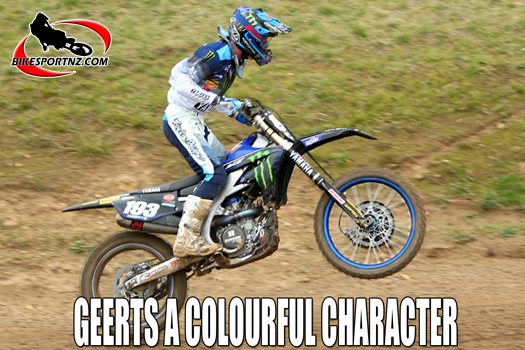 We can today announce the winners so far in the colouring and craft competition being run by MX2 world championship contender Jago Geerts, as well as revealing a special offer for all competitors.
Only two Motocross World Championship Grand Prix events have been able to be run so far this season because of the Coronavirus COVID-19 pandemic and the lockdown that was imposed soon after those events have meant that the sport has been put on ice.
Belgian rider Geerts is currently second overall in the standings after the British and Dutch GPs, just five points behind Frenchman Tom Vialle, and he is still in training as he awaits the all-clear for GP racing to resume.
He set up this colouring contest to keep his many young fans occupied while they also await the opportunity to get back to the race track.
The competition is open to New Zealand children too … courtesy of BikesportNZ.com friend and colleague Stefan Geukens.
"Because my initiative has encouraged so many children to participate, I decided yesterday that in addition to winning great prizes, all entries from the start of the competition up to and including May 31 will receive in the first week of June a signed photo of me in the mailbox," said Geerts.
"Together with some of my partners and sponsors, I started this small project to make this difficult period of quarantine more pleasant for the children and their parents."
Below are the images that the children or their parents can print out at home (just click on the image for a larger version).
"After the colouring work, the children can send the drawings by post or email."
Here are the links (just click on the image for larger, printable version) so that you can download the colouring contest image options that might appeal to you:
In addition to colouring in the images, children may also send their own drawings or crafts by post or take a digital photo and send them by email:
Jg.crafts.drawings@gmail.com
The competition will run until May 31, 2020.
The most beautiful works (per age) will win a gift.
From April 30, winners and their drawing / craft will be published regularly on Geerts' Facebook page JAGO GEERTS and his Instagram JAGOGEERTS193.
"The first prize for the most beautiful drawing / craftwork of all the entries I will receive, will be rewarded with an entrance ticket for a Grand Prix (it has yet to be determined which one due to the Covid-19 virus). As an extra, the winner and his or her parents receive a Meet & Greet with me on top. I will announce who will win this prize on 1 June."
Colouring pages and crafts can be sent by post:
Photographic Art BVBA
Jago Geerts Crafts & Drawings
Olmsebaan 260
2450 Meerhout
Belgium
COLOURING WINNERS SO FAR:
Warre ven den Elsen – 3 years  – Belgium (Twin Air sticker set and lanyards)
Lucca Garcia – 6 years6 – Spain (Twin Air sticker set and lanyards)
Trent Kosemans – 8 years – Belgium (Twin Air sticker set and lanyards)
Renee van Hoek – 9 years – Belgium (Twin Air beanie hat)
Keano Ransijn – 10 years – France (Twin Air cap hat)
Monta Mikelsane – 11 years – Latvia (Twin Air cap hat)
Stientje Mandeville – 15 years – Belgium (Twin Air beanie hat)
CRAFTWORK WINNER SO FAR:
Lenn Roes – 8 years – The Netherlands  (Twin Air beanie hat)
All winners will also receive a confirmation email and will receive their prize by post.
A big thank you to all the children for your efforts. Keep sending in drawings and crafts because there are many more great prizes to win.
Photo by Photographic Art – Jago Geerts Media
Find BikesportNZ.com on FACEBOOK here