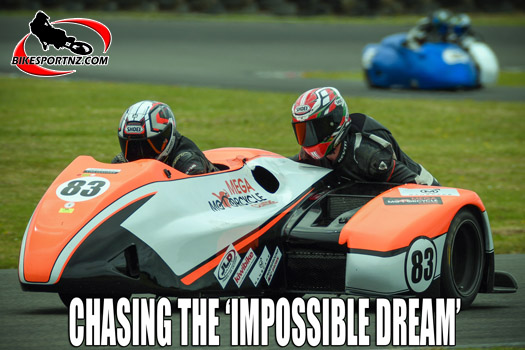 It could be referred to as "the impossible dream", but that isn't doing anything to shake or repress the desire and determination of Canterbury man Dennis Charlett.
It would certainly be a remarkable feat if he can pull it off.
We are referring to Charlett's ambition to capture national titles in every single class of motorcycle racing.
He's almost there, with just one more title still eluding him and perhaps this season the Christchurch-based 51-year-old father-of-five and grandfather-of-seven will realise his magnificent dream.
The 2020 New Zealand Superbike Championships kicked off in his back-yard in the New Year, the first round of five at Mike Pero Motorsport Park Ruapuna, on the outskirts of Christchurch, on January 11-12, with round two following at Levels International Raceway just a week later.
There's a short break now before the competition resumes with round three at Hampton Downs Motorsport Park, near Meremere, on March 7-8.
Charlett started "collecting" national titles two decades ago, clinching the national 125GP in 1999 and the 250 Production GP title in 2001, before winning the 600cc Sports Production title in the 2008 season (and winning that class again in 2011 and 2012 – although the class name had been changed to Supersport).
He won the premier 1000cc Superbike class in 2014 and then the Lightweight class title in 2016, followed by the 650 Pro Twins title in 2017 and then the 300 Supersport title in 2018.
All that remains is for him to win the national sidecars title. While technically not actually motorcycles, sidecars are powered by bike engines and the sporting code does come under the umbrella of Motorcycling New Zealand.
Charlett made his first bid for the sidecars crown last season, he and his then 'swinger', fellow Christchurch man Wil Climo, coming agonisingly close to winning it on debut.
Driving a LCR-framed, Suzuki GSX-R1000-powered sidecar, they had been on target to take the title in 2019 until a massive crash at the final round at Taupo ended their hopes and they ended up finishing the season an undeserved fourth overall.
"We had a good start to the 2019 nationals and had a good points lead (in the sidecars class) after the South Island rounds and then we came to the North Island which was a lot more challenging with all the North Island sidecars guys to contend with. We were obviously learning a lot and getting seconds and thirds," said Charlett.
"But (at the final round) at Taupo we had a disaster where I flipped it over in turn one and unfortunately my swinger could not continue. I had other people on the side of the rig to try to get me over the line for the championship title, but it just wasn't good enough."
This year Charlett has another Christchurch man, Dan Jenkins, in the role of swinger, and he remains optimistic that he can win the class.
"We were two seconds a lap quicker at Taupo (during the Suzuki International series in December) and that's obviously a huge improvement on how we went there in the nationals last year," he said.
"My main rivals like (2018 sidecars champion) Pete 'The Pirate' Goodwin and (eventual 2019 champion) Andy Scrivener are still fast and they've been round the sport a long time. I think anyone can ride a sidecar, but to ride one fast is another thing entirely.
"It takes a bit of getting used to a sidecar. They're a lot wider than a bike … obviously. Totally different techniques are required, but I've learned it quite quickly. It has rekindled my enthusiasm in the sport."
Keep an eye out for the orange and black No.83 in the sidecars class this season … you just know he's going to be at or near the front and pushing hard to finally make it a sweep of road-racing crowns.
2020 NZ Superbike Championships calendar:
Round 1 – January 11-12, Mike Pero Motorsport Park, Christchurch;
Round 2 – January 18-19, Levels International Raceway, Timaru;
Round 3 – March 7-8, Hampton Downs Motorsport Park, North Waikato, Mike Pero MotoFest;
Round 4 – March 28-29, Circuit Chris Amon, Manfeild, Feilding;
Round 5 – April 4-5, Bruce McLaren Motorsport Park, Taupo.
© Words and photos by Andy McGechan, BikesportNZ.com
Find BikesportNZ.com on FACEBOOK here