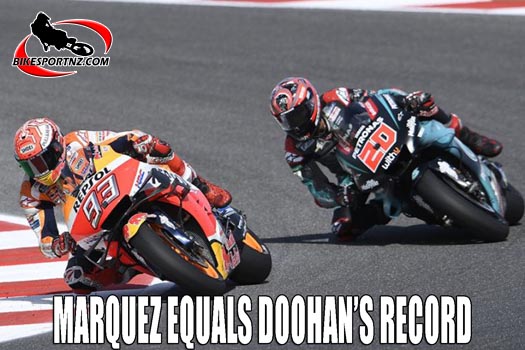 A tenth win of 2019 for Marc Marquez wrapped up the Constructors Championship for Honda after an inch-perfect MotoGP ride at the Japanese GP at the weekend.
Victory for Marquez at Honda's home round in Motegi earned Honda the Premier Class Constructors Championship for a record 25th time.
As a result, Honda claim both the Riders and Constructors Championships in the same year for the 20th occasion as they celebrate the 60th Anniversary of competition. It also marks Honda's 70th Constructors Championship across all classes.
Launching perfectly off the line, Marquez went around the outside of his competition to lead through the first corner.
Yamaha's Fabio Quartararo tried to respond to the pace of the eight-time World Champion, but within just three laps Marquez had an advantage of over one second and followed it up with successive flying laps.
By lap 13 the gap had grown to two seconds and the reigning World Champion switched his attention to managing the race. Crossing the line 0.870s ahead of Quartararo after easing his pace in the closing laps, Marquez continued his perfect record of top-two finishes in 2019.
The victory is the tenth 2019 and his fourth in a row, the first time Marquez has achieved four-straight wins in the premier class since 2014.
Taking his 54th win in the premier class, Marquez draws level with the legendary Mick Doohan as the most successful premier class Honda rider.
The 14 podiums, 13 of them in succession, of 2019 also move Marquez to 350 World Championship points, just 33 points shy of Jorge Lorenzo's all-time premier class points record of 383 with 75 points still to play for.
The MotoGP World Championships now heads directly to round 17, the Australian Grand Prix at Phillip Island from October 25 to 27.
"It wasn't an easy race. I was pushing from the beginning, the strategy was clear – I had to try to open a gap," said Marquez.
"I felt strong and with the team we had calculated a pace of 1'46 low but then I was able to ride in 1'45 high – good news for me but I had to slow down a little bit. I worked on riding as smooth as possible and I was able to open the gap to two seconds but in the final two laps we were getting a little low on fuel because Motegi is always very demanding.
"There was a little bit of pressure to win the Constructors Championship in Japan, but I love the pressure and it is great to win it here for Honda because everyone works so hard. All the Repsol Honda Team did a great job to find the best setting and strategy for this race."
Find BikesportNZ.com on FACEBOOK here
Japanese Grand Prix Race Results

| | | | | | | | |
| --- | --- | --- | --- | --- | --- | --- | --- |
| Pos. | Rider | Num | Nation | Points | Team | Constructor | Time/Gap |
| 1 | Marquez Marc | 93 | SPA | 25 | Repsol Honda Team | Honda | 42'41.492 |
| 2 | Quartararo Fabio | 20 | FRA | 20 | Petronas Yamaha SRT | Yamaha | 0.870 |
| 3 | Dovizioso Andrea | 4 | ITA | 16 | Ducati Team | Ducati | 1.325 |
| 4 | Vinales Maverick | 12 | SPA | 13 | Monster Energy Yamaha MotoGP | Yamaha | 2.608 |
| 5 | Crutchlow Cal | 35 | GBR | 11 | LCR Honda | Honda | 9.140 |
| 6 | Morbidelli Franco | 21 | ITA | 10 | Petronas Yamaha SRT | Yamaha | 9.187 |
| 7 | Rins Alex | 42 | SPA | 9 | Team Suzuki Ecstar | Suzuki | 9.306 |
| 8 | Mir Joan | 36 | SPA | 8 | Team Suzuki Ecstar | Suzuki | 10.695 |
| 9 | Petrucci Danilo | 9 | ITA | 7 | Ducati Team | Ducati | 14.216 |
| 10 | Miller Jack | 43 | AUS | 6 | Pramac Racing | Ducati | 18.909 |
| 11 | Espargaro Pol | 44 | SPA | 5 | Red Bull KTM Factory Racing | KTM | 25.554 |
| 12 | Oliveira Miguel | 88 | POR | 4 | Red Bull KTM Tech 3 | KTM | 27.870 |
| 13 | Bagnaia Francesco | 63 | ITA | 3 | Pramac Racing | Ducati | 29.983 |
| 14 | Kallio Mika | 82 | FIN | 2 | Red Bull KTM Factory Racing | KTM | 31.232 |
| 15 | Espargaro Aleix | 41 | SPA | 1 | Aprilia Racing Team Gresini | Aprilia | 32.546 |
| 16 | Nakagami Takaaki | 30 | JPN | 0 | LCR Honda | Honda | 37.482 |
| 17 | Lorenzo Jorge | 99 | SPA | 0 | Repsol Honda Team | Honda | 40.410 |
| 18 | Abraham Karel | 17 | CZE | 0 | Reale Avintia Racing | Ducati | 43.458 |
| 19 | Syahrin Hafizh | 55 | MAL | 0 | Red Bull KTM Tech 3 | KTM | 46.206 |
| 20 | Guintoli Sylvain | 50 | FRA | 0 | Team Suzuki Ecstar | Suzuki | 50.235 |
| 21 | Rossi Valentino | 46 | ITA | 0 | Monster Energy Yamaha MotoGP | Yamaha | DNF |
| 22 | Iannone Andrea | 29 | ITA | 0 | Aprilia Racing Team Gresini | Aprilia | DNF |
Rider Standings

| | | | | | | |
| --- | --- | --- | --- | --- | --- | --- |
| Pos. | Rider | Num | Nation | Points | Team | Constructor |
| 1 | Marquez Marc | 93 | SPA | 350 | Repsol Honda Team | Honda |
| 2 | Dovizioso Andrea | 4 | ITA | 231 | Ducati Team | Ducati |
| 3 | Vinales Maverick | 12 | SPA | 176 | Monster Energy Yamaha MotoGP | Yamaha |
| 4 | Rins Alex | 42 | SPA | 176 | Team Suzuki Ecstar | Suzuki |
| 5 | Petrucci Danilo | 9 | ITA | 169 | Ducati Team | Ducati |
| 6 | Quartararo Fabio | 20 | FRA | 163 | Petronas Yamaha SRT | Yamaha |
| 7 | Rossi Valentino | 46 | ITA | 145 | Monster Energy Yamaha MotoGP | Yamaha |
| 8 | Miller Jack | 43 | AUS | 125 | Pramac Racing | Ducati |
| 9 | Crutchlow Cal | 35 | GBR | 113 | LCR Honda | Honda |
| 10 | Morbidelli Franco | 21 | ITA | 100 | Petronas Yamaha SRT | Yamaha |
| 11 | Espargaro Pol | 44 | SPA | 85 | Red Bull KTM Factory Racing | KTM |
| 12 | Nakagami Takaaki | 30 | JPN | 74 | LCR Honda | Honda |
| 13 | Mir Joan | 36 | SPA | 66 | Team Suzuki Ecstar | Suzuki |
| 14 | Espargaro Aleix | 41 | SPA | 47 | Aprilia Racing Team Gresini | Aprilia |
| 15 | Bagnaia Francesco | 63 | ITA | 37 | Pramac Racing | Ducati |
| 16 | Oliveira Miguel | 88 | POR | 33 | Red Bull KTM Tech 3 | KTM |
| 17 | Iannone Andrea | 29 | ITA | 33 | Aprilia Racing Team Gresini | Aprilia |
| 18 | Zarco Johann | 5 | FRA | 27 | Red Bull KTM Factory Racing | KTM |
| 19 | Lorenzo Jorge | 99 | SPA | 23 | Repsol Honda Team | Honda |
| 20 | Rabat Tito | 53 | SPA | 18 | Reale Avintia Racing | Ducati |
| 21 | Bradl Stefan | 6 | GER | 16 | Repsol Honda Team | Honda |
| 22 | Pirro Michele | 51 | ITA | 9 | Ducati Team | Ducati |
| 23 | Guintoli Sylvain | 50 | FRA | 7 | Team Suzuki Ecstar | Suzuki |
| 24 | Syahrin Hafizh | 55 | MAL | 7 | Red Bull KTM Tech 3 | KTM |
| 25 | Abraham Karel | 17 | CZE | 5 | Reale Avintia Racing | Ducati |
| 26 | Kallio Mika | 82 | FIN | 2 | Red Bull KTM Factory Racing | KTM |