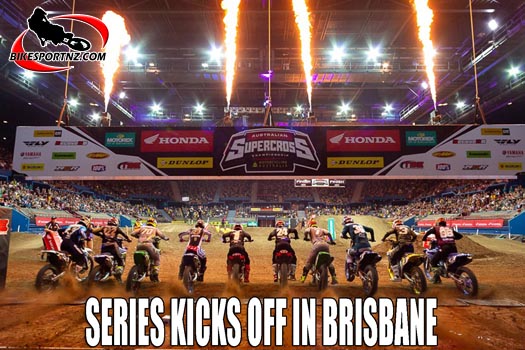 The 2019 Australian Supercross Championship kicked off inside Brisbane's Entertainment Centre on Saturday night with two American riders taking the wins.
US rider Justin Brayton took his Penrite Honda to notch a dominant win in the SX1 Class, and fellow American Jacob Hayes put his Serco Yamaha on top of the SX2 podium.
Being staged in an indoor arena was vital for round one, with Queensland displaying uncharacteristic rain for most of the day outdoors. Sheltered from the elements was the purpose-built supercross circuit, race fans were able to witness the action all from the comfort of their seats.
From the first gate drop in each class it was evident who were at the top of their game, with defending champion Brayton along with the CDR Yamaha Monster Energy team-mates Luke Clout and Daniel Reardon in hot form. Similar could be seen in SX2, with Jay Wilson, Chris Blose and Hayes all topping the timing sheets.
Each category completed two 10-lap main events, and overall scores were calculated based off who achieved the better scores in each singular main event. Hayes would land a 3-1 scorecard for victory, while Brayton kept a clean sheet and went 1-1 convincingly.
"We had a good night tonight; the Penrite Honda felt great all day and overall we're pumped – it's always important to leave round one on a high note. Luckily we had the indoor venue for today – I love the vibe of indoor racing – but of course because the weather was a little ominous too," Brayton said afterwards.
Rounding out the podium in each class was Aaron Tanti and Blose in SX2, while Reardon and Clout finished second and third respectively in the SX1 class.
Round two of the Australian Supercross Championship heads to Gilman Speedway in Port Adelaide next weekend, where hometown hero and last year's winner Brett Metcalfe will be looking to repeat.
The Adelaide event is followed by Wollongong on the 9th of November. The series will then cross the pond to New Zealand on the 16th, before concluding in Melbourne at Marvel Stadium on November 30.
This year will see 2018 AMA Supercross Champion Jason Anderson gear up for the S-X Open Auckland on November 16 as he looks to take down two-time World Champion and defending S-X Open Auckland Champion Chad Reed – with both World Supercross Champions locked in to race at Mount Smart Stadium.
For tickets click HERE
© Photo by Delux Media
Find BikesportNZ.com on FACEBOOK here
Round one results & standings:
SX1 Final 1:
Justin BRAYTON
Brett METCALFE
Daniel REARDON
Luke CLOUT
Lawson BOPPING
Todd WATERS
Dylan LONG
Richie EVANS
Gradie FEATHERSTONE
Jayden RYKERS
SX1 Final 2:
Justin BRAYTON
Daniel REARDON
Luke CLOUT
Dylan LONG
Brett METCALFE
Todd WATERS
Jayden RYKERS
Richie EVANS
Lawson BOPPING
Gradie FEATHERSTONE
SX1 Championship Points After Round 1:
Justin BRAYTON – 25 Pts
Daniel REARDON – 22 Pts
Luke CLOUT – 20 Pts
Brett METCALFE – 18 Pts
Dylan LONG – 16 Pts
Todd WATERS – 15 Pts
Lawson BOPPING – 14 Pts
Richie EVANS – 13 Pts
Jayden RYKERS – 12 Pts
Gradie FEATHERSTONE – 11 Pts
Joel WHIGHTMAN – 10 Pts
Caleb WARD – 9 Pts
Dylan WOOD – 8 Pts
Jesse DOBSON – 7 Pts
Lochie LATIMER – 6 Pts
Cody DYCE – 5 Pts
Blake COBBIN – 4 Pts
SX2 Final 1
Joshua OSBY
Aaron TANTI
Jacob HAYES
Chris BLOSE
Mitchell OLDENBURG
Wilson TODD
Jay WILSON
Bradley TAFT
Dylan WILLS
Kyle WEBSTER
SX2 Final 2
Jacob HAYES
Chris BLOSE
Aaron TANTI
Jay WILSON
Joshua OSBY
Bradley TAFT
Dylan WILLS
Wilson TODD
Mitchell OLDENBURG
Kyle WEBSTER
SX2 B-Main
Wilson TODD (transfer to main)
Dylan WILLS (transfer to main)
Jayce COSFORD
Morgan FOGARTY
Ricky LATIMER
Kaleb BARHAM
Hugh McKAY
Jack KUKAS
Regan DUFFY
DNF. Riley DUKES
SX2 Championship Points After Round 1:
Jacob HAYES – 25 Pts
Aaron TANTI – 22 Pts
Chris BLOSE – 20 Pts
Joshua OSBY – 18 Pts
Jay WILSON – 16 Pts
Bradley TAFT – 15 Pts
Wilson TODD – 14 Pts
Mitchell OLDENBURG – 13 Pts
Dylan WILLS – 12 Pts
Kyle WEBSTER – 11 Pts
Jayce COSFORD – 10 Pts
Morgan FOGARTY – 9 Pts
Ricky LATIMER – 8 Pts
Kaleb BARHAM – 7 Pts
Hugh McKAY – 6 Pts
Jack KUKAS – 5 Pts
85cc Championship Points After Round 1:
Cody KILPATRICK – 25 Pts
Liam OWENS – 22 Pts
Ryder KINGSFORD – 20 Pts
Jyle CAMPBELL – 18 Pts
Ben CAIAFA – 16 Pts
Tyler WIREMU – 15 Pts
Connor TOWILL – 14 Pts
Jonty HATTON – 13 Pts
Blake GALLOWAY – 12 Pts
Will SHEPPARD – 11
2019 Australian Supercross Championship calendar (SX1 and SX2)
Round 1 (October 12) – Honda Round 1, Brisbane Entertainment Centre
Round 2 (October 19) – Fly Racing Round 2 Gillman Speedway, Port Adelaide
Round 3 (November 9) – Yamaha Round 3 , WIN Stadium Wollongong
Round 4 (November 16) – Round 4 Monster Energy S-X Open Auckland
Round 5 (November 30) – Round 5 Monster Energy AUS-X Open Melbourne