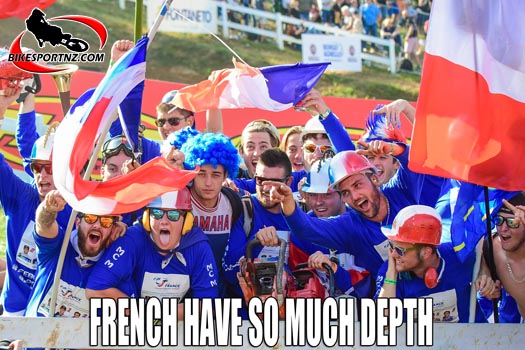 The French squad to tackle this year's Motocross of Nations was named this week and sets up for an intriguing battle in The Netherlands on the final weekend of September.
Team France in 2019 will be Gautier Paulin (MXGP Class), Romain Febvre (Open Class) and Tom Vialle (MX2 Class) and this trio heads to the sandy track on the infield at the Dutch road-race circuit of Assen as one of the favoured teams.
Defending champion France have won the MXoN for each of the past five years and should fancy their chances of at least claiming another podium finish at the 2019 event on September 28-29 too.
Paulin and Febvre spearheaded their country to overall trophy wins in 2014, 2015, 2016, 2017 and 2018, Paulin winning his two races at the MXoN in Latvia five years ago and Febvre winning two races in France in 2015 and one race in Italy in 2016.
MX2 motocross world championship rookie Vialle has impressed on debut in the GPs this season, where he is currently third overall in the MX2 Grand Prix standings, so his debut at the MXoN is well-deserved.
But questions about rider selection always crop up and, as always with a country as well-populated as France and blessed with so much motocross talent, there were perhaps a dozen other riders who could have been chosen.
American-based French star Marvin Musquin, currently running second in the 450cc class in the United States, had earlier this year been asked about his possible invitation to ride for France, responding quickly with a big, fat "Non".
Obviously still a raw topic with the talented Frenchman after the selection shambles of last season – Team France snubbed Musquin for the 2018 MXoN, then asked him after their first-choice rider was injured and Musquin declined – and he said he would definitely not make himself available this year.
The French had other riders to choose from too, including US-based Dylan Ferrandis (currently running second in the 250cc class in the US nationals) or they could have opted for Jordi Tixier to reprise of his first appearance for the ultimately triumphant French last year.
Racing in the MXGP class this season, Tixer has, however, been dogged with injury this year and still a little short of full fitness.
There are still plenty of team line-ups yet to be revealed, so it's anyone's guess as to who might threaten the French dominance of recent years.
Team USA (expected to be named this weekend), Team Australia, Team Great Britain, Team Italy, Team Spain and Team Germany could perhaps figure on the podium at Assen, but certainly expect Team Netherlands to feature.
The Dutch trio probably should have won the MXoN in the United States last year, but, when injury forced their MX2 rider Calvin Vlaandren to withdraw, it left them in a tight spot.
Even so, thanks to Dutch MXGP class rider Jeffery Herlings finishing 1-2 in his two races and Dutch Open class rider Glenn Coldenhoff finishing 1-1 in his two races, The Netherlands were still centre of attention in the US.
Team Italy had finished in the runner-up spot at last year's MXoN, but they were then disqualified – three months later, in January this year – after illegal fuel was discovered in the bike of one of their riders (MX2 man Michele Cervellin).
This dropped Italy from second overall to 30th and last in the classification.
The Dutch were therefore promoted to second overall and you can bet that the Netherlands will be a potent force, especially with this year's MXoN being hosted on their home turf.
© Words and photo by Andy McGechan, BikesportNZ.com
Find BikesportNZ.com on FACEBOOK here