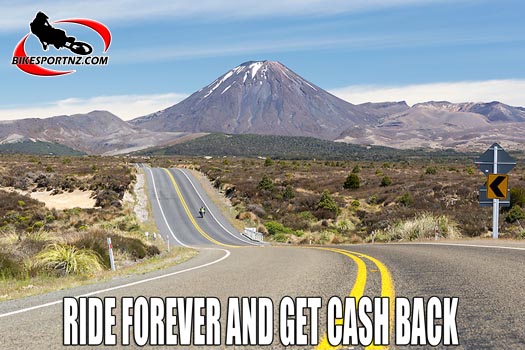 ACC in New Zealand is offering cash back on your bike registration. Fancy $100 off your bike rego this year? Well, from July that's exactly what ACC is offering riders who do Ride Forever Silver and Gold courses.
The cashback offer was developed in response to feedback from motorcyclists during last year's 'Shape Your ACC' levy consultation. It will be trialled for two years and is open to riders who've held a full New Zealand Class 6 licence for five years or more and who have a current motorcycle registration.
Riders can claim their cashback, paid into their New Zealand bank account, by supplying a photo of their current motorcycle rego. Simply take two courses (at least three months apart) and you can claim $100 on this year's rego, and then claim another $100 in 12 months' time. That's $200 all up! And there's good news for anyone who has already been on a Ride Forever Silver or Gold course – so long as it was taken after 1 July 2016 it can count as the first course in your cashback claim.
Doing a Ride Forever course is not only a great day out on the bike, it also means you're 27% less likely to put in an ACC claim having been injured in a crash. The two-year trial should demonstrate to ACC whether the incentive is effective at reducing claims even further. With 20,000 courses already completed since Ride Forever started five years ago, the aim is get more experienced riders through the programme so they enjoy the benefits of keeping their skills fresh.
The cashback adds to existing incentives, including several discounts and reimbursements on such things as insurance. This is on top of the substantial subsidy on the courses themselves (ACC pays $249 per course while the rider contributes a maximum of $50 per course).
Riders can register for coaching by visiting the Ride Forever website. For full details about the cashback, click HERE