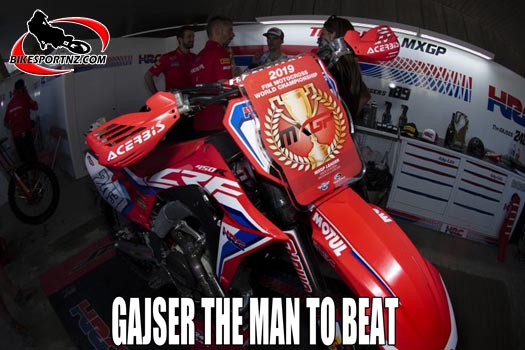 The ninth round of the 2019 MXGP world championships takes place at Kegums, in Latvia, where Team HRC's Tim Gajser will be displaying the red plate on his Honda.
The Slovenian rider has won the last three overalls, reeling off six consecutive race wins, and he now holds a 13-point lead over Italy's nine-time former MXGP champion Antonio Cairoli (KTM) as the series heads to the midway point of the season.
For Gajser, the red plate is just reward for this tremendous run of form that has seen a 53 point swing in the championship battle after coming back from a 40 point deficit following the MXGP of Lombardia.
After those muddy conditions, the sun has been shining and Gajser has shown his best form since his championship winning season in 2016. The hard-pack tracks have suited Gajser's smooth style and he'll now be hoping that the large amount of sand training he did over the winter will help him maintain the lead in what should be another glorious weekend of racing.
In round nine of their series' this weekend, the MXGP and MX2 riders are joined by the EMX250 and EMX2t classes.
"It was a tough trip back from Russia with the flights, but when you come back with the red plate, everything is okay," said Gajser.
"However it is definitely almost unbelievable to have gone one-one again this weekend. The track was pretty sketchy to ride on because it was very fast and not a lot of ruts formed, which meant it was quite slippery in the corners.
"Still, it was really good to get two starts and I am feeling really confident heading to Kegums. It is of course a lot sandier than these past few rounds but I feel like I am riding really well and I know I have done a lot of sand training this off-season. I just can't wait to get back to the race track again and meet up with the team. We are working so well right now and I enjoy every weekend."
Find BikesportNZ.com on FACEBOOK here
Rider Standings:
1       GAJSER Tim, SLO   351 points  Team HRC – MXGP        Honda
2       CAIROLI Antonio, ITA    338   Red Bull KTM Factory Racing         KTM
3       PAULIN Gautier,  FRA   231   Wilvo Yamaha MXGP    Yamaha
4       SEEWER Jeremy, SWI   220   Monster Energy Yamaha Factory MXGP Team        Yamaha
5       JASIKONIS Arminas, LTU   212   Rockstar Energy Husqvarna Factory Racing     Husqvarna
6       DESALLE Clement, BEL   208   Monster Energy Kawasaki Racing        Kawasaki
7       TONUS Arnaud, SWI   206   Wilvo Yamaha MXGP    Yamaha
8       LIEBER Julien, BEL   172   Monster Energy Kawasaki Racing        Kawasaki
9       VAN HOREBEEK Jeremy, BEL   170   Honda SR Motoblouz  Honda
10     COLDENHOFF Glenn, NDL   168   Standing Construct KTM         KTM
11     JONASS Pauls, LAT   167   Rockstar Energy Husqvarna Factory Racing    Husqvarna
12     SIMPSON Shaun, GBR  129   RFX KTM Racing  KTM
13     FEBVRE Romain, FRA   117   Monster Energy Yamaha Factory MXGP Team        Yamaha
14     LUPINO Alessandro, ITA    103   Gebben V Venrooy Kawasaki    Kawasaki
15     MONTICELLI Ivo, ITA    100   iFly JK Racing      Yamaha
16     ANSTIE Max, GBR  97     Standing Construct KTM         KTM
17     SEARLE Tommy, GBR  86     Bike It DRT Kawasaki         Kawasaki
18     BOGERS Brian, NDL   70     Team HRC – MXGP        Honda
19     LEOK Tanel, EST   69     A1M Husqvarna   Husqvarna
20     PATUREL Benoit, FRA   65     Gebben V Venrooy Kawasaki         Kawasaki
21     TIXIER Jordi, FRA   56     Team VHR KTM Racing  KTM
22     STRIJBOS Kevin, BEL   41     JWR Yamaha Racing     Yamaha
23     BRYLYAKOV Vsevolod, RUS  33     JWR Yamaha Racing         Yamaha
24     HERLINGS Jeffrey, NDL   32     Red Bull KTM Factory Racing        KTM
25     BUTRON Jose, SPA   18     JD Gunnex KTM Racing Team         KTM
26     PETROV Petar, BUL   18     Team Honda Red Moto  Honda
27     BERNARDINI Samuele, ITA    14     Ghidinelli Racing Team         Yamaha
28     GOLE Anton, SWE  14     iFly JK Racing      Yamaha
29     KULLAS Harri, FIN    10     Wildcard Rider     Husqvarna
30     VAN DER MIERDEN Sven, NDL   8       Wildcard Rider         Yamaha