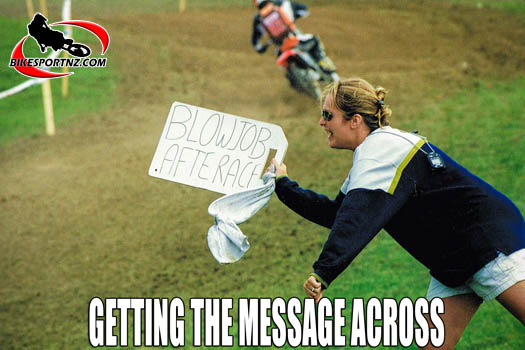 Pit boards … an ego trip for wannabe factory mechanics or a useful racing tool?
It's a tough one to answer. The value of the pit board is a very personal thing and it's difficult for a casual observer to determine it's helping a particular rider achieve his or her aim.
Let's sort out a few guidelines first. Can we assume the aim of any racer, if he's serious, is to win the race?
One Kiwi who's done more than his fair share of winning in New Zealand (and in later years in Europe too) is Tokoroa's Daryl Atkins. His elder brother Greg, one of the most professional pit-crewmen we think we've seen in New Zealand over the years, could possibly be credited with at least some of that success. His messages to Daryl were clear, simple and helpful.
How about this from Greg Atkins during the 1989 New Zealand motocross nationals: "Attack brakes – 4 minutes". The message to Daryl was clear: "You have only 4 minutes left, get aggressive under braking". Perhaps Greg had seen, as only someone on the sidelines can, that Daryl wasn't braking as late as his chief rival that year, Palmerston North's Leon Andrew.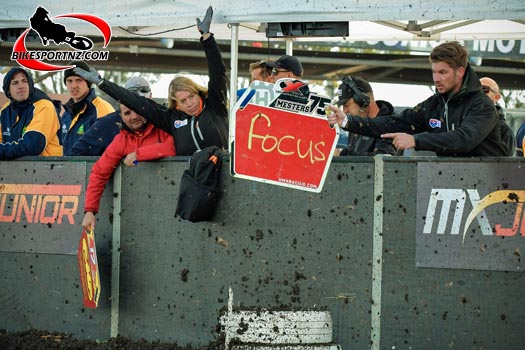 Only the rider himself can really answer whether a pit board message helps or hinders him in reaching that goal. Just because a rider doesn't win the race, it doesn't necessarily follow the pit board signals were to blame, although we've seen a few good examples of signals that would illustrate the opposite of that argument.
After many years of quiet observation, we have to say we think the pit board operation is largely mismanaged.
You've got to remember the rider's head is being shaken about pretty unhealthily and mostly they're just trying to keep an eye out for dangerous bumps (the track changes every lap in this particular sport). Hand-writing needs to be large and bold. Keep the message simple (don't write an essay).
It's worthwhile talking with your rider before the race about what signals he might want or need. Agree on symbols and meanings. Work out your own code before the race. Don't throw him a curly one that will have him baffled for the next three corners, possibly causing him to lose concentration and crash.
Position yourself in a relatively easy section of the track, where your rider can take his eyes off the track and his mind off the job of riding for half a second. Think about where the sun might be and avoid glare. Is your message something you wouldn't want rival teams to read?
Here are some typical pit board messages and an interpretation or two:
PASS NOW:
The instruction "pass now" is used quite often but, depending on circumstances, might actually be one of those unhelpful signals. Either the rider wasn't able to "pass now" because he didn't feel he was in a sensible or safe position to do so (and he's in the best position to determine his own fears or failings).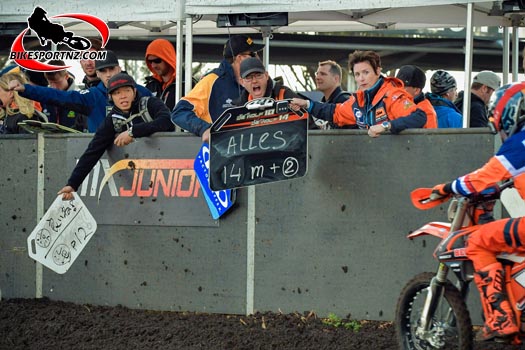 Perhaps he didn't "pass now" because he felt he had the victim sussed and, despite the boardman's urging, he wanted to leave it until another time, like the final lap (when the opportunity for their rival to respond was reduced).
Thirdly, the rider may actually be too stupid to realise that passing's the whole point of the game. By this stage it's fair to say that no amount of written instruction is going to put this Muppet's career back on track anyway.
TWO LAPS:
Mmmm, not a bad one. The "last lap" message usually gets through to the rider when an official waves the white flag but "two laps" gives the rider an advance warning that time is running out. This might be just the spur a rider needs to dig deep and "make it happen". Most tracks have a lap time of less than 2 minutes so the "two laps" message really means "hey, pull finger and dig deep for five minutes …. you're good for five right?"
GO FASTER:
Doh??? Oh yeah, never thought of that. (Oh yes, before you ask, we have seen this signal). Less said the better.
THINK:
The message to "think" is actually not as silly as it sounds. The message here is simple: "Remember the basics. Stay calm and apply them, the results will come".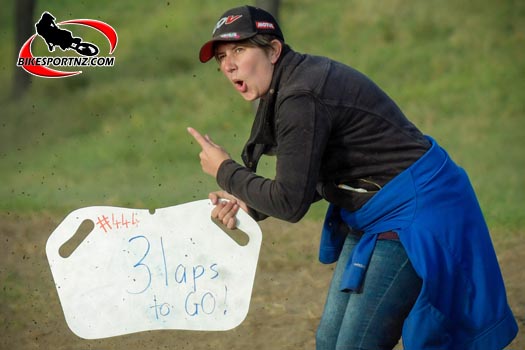 Too often a rider gets caught up in playing follow-the-leader and fighting another rider rather than concentrating on the track itself. How often have you seen a rider have a bad start and then rocket up through the field?
Their lap times were as good as the man leading the race but, as soon as they get to about 5th place, they suddenly find themselves in a handlebar-bash with another rider whose lap times aren't actually that quick. The "catch-up" rider suddenly loses his momentum.
BREATHE:
Sometimes the pit signal reads "breathe". Another very simple message and again you're telling the rider not to think too much beyond the basic task of riding. The rider may be letting the heat of the moment affect his ability to focus on the task at hand.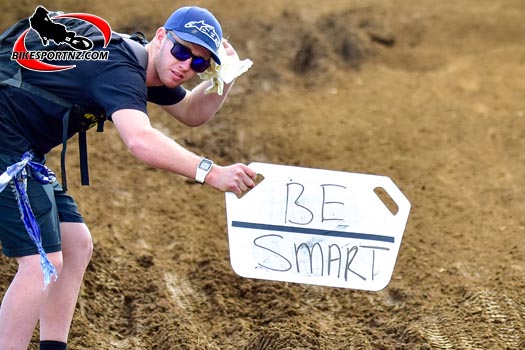 Is the rider getting excited because he can see he's catching the man ahead but losing focus on basics like keeping elbows up, riding the ruts and getting up onto the pegs early. Is he getting flustered or nervous about the man on his tail?
PLUS OR MINUS A NUMBER:
The good old -9 or +3 tell plenty to a rider and, provided he can remember what the number was the previous lap, he can work whether out he's catching or losing his rival.
It may be even better to do the maths for your rider and give him the basic translation "you're gaining". This is actually quite clever, if you use it properly. Writing a number is stating a fact, something a rival pit crew can quickly confirm or refute. Writing "you're gaining" can worry a rival team and send them into a mad panic to work out the margins for themselves. It can also scare the living snot out of a rival rider (if you deliberately put the signal out early).
As a motivational tool, this signal cannot be underestimated. Tell your rider he's gaining ground (even if he's not) and it may become a self-fulfilling prophecy. Positive reinforcement. The power of the mind is a wonderful thing.
Meanwhile, we hope you enjoy some of the pit signal photos we've taken over the years …
© Words and photos by Andy McGechan, BikesportNZ
Find BikesportNZ.com on FACEBOOK here